Ateez 'Fever Part 3' performance posters: 'Eternal Sunshine' catches up to 'Deja Vu' Ateez seems to be doing something right by introducing the title track voting tradition. The fandom can't stop talking about the 'Fever Part 3' album even though we still have weeks to go before the release. Dubbed as 'The Kpop Elections', it increased the curiosity of other fandoms and Twitter before they fall into the dark hole with no escape that is the Ateez universe. Well, what has been going on between 'Eternal Sunshine' and 'Deja Vu'?
While Atinys were confused during the 'Wave'/'Illusion' era and had a clear winner for the 'Inception'/'Thanxx' era, this comeback has not been easy. Initially, it seemed that 'Deja Vu' would be selected as the title track, but it seems that 'Eternal Sunshine' has suddenly found new fans with the release of the performance posters.
READ MORE
Eternal Sunshine vs Deja Vu: Ateez makes fans vote for 'Fever Part 3' title track
Ateez drops OT8 concept photo for Fever Part 3 album, Atinys experience 'deja vu'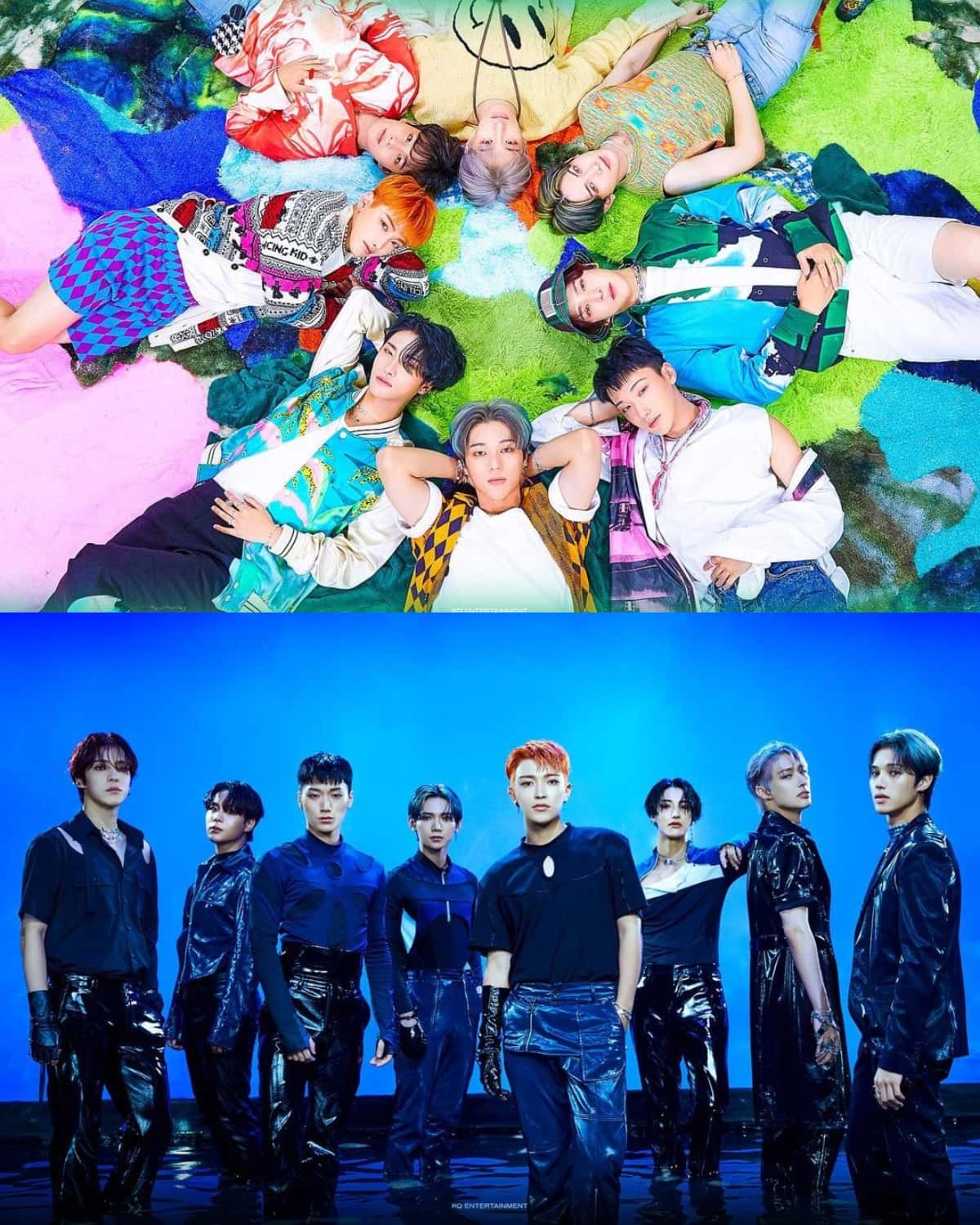 Ateez drops performance posters
Along with the concept photos for 'Eternal Sunshine' and 'Deja Vu', Ateez also dropped performance posters for the two songs. For fans to vote on the title tracks, the boys are releasing audio clips and performance videos. To tease the performance videos that are set to be released on September 3 at 9 am KST (September 2 at 8 pm ET), posters have been released of the boys wearing the outfits that they will perform in as well as the set-up.
As hinted from the concept photos and the audio previews, 'Eternal Sunshine' is bright and youthful with the boys wearing chic, white and pastel outfits. Like the eerie trap sounds heard in 'Deja Vu', the boys are dressed in dark, sleek suits that show a mature side of them for 'Deja Vu's' performance poster.
Despite the voting, KQ Entertainment is usually quite generous. As seen in case of previous comebacks, both title tracks do end up getting promoted by the boys. It's just that the winning title track is given priority and performed and promoted first. During 'Wave'/'Illusion' era, both tracks were promoted at the same time with 'Wave' getting more preference. The 'Inception'/'Thanxx' era was a little different. After the promotional schedule ended for 'Inception', Ateez took a break before returning to promote the second title track that was 'Thanxx'.
Celebrities pick their favorite
Today seems to be a good day for Atiny. Along with trying to gauge which title track will win, fans also saw celebrities pick their favorite. Dancer Honey J who is currently competing in the survival show 'Street Woman Fighter', voted. We also saw Kwanghee and Super Junior's Eunhyuk vote while hosting the variety show 'Weekly Idol'. Kwanghee hinted that 'Deja Vu' has an aggressive and sensual choreography that has Atinys shocked. Fans also got Magnum Ice Cream's Twitter admin to vote and they ended up picking 'Deja Vu'.
To know where to vote for Ateez's title track this comeback, check out this article.
TXT's Soobin and Ateez's Seonghwa?
Atinys also had their fun when a news agency wrote about Ateez's first dating rumor. TXT's Soobin and Ateez's Seonghwa posted photos with the same caption that had fans joking that they might be dating each other. A news agency picked it up and reported on it. They claimed that if idols of the opposite gender had done it then the rumor would be seriously considered. And fandoms of both Ateez and TXT found it hilarious.
As Seonghwa trended, one Atiny tweeted, "I CANNOT comprehend that seonghwa's first dating rumor is with soobin im actually crying." Another pointed out, "Soobin & Seonghwa posted pictures with the same caption (Please take good care of me in September as well) on sep 1, so netizens left comments like they are dating & allkpop decided to make a whole ass article about it! And this is the FIRST dating article of TXT & ATEEZ. help."
---
i CANNOT comprehend that seonghwa's first dating rumor is with soobin im actually crying

— BLUE 🧸 zZz (@velvetkhj) September 1, 2021
---
---
Soobin & Seonghwa posted pictures with the same caption (Please take good care of me in September as well) on sep 1, so netizens left comments like they are dating & allkpop decided to make a whole ass article about it! And this is the FIRST dating article of TXT & ATEEZ. help😭 pic.twitter.com/SaHjhYq3zN

— ¢hoi $oya ➳❥🌺⁵ (@soyaluvsTXT) September 2, 2021
---
'A bright song?'
Atinys ended up trending 'Deja_Vu', as they couldn't get over the poster, "Bro, say what you want but ATEEZ DONT MISS ON VISUALS." One Atiny couldn't help but notice similarities with the fictional boy groups on Ateez's K-drama 'Imitation', "Admin's Brain: Don't do it, just don't Admin: Shax Sparkling." An 'Eternal Sunshine' enthusiast tweeted, "Eternal sunshine catching up." Another reasoned behind the voting strategy, "If you voted for eternal sunshine you voted from the heart and if you voted for deja vu you voted with your coochie & both are equally valid and appreciated." One shocked fan tweeted about Kwanghee revealing 'Deja Vu's' choreo, "DID HE JUST IMITATE THE CHOREO— DURING THE HOOK PART??!!!! HIP THRUSTS??!! AGGRESSIVE HIP THRUSTS?!!!! NO."
---
if you voted for eternal sunshine you voted from the heart and if you voted for deja vu you voted with your coochie & both are equally valid and appreciated <3

— daani ◡̈ 🖇MAKESTAR GO (@horizonmingi) September 2, 2021
---
The sudden increase in 'Eternal Sunshine' votes can also be credited to fans wanting Mingi, the rapper of the group to sing, "IF ETERNAL SUNSHINE WINS WE GET MINGI SINGING!! THE SONG MINGI SINGING!!" One fan summed up the differences between the two songs, "So the summary is: - eternal sunshine = youth - deja vu = pelvis - san almost got nosebleed for deja vu perf - it's sexy without having to expose themselves - when we see eternal sunshine performance, we might want to choose it - san is good at (performing) deja vu." Another fan wondered if Hongjoong had spoiled the song in 'Kingdom', "What if i tell you that hongjoong's rap here is a spoiler for eternal sunshine? do you still believe it's a bright song?"
---
IF ETERNAL SUNSHINE WINS WE GET MINGI SINGING!! THE SONG MINGI SINGING!!

— s(eternal sunshine)ri (@fIvrtz) September 2, 2021
---
---
so the summary is:

- eternal sunshine = youth
- deja vu = pelvis
- san almost got nosebleed for deja vu perf
- it's sexy without having to expose themselves
- when we see eternal sunshine performance, we might want to choose it
- san is good at (performing) deja vu

— celine (@sandorokis) September 1, 2021
---