'RHOP' star Ashley Darby and 'Summer House' Luke Gulbranson spotted at football game after sparking romance rumors
The Bravolebrities were spotted having fun at the Washington Commanders vs Vikings football game with a few friends A new alleged romance seems to be blooming for 'RHOP' star Ashley Darby! The housewife separated from her ex Michael Darby was spotted with a certain 'Summer House' star at the Washington Commanders vs Vikings football game. It's a massive step for Ashley, considering the situation with Michael and his alleged infidelity.
On Sunday, Ashley reposted Instagram stories featuring the reality TV star with Luke Gulbranson, from popular Bravo TV shows Summer House' and 'Winter House', along with a few friends. The group seemed to be enjoying the game while supporting the Washington Commanders. In the many stories the Potomac housewife reposted, fans can spot the two BravoTV stars standing quite close as they allegedly huddle up for a photo op. And in one photo, it is also pretty evident that Luke even has his arm on Ashley's waist. A different story features a TikTok video of the duo dancing with their friends as Ashley shows off her most dazzling moves. So are these two dating now? Whatever the answer to that question may be, it is surely no doubt that the popular Bravolebrities have indeed sparked some hefty romance rumors with their latest outing.
RELATED ARTICLES
RHOP's Ashley Darby reveals 'really fun' night with Luke Gulbranson amid divorce with Michael Darby
Is Ashley Darby's divorce from Michael FAKE? Skeptical 'RHOP' fans say they'll 'reconcile' eventually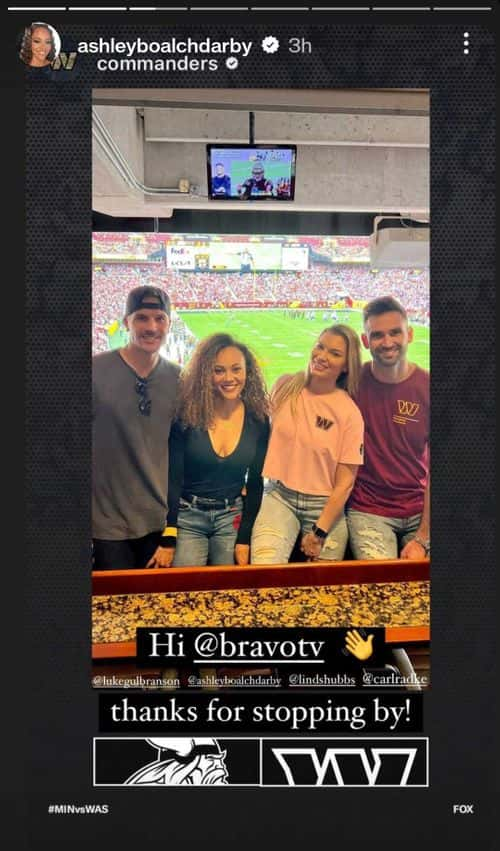 The duo's romance rumors are especially rife after Ashley openly discussed her attraction for the 'Winter House' star during BravoCon 2022. The star had revealed to the audience a few details about one "fun night" night out with Luke. She reportedly even hinted that she might be interested in "hooking up" with the fellow Bravo star. Talking about Luke, Ashley shared that "He's a sweet guy. He's very nice," and added, "We're just getting to know each other." Luke also seemed quite interested in the 'RHOP' star after he allegedly confided during a BravoCon event that he would prefer Ashley Darby as a guest on 'Summer House' or 'Winter House'. And in an interview with Andy Cohen on 'WWHL', Luke also revealed that since BravoCon, he and Ashley have constantly been engaged in facetime chats adding, "We're getting to know each other."
As of now though, Ashley is not "officially single" as the Potomac housewife is amid a "yearlong" separation from ex-husband Michael Darby. The duo are "cohabitating" in their Arlington, Virginia, penthouse in order to make the transition easier for their two children.
Catch Ashley in 'Real Housewives Of Potomac' Season 7, airing Sundays on BravoTV at 8 pm ET/PT
Share this article:
'RHOP' star Ashley Darby and 'Summer House' Luke Gulbranson spotted at football game after sparking romance rumors