BTS J-Hope rumored to be dating Blackpink's Rose, fans say 'leave them alone' Members of BTS and Blackpink have always been linked together online due to their immense popularity but the rumors about members of the boy group dating members of the girl group are getting out of hand. Just last month, BTS' V (Kim Taehyung) was rumored to be dating Blackpink's Jennie after photos of the two were spotted on a visit to Jeju Island. The rumors about Jennie and V were disproven by fans immediately after but both YG Entertainment and HYBE, the two labels that manage the two group, refrained from clarifying the rumors any further and letting fans and trolls deal with them on their own.
Now a new rumor has surfaced linking other members of Blackpink and BTS together but fans of both groups claim that the rumor feels like looking for a needle in the haystack. The rumor suggests that Rose of Blackpink is dating J-Hope of BTS after photos of the two were posted on Instagram as they met the same person. Over the last few days, Rose and J-Hope met Pierre Sang, a Korean-born French chef, photos of which Pierre Sang posted on his Instagram account. The dating rumor could not be made into much as many Korean idol are usually seen hanging out with the renowned chef but one piece of detail is what makes the J-Hope and Rose dating rumor special.
READ MORE
The Real BTS: Who is Jung Hoseok? All about J-hope, the dance king who randomly joined the group
'Hobipalooza' trends as BTS J-Hope bags first solo gig headlining Lollapalooza Music Festival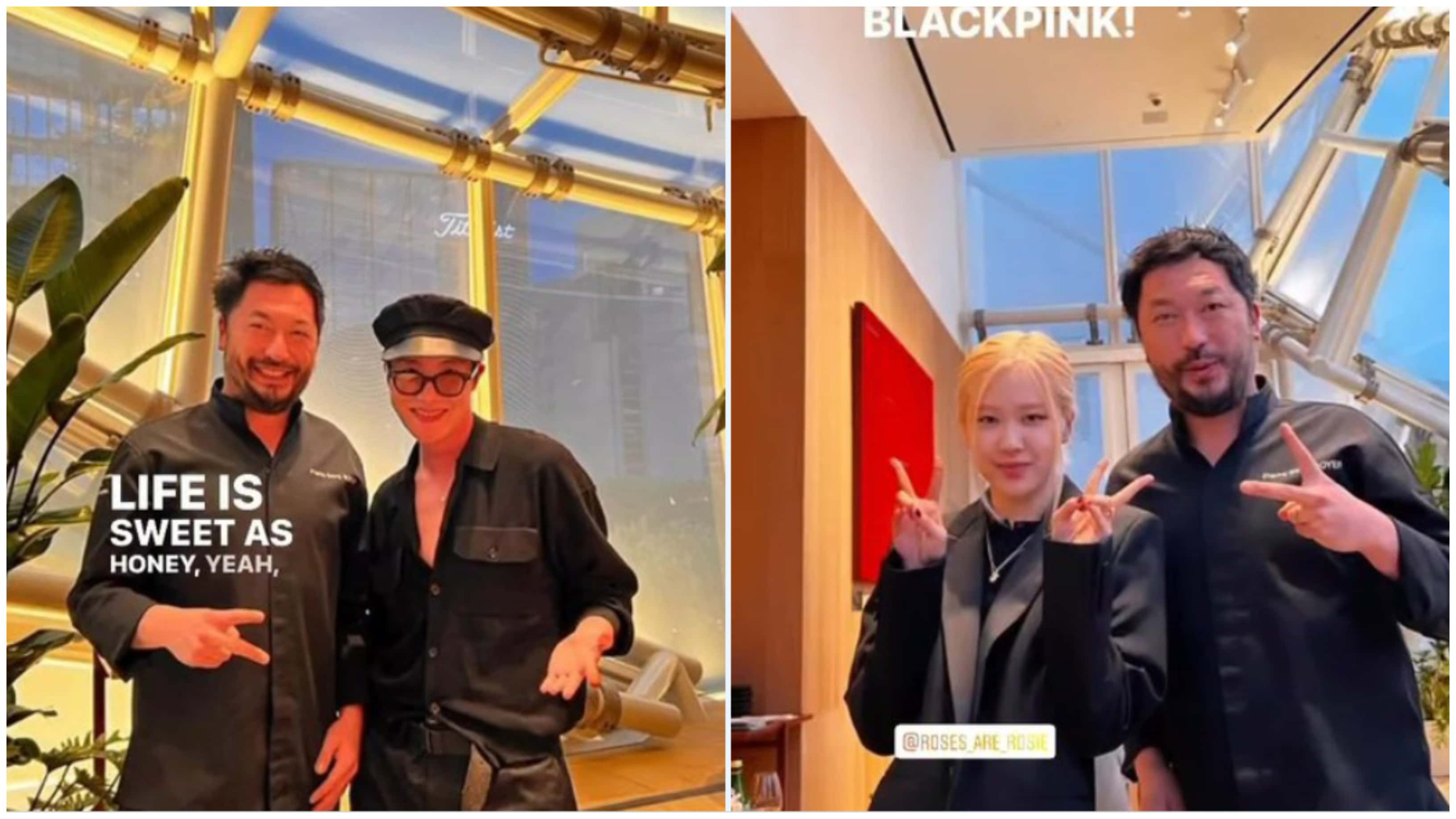 BTS J-Hope and Blackpink Rose rumored to be dating
According to eagle-eyed K-pop fans, J-Hope and Rose of BTS and Blackpink respectively did not only meet the same chef but they also posted a photo with him on social media on the same day. Adding to that, the two were also spotted wearing the exact same nailpolish color making the rumor further believable for some. However, amid all the conjecture, fans of the two idol groups are not willing to accept the rumors and are rubishing them by asking these toxic stans to leave them alone.
Fans allege that Rose and J-Hope are from two popular groups and knowing full well that everything they post online is critically analysed by fans, there is no reason for them to post the photo on their Instagram accounts. Having matching photos being posted at the same place at the same time draws more attention to their relationship if there was one and fans think members of BTS and Blakckpink know how to keep their private lives private.
'Free my girls and my boy from Knetz'
Moreover since the new rumor is so close to V and Jennie's recent dating controversy, K-pop fans have started trending 'Leave Them Alone' on Twitter asking trolls to stop linking members of the two groups romantically. One fan said, "I saw that pic of jhope from a is jhope and nayeon dating rumour post... So the only logical explanation is that Nayeon and Rosé are dating." Another fan said, "Knets gotta be bored cuz Jhope and rose dating?? I CAN'T HANDLE THIS." One more fan said, "I didnt see the second pic so i thought rose was the chef and the dating rumors was about jhope with some paris chef." One fan said, "Damn free my girl and my boy from knetz. Rosé and Jhope are whole fruit baskets. Still knetz trying to make a dating rumor."
Another fan said, "1st it was Nayeon & JHope & now Rose & JHope All cuz they attend same place Leave these idols alone yooo These innocent people can't even say hi or have a chat with each other Cuz these noncences." One fan said, "Ya plz freaking leave rose out of this bruh seriously you choosed a person who literally hates men nd you d*mb article s whom you trying to cover up this time using rose and jhope !Don't tell me it's Kim garam enough is ENOUGH.. leave rose alone from this sh*t for f sake."
---
I saw that pic of jhope from a is jhope and nayeon dating rumour post... So the only logical explanation is that Nayeon and Rosé are dating https://t.co/3aJETHiZYO

— Tengrist 🤷‍♀️ (@_suika_melon) June 21, 2022
---
---
Knets gotta be bored cuz Jhope and rose dating?? I CAN'T HANDLE THIS

— ¹²³ (@SKJLiNE) June 22, 2022
---
---
i didnt see the second pic so i thought rose was the chef and the dating rumors was about jhope with some paris chef https://t.co/x5skNyZDuK

— dino and bts 4lyferz (@jiunist) June 21, 2022
---
---
Damn free my girl and my boy from knetz. Rosé and Jhope are whole fruit baskets. Still knetz trying to make a dating rumor 😭 https://t.co/oxQeiBMfZO

— Left and right is coming | ia 📚 (@tetekooluv__) June 21, 2022
---
---
1st it was Nayeon & JHope & now Rose & JHope
All cuz they attend same place
Leave these idols alone yooo
These innocent people can't even say hi or have a chat with each other Cuz these noncences https://t.co/ffQXw9PrJu

— тωιикℓє 🌬 (@Twinkle28930259) June 21, 2022
---
---
Ya plz freaking leave rose out of this bruh 😂 seriously you choosed a person who literally hates men😂nd you d*mb article s whom you trying to cover up this time using rose and jhope !Don't tell me it's Kim garam enough is ENOUGH.. leave rose alone from this sh*t for f sake https://t.co/d4lT1YQcr9

— varshi Pinky (@PinkyVarshi) June 22, 2022
---