Blackpink fandom divided as some Blinks try to draw attention away from COP26 speech
Members of Blackpink addressed world leaders at the 2021 United Nations summit for Climate Action but some Blinks talked about other issues Blackpink fans admonished toxic fans who drove attention away from the message members were putting forth in the Climate Action Speech (Roger Kisby/Getty Images)
The year has been great for Blackpink as well as their fans, Blinks, who celebrated the fifth anniversary of Blackpink's debut. Despite having a precious moment to celebrate, fans have pointed out time and again how some members of Blackpink are not promoted as much as others — how Jisoo or Lisa are not promoted well and usually left behind. Fans have also addressed how the group has very few releases despite the members being very talented.
All these issues raised by fans of Blackpink are highly valid but most of the fandom know that there is a time and place for everything. Some toxic fans, however, bring the name of the entire fandom down. On November 3, the official global fan page of Blackpink posted the video that was aired in front of leaders of the world at the 26th United Nations Conference for Climate Change in Glasgow, United Kingdom, and this triggered a Twitter war of sorts.
RELATED ARTICLES
Blackpink COP26: YG Entertainment announces eco-friendly plastic after band's speech
Blackpink's speech at UN Climate Change Conference will ask fans to help save Earth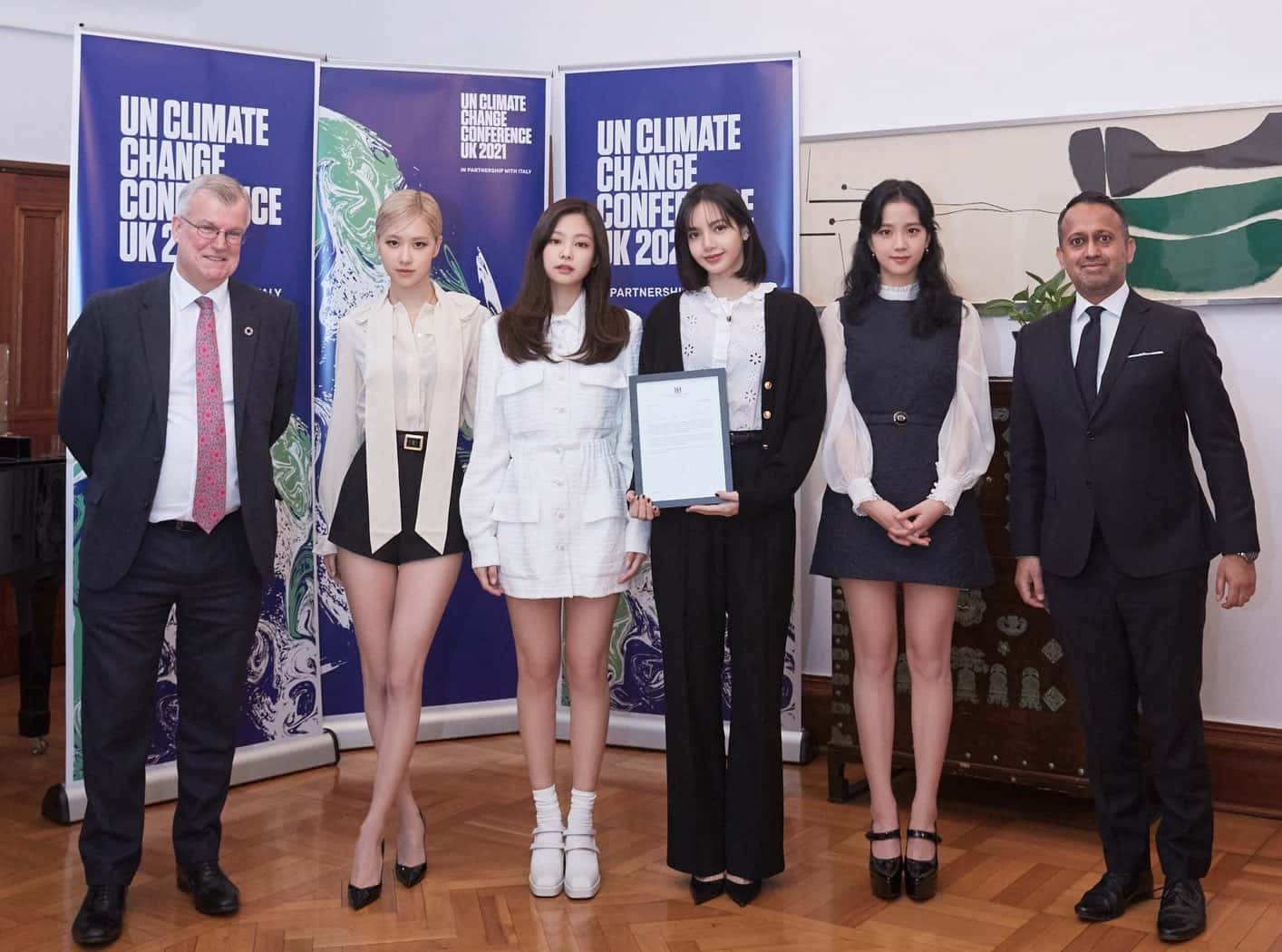 Blackpink urges fans to take Climate Action
At the convention, members of Blackpink spoke about how the opportunity to make positive changes to the planet's climate situation is slipping from our grasp as the temperature of Earth continues to increase. They said that we all need to act now because coming together as one and making changes to our daily habits is the only way we will be able to lead to a big change. The members closed their speech by saying, "let's work together for our planet and take climate action in your area."
Their positive message was accepted widely by most of the fandom but this sweet experience was soured by some fans who made it their business to pry attention away from the pressing issue of climate change and to point fingers at YG Entertainment for not promoting Jisoo well. Blinks pointed out how these solo fans were faltering the image of the group's fanbase in the eyes of global leaders as the official COP26 account was tagged in the replies. As if that was not all, some Blinks audaciously pointed that 'Blackpink not having a comeback is a bigger issue than Climate Change' triggering a lot of negative attention from fans who called out this toxic behavior.
'You are disrespecting COP26'
Fans started talking about insignificant problems when the group decided to raise awareness about the global issue of climate change. One user made the post, "WHERE IS JISOO'S SOLO. WE WANT JS1." One fan of Jisoo said, "We still have no news about JISOO's solo, last time Jisoo's solo was mentioned was December 30th and only mentioned as "after/later", we need something more specific!" Another said, "YG THANKS FOR THE CLIMATE CHANGE REMINDER but #JISOO fans have been waiting JISOO SOLO for almost 3 YEARS, and all the "excuses" have been met. The other members have got their solos and jisoo has finished filming her drama. Give us an update about JS1."
One user said, "Blackpink comeback has the same urgency as climate change. We need @BLACKPINK comeback," while another said, "Blackpink comeback would save the planet." One fan called out another saying, "You are disrespecting COP26, you are labeling COP26, you are shaming jisoo in front of the leaders and the ONU, RESPECT COP26 PUBLICATIONS." One fan admonished the others saying, "I can't believe that even BP gets disrespected by their own fans. This post is a serious matter. You can't just comment here asking for a comeback. Can't you guys be mature even just for once? You don't deserve them."
Another said, "You guys! I know you have demands but replying those under this post is not appropriate. This is BLACKPINK GIVING SPEECH ABOUT CLIMATE CHANGE. Let's be rational here people. Please. Not. Here." One more pointed, "I can't believe how blinks disrespect the girls. seriously? How can you guys talk bout unrelated topics on this serious post? COP26 will see these comments of yours and it's embarrassing how fans doesn't care or at least respect this. I'm not against anyone, but this is not right."
---
| ̄ ̄ ̄ ̄ ̄ ̄ ̄ ̄ ̄ ̄ ̄|
WHERE IS JISOO'S SOLO
WE WANT JS1
|___________|
\ (•◡•) /
\ /
---
| |

— ❄️ (@lvsyoungro) November 3, 2021
---
---
YG THANKS FOR THE CLIMATE CHANGE REMINDER 💚 but #JISOO fans have been waiting JISOO SOLO for almost 3 YEARS, and all the "excuses" have been met. The other members have got their solos and jisoo has finished filming her drama. Give us an update about JS1

— sandra ❄️ (@findyourjisoo) November 3, 2021
---
---
Blackpink comeback would save the planet

— bling (@b2dpforever) November 3, 2021
---
---
You are disrespecting COP26, you are labeling COP26, you are shaming jisoo in front of the leaders and the ONU, RESPECT COP26 PUBLICATIONS

— Ari (@Arblink720) November 3, 2021
---
---
I can't believe that even BP gets disrespected by their own fans. This post is a serious matter. You can't just comment here asking for a comeback. Can't you guys be mature even just for once? You don't deserve them.

— 🌻• shangplawer (@shangsoo_) November 3, 2021
---
---
You guys! I know you have demands but replying those under this post is not appropriate. This is BLACKPINK GIVING SPEECH ABOUT CLIMATE CHANGE. Let's be rational here people. Please. Not. Here.

— MJ (@MJblink_YG) November 3, 2021
---
---
I can't believe how blinks disrespect the girls. seriously? How can you guys talk bout unrelated topics on this serious post? COP26 will see these comments of yours and it's embarrassing how fans doesn't care or at least respect this. I'm not against anyone, but this is not right

— Lala ✨ (@Asahichaeng) November 3, 2021
---