Blackpink COP26: YG Entertainment announces eco-friendly plastic after band's speech Blackpink has been very public about its stance with respect to climate change and has addressed world leaders over the past few years using their medium to raise awareness about the pressing need for a better plan to save earth. With more than 100 million followers on all the four members' Instagram handles as well as a whopping 69 million subscribers on their YouTube channel, Blackpink is a group whose voice is heard by a lot of young people.
Blinks were excited to find out that Blackpink was elected as the representative advocate for the Sustainable Development Goals back in September. Following their selection, it was announced that members of Blackpink were going to speak about climate change on a YouTube original series 'Dear Earth'. On October 24, members of the group addressed the world on 'Dear Earth' and urged people of the world to join hands and work together to save the planet. After this, Blackpink performed their song 'Stay' soulfully while inviting fans to watch them address world leaders at the 26th Annual United Nations Framework Convention on Climate Change (COP26) held in Glasgow on November 1 and 2.
RELATED ARTICLES
'Dear Earth': Blackpink plans climate change speech for YouTube-Google online event
Blackpink's speech at UN Climate Change Conference will ask fans to help save Earth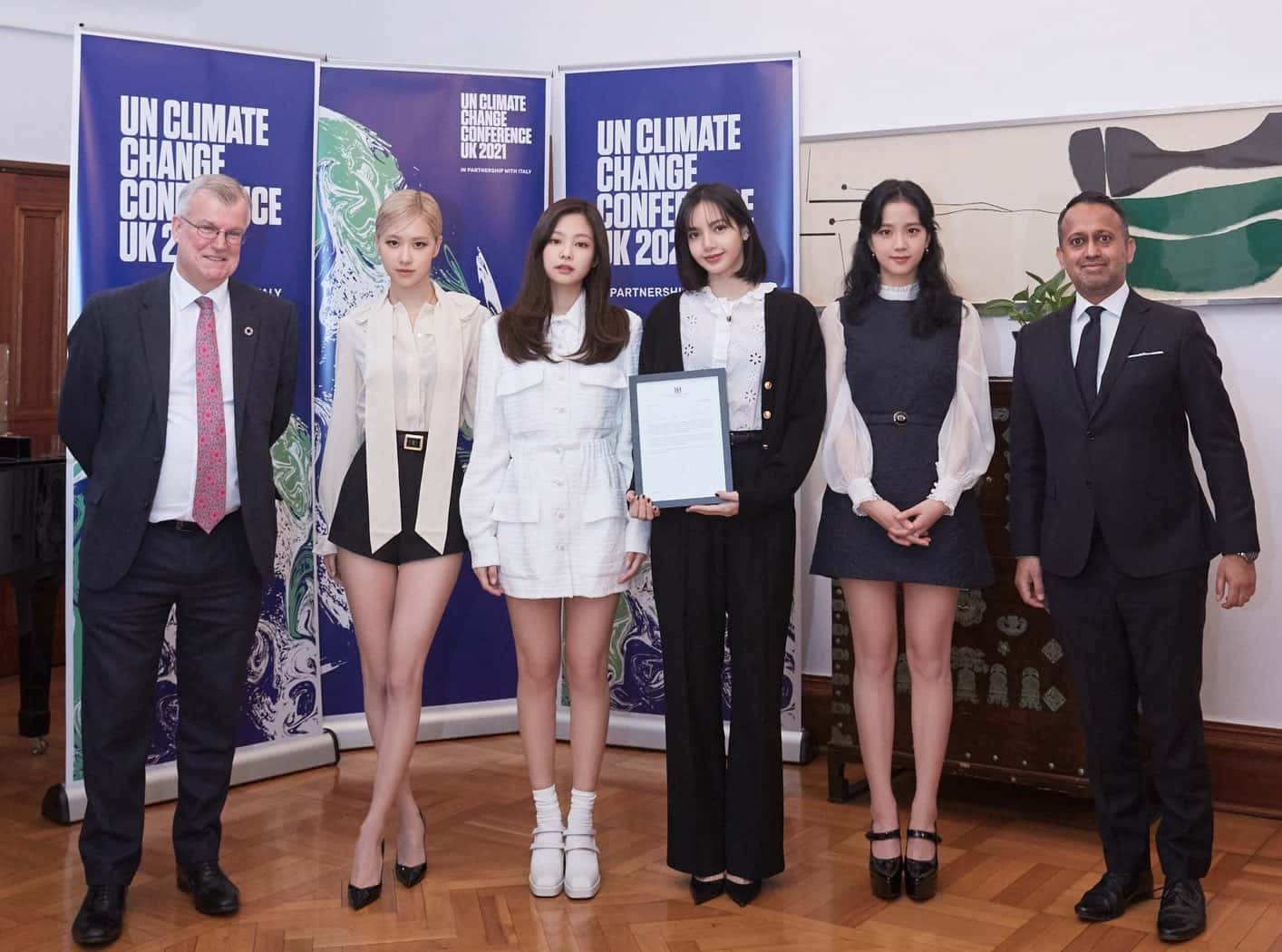 'Take Climate Action in Your Area'
On November 2, members of Blackpink addressed world leaders at the United Nations Climate Change Conference in collaboration with COP26 while they spoke about their goals and motives from South Korea via a video message.
Blackpink spoke about how the opportunity to make positive changes to the planet's climate situation is slipping from our grasp as the temperature of earth continues to increase. They said that we all need to act now because coming together as one and making changes to our daily habits is the only way we will be able to lead to a big change. The members closed their speech by saying, "let's work together for our planet and take climate action in your area."
YG Entertainment makes positive changes
In line with what Blackpink talked about in their message to leaders of the world, their label YG Entertainment has decided to take the first step in process of making considerable changes to save the planet. YG Entertainment said that a change is due all throughout the music industry. They said, "YG, a large global entertainment agency, has stood at the starting point of that change."
A representative of YG Entertainment said: "We are considering a 'Digipack' that uses paper as much as possible rather than plastic when making an album." They added that they are on the stage of receiving and verifying biodegradable plastic samples made from corn starch indicating that the process of making a change has been ongoing for the label for a very long time.
Blinks are proud
As Blackpink takes a step in the right direction, Blinks, in their own fashion, follow through. Fans started complimenting the girls on this achievement as one said, "Let's fight and unite to save our planet, we can still do it, as BLACKPINK says. Let's beat today's Climate Change. Fighting." Another fan said, "I'm so proud of the pinks for using their huge reach in order to spread awareness about something like climate action that affects literally everybody on this planet. They are truly the best girls. TOGETHER FOR OUR PLANET." One more fan said, "Omg my gorgeous wonderful queens."
One fan said, "Thank you for being the voice of our generation! We will stand hand in hand with BLACKPINK For a better future!! TOGETHER FOR OUR PLANET." One proud fan said, "My pride, i really am very proud of the girls makes me understand that i made the right choice to follow blackpink during these years, thank you very much." One fan said, "I am really happy that they spoke about this because I've been really sad because our world is falling apart Thank you BLACKPINK."
---
I'm so proud of the pinks for using their huge reach in order to spread awareness about something like climate action that affects literally everybody on this planet. They are truly the best girls.

TOGETHER FOR OUR PLANET#BlackpinkClimateAdvocates @BLACKPINK

— #SG (@Ilovenini_) November 3, 2021
---
---
my pride, i really am very proud of the girls makes me understand that i made the right choice to follow blackpink during these years, thank you very much pic.twitter.com/2XXw17GSEL

— Alexa♪ (@_KTHSOOYA) November 3, 2021
---
---
I am really happy that they spoke about this because I've been really sad because our world is falling apart Thank you BLACKPINK <3

— Blackpinkbiggesblink 🖤💗 (@ChongJi66172931) November 3, 2021
---