'1000-Lb Best Friends' star Vanessa Cross wants to 'show off' zebra-printed bikini in confident move ATLANTA, GEORGIA: Body issue scars you mentally. But, once you get comfortable with the way your body looks, you start enjoying every ounce of life. Vanessa Cross of '1000-Lb Best Friends' took a lot to build that confidence. The star was seen fulfilling her desire of wearing a bikini during their trip to the beach.
In the first season, we saw Vanessa and Meghan Crumpler going bikini shopping before their trip. Vanessa revealed in the confessional, "I've always wanted to wear a string bikini." She was then shown coming out of the changing room wearing a zebra-patterned string bikini. Meghan was in complete awe seeing Vanessa's confidence.
RELATED ARTICLES
'1000-lb Best Friends': Vannessa Cross' rough childhood led her to find comfort in food
'1000-lb Best Friends': Vannessa encourages Meghan to address her body dysmorphia
Vanessa adjusted her breasts as she came out of the changing room. She was wearing a black and white bikini with yellow strings. Vanessa looked confident and happy as she flaunted the look in front of her best friends. Meghan, on the other hand, replied in shock, "Oh my god. You going to wear this?" Vanessa happily said, "I would love to." She added, "I want to show this off" and went in front of the mirror to take a look at herself. "You kind of surprised me there," said hesitant Meghan. She further fumbled while explaining how shocked she was knowing Vanessa wanted to wear the bikini to the beach.
Without any hesitation, Vanessa decided to wear the bikini to the beach. While she was adjusting herself through the bikini and was all excited to hit the beach, Meghan said, "I wish I had your confidence." Vanessa said in a confessional, "I am so excited to finally put this string bikini to good use." She felt beautiful and courageous in it.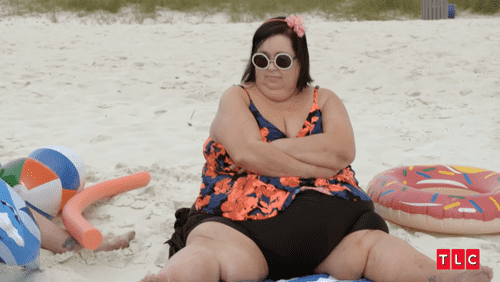 Fans were amazed to see Vanessa's confidence in the bikini. One of the fans took to a Reddit thread to say, "I mean, she has a lot more confidence than I do. I'm about 200 lbs and I wouldn't do it. I hate my body. I admire how much she loves herself." Another wrote, "Doesn't feel like confidence. Feels more like she just learned to tune out the negative commentary from the public in order to live day to day. Just my opinion." "She's got way more courage than I. I won't even wear shorts," said another fan.
Vanessa further shared how scared she was to get in the water. She said, "Being this big, you will not be able to, like, stand up or start swimming real quickly, or get away from anything." She tried to enter the water while balancing her body to not fall. Vanessa said in the confessional, "We got all this fat. There are folds and rolls."
Meghan hesitated in her body while Vanessa rocked the string bikini
Vanessa, Meghan and Tina hit the beach to enjoy some time watching the waves. While Vanessa was enjoying her bikini look, Meghan got concerned all of sudden thinking of how she looked. Instead of wearing the bikini, she had her bathing suit on. Tina asked Meghan to remove her black dress and show off the bathing suit she was wearing inside it. She said, "you have a cute bathing suit on under there." To this, Meghan seemed to have gotten triggered. She said, "cute bathing suit? It's grandma." She then removed her black dress and showed off the floral suit.
Seeing Meghan act all hesitant and not uncomfortable, Vanessa said, "let me tell you, something baby, it's taken a lot for me to show up with nothing but my bikini on." Vanessa further said to Meghan, "I understand your struggle, and that bothers me to my core." Meghan, who was not comfortable talking about her body said, 'I get anxiety just talking about this." Meghan further saw other girls on the beaches roaming around freely in their bikinis without the fear of getting judged. Seeing this, she said, "I don't feel I belong here."
On the other hand, Tina acted cool and tried cheering Meghan. She wore a blue, pink, and green patterned top with black shorts. She stood up and said "I'm going in" as she walked toward the waves. In one of the other episodes, we saw all four best friends flaunting their curves in swimsuits. Vanessa wore a low-cut top with purple bottoms. Tina gave off the bold look in her cheetah-printed bikini with floral print designs on the bottom of it. Moreover, Ashley wore a colorful zebra-printed crop top paired with a black swimsuit at the bottom. Whilst, Meghan instead of opting for anything small, went with knee length brown colored dress.
'1000-Lb Best Friends' Season 2 will premiere on January 4 at 10 pm ET on TLC.
This article contains remarks made on the Internet by individual people and organizations. MEAWW cannot confirm them independently and does not support claims or opinions being made online.
Share this article:
'1000-Lb Best Friends' star Vanessa Cross wants to 'show off' zebra-printed bikini in confident move