'Warrior' Season 2: Who is Sophie Mercer? Penelope's younger sister might thaw Dylan Leary's icy heart
After their frequent encounters, it seems like Sophie has an agenda on her mind as she leans closer to Leary, or will she fall in love with him? Sophie Mercer and Dylan Leary (Cinemax)
Spoilers for 'Warrior' Season 2
The first episode — 'Learn to Endure, or Hire a Bodyguard' — brought 'Warrior' back with a bang as Ah Sahm (Andrew Koji) joins the Barbary Coast fight pit. On the other side of San Francisco, Sophie Mercer (Celine Buckens) enters the world of Penelope Blake (Joanna Vanderham), the wife of Mayor Samuel Blake (Christian McKay).
It's a beautiful day as autumn colors fill the skies from across a memorial site. Sophie walks in with a bunch of yellow flowers in her hand as Dylan Leary (Dean Jagger) soberly reminisces his wife and two boys at their grave. With a little hesitance, the two spark a conversation. She reads out the names of his kids, "Ian and Daniel," and says, "Oh, I am so sorry." Leary reveals Small Pox took their life eight years ago.
Dropping a bunch of flowers on their grave, she says, "My father is buried up the hill and they refresh his flowers twice a week. I'd like to spread them out around the other graves." When Leary says her father would have appreciated it, she snaps that he would have "f**king hated it." Amused that a "proper woman" like her could swear, he smirks and Sophie retorts on his assumption that he took her for a "proper woman."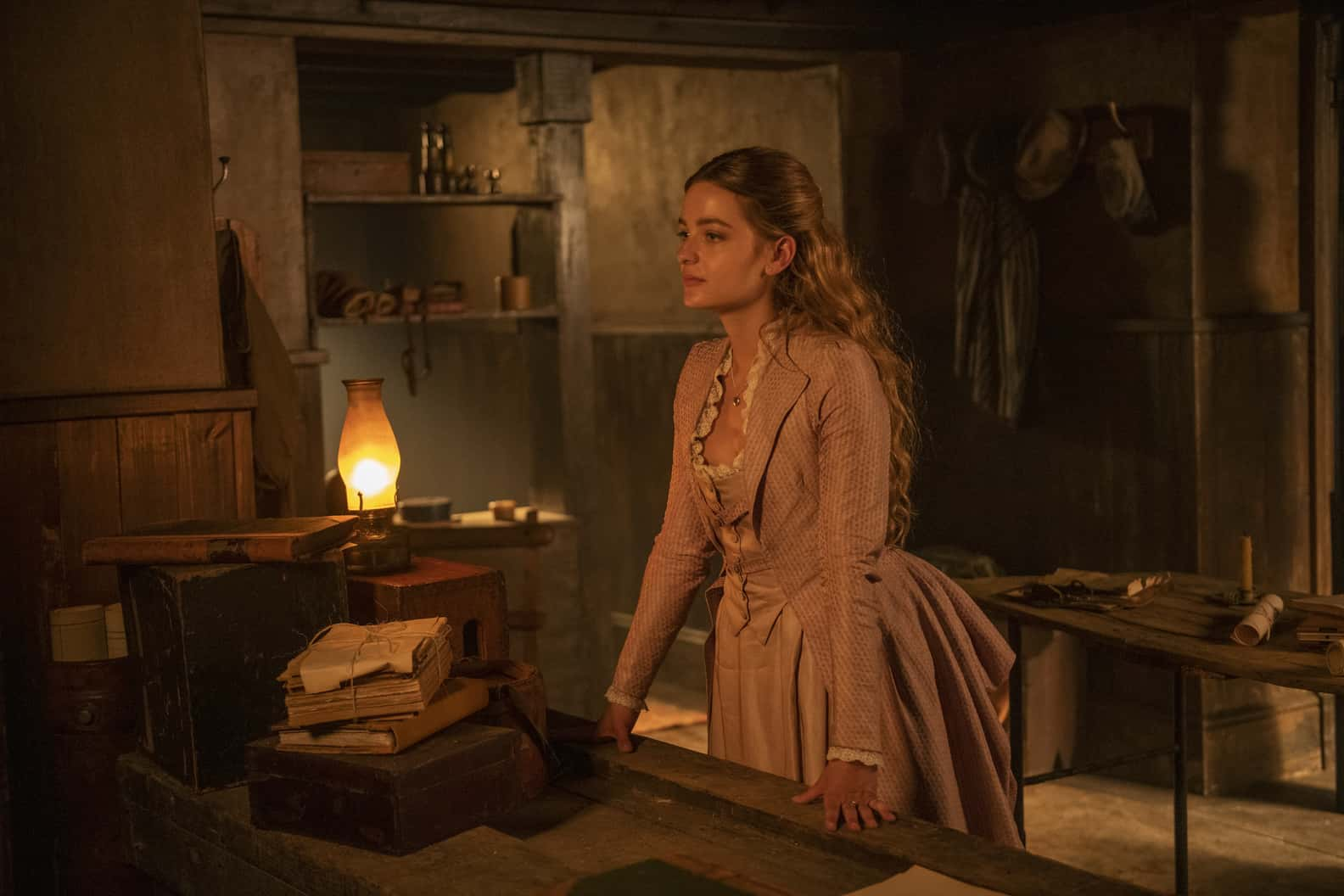 Who is Sophie? Dubbed as "A young, rebellious woman and sister to Penny, who crosses family lines to take up the cause of the Irish Workingmen," she just stepped in but already seems like a badass character. In the next scene, we see her at Penelope and Samuel's home. At the breakfast table, she mocks the Mayor repeatedly with his first name "Samuel" after he insists she calls him that instead of "Mr Mayor." Clearly, both the ladies are as unforgiving as one can be.
The two then have a conversation where Penelope says she manages to "disqualify" every man that comes her way. In the second episode — 'The Chinese Connection' — Sophie again meets Leary at the rally and then they head to his place, the Banshee. Flirting with him, she plays Beethoven's 'Moonlight Sonata' on the pub piano. It lights up Leary's heart as he plays the poignant music again at the end of the episode.
After their frequent encounters, it seems like Sophie has an agenda on her mind as she leans closer to Leary. Or, will she fall in love with him? Well, Leary — on the other hand — already seems smitten by her. Catherynne M Valente once said, "You will always fall in love, and it will always be like having your throat cut, just that fast." It might just hold true for the Cinemax show!
A Belgian-British actress, Céline Buckens takes your breath away and spills magic in every frame in the role of Sophie. Did you know she portrayed Émilie in Steven Spielberg's 2011 film 'War Horse'? She is also known for her role in the Netflix drama series 'Free Rein' as Mia MacDonald from 2017 to 2019.
Born in Brussels, Belgium on August 9, 1996, Buckens attended Thomas's London Day Schools and St Mary's School. She also studied History at the London School of Economics and Political Science. A debutante at the Bal des débutantes in Paris, she is just 24 and has also starred in short films 'The Rain Collector', 'Ne M'oublie Pas (Forget Me Not)' and 'The Good Liar'.
As more episodes roll out, she will also be seen in 'Not How We Do Business', 'If You Don't See Blood, You Didn't Come to Play' and 'Enter the Dragon'.
Catch more episodes of 'Warrior' Season 2 as it airs on Cinemax every Friday at 10 pm ET.