'Welcome to the world, baby girl': 'Today' host Savannah Guthrie congratulates NBC journalist Morgan Chesky on live TV for becoming 'first-time dad' LOS ANGELES, CALIFORNIA: 'Today' host Savannah Guthrie didn't leave any stone unturned to congratulate Morgan Chesky after announcing that her colleague and NBC correspondent welcomed his daughter into the world on Tuesday, May 23, 2023. Guthrie went on to send good wishes to her fellow journalist on live television and surprised her fans by sharing such extraordinary news with them.
The sweet moment took place during the episode that aired on Thursday, May 25, in which Guthrie, along with her fellow team members, sent congratulations to her co-worker Chesky on-air. The official Twitter account of 'Today' shared a clip from one of the segments where Guthrie can be seen hosting the show from outside of the 'Today' studios. She was joined by her fellow teammates Hoda Kotb, Craig Melvin, Dylan Dreyer, and Carson Daly.
Before moving to the other segment, Guthrie took the opportunity to send an adorable message to Morgan, and his wife Olivia Jane Steele. She congratulated Morgan for becoming a first-time dad and noted that his wife and their daughter Eleanor Mae are doing absolutely fine.
READ MORE
'I'm ready, let's go': 'Today's Hoda Kotb shares how co-host Jenna Bush Hager is setting her up with a new man
'This is all for show': 'Today' host Savannah Guthrie reveals she's 'dying inside' and 'stressed out' amid major change in life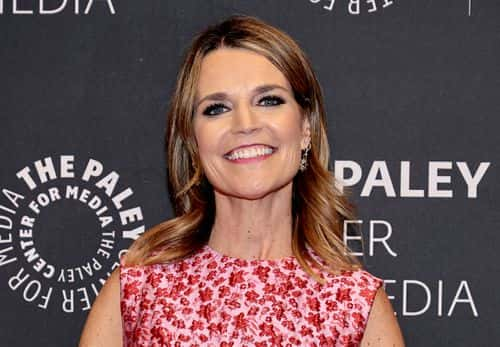 Guthrie and other 'Today' hosts send 'good wishes'
"Let's take a moment and congratulate a member of our Today family...correspondent Morgan Chesky just became a dad. She's a healthy seven pounds, thirteen ounces [and] just beautiful. Welcome to the world, baby girl," Guthrie said. The clip also featured adorable photos of Morgan embracing his wife as she held their daughter in the hospital.
Morgan is proud to be Ellie's dad 'from this day forward'
Morgan went on share the same photos on his official Instagram account and that their baby made her "big debut" on Tuesday. He joked that the baby has her "mother's eyes and her father's appetite". He wrote, "Safe to say we're all in love with lil Eleanor Mae Chesky, who made her big debut Tuesday afternoon weighing a solid 7 lbs 13 oz. With her mom's eyes and dad's appetite Ellie's already off to a fantastic start! Her grandmother calls her the cutest 6th-generation Texan she's ever seen. I'm inclined to agree."
Morgan concluded by saying that he is "proud" to be Ellie's father "from this day forward."
For the uninitiated, Chesky is an award-winning journalist who began his journalistic career in 2008 with CBS. He went on to work on several hard-hitting local and national stories for news channels such as KVHC 15, KLTV, and KVUE. In 2016, he moved to Seattle and began working as a weekend and weekday evening anchor for KOMO TV for over two years. During his stint at KOMO TV, he won a regional Emmy for his stupendous reporting on a case that involved a young girl disappearing from an area of Seattle in the early '90s.
Currently, he is working for NBC and lives in Texas.
Share this article:
'Today' host Savannah Guthrie congratulates correspondent Morgan Chesky on live TV for becoming 'first-time dad'