'The Wrong Missy': Netflix comedy has fans in splits, Lauren Lapkus and David Spade's hair are the real stars Netflix's new comedy film, 'The Wrong Missy', premiered on the streaming platform earlier today and it seems like netizens and comedy fans are absolutely loving it.
The film is produced by Adam Sandler's Happy Madison Production, which also has comedies like 'Don't Mess with the Zohan', 'Just Go With It', '50 First Dates', 'Grown Ups' and more under its production belt.
Directed by Tyler Spindel, the film is a happy escape for anyone that is looking for a reason to laugh during this unprecedented and difficult.
Starring comedy veteran David Spade and Lauren Lapkus in the lead roles, it also features other Happy Madison regulars including Nick Swardson, Rob Schneider, Jackie Sandler along with Geoff Pierson, Sarah Chalke, Molly Sims, Chris Witaske and Roman Reigns in supporting roles.
Spade portrays a 40-year-old corporate employee, Tim Morris, who invites the woman of his dreams, Melissa or "Missy" (or so he thinks) on a weekend work-related getaway to Hawaii. The two had been texting back and forth, and Tim deemed it only natural to take their relationship to the next level.
That is until he realizes he had been texting someone else entirely when he boards the plane and 'The Wrong Missy' takes her seat in his aisle. This woman, also Melissa or "Missy" and played by Lapkus, is a former blind-date-gone-wrong, who he had been desperately trying to forget, but all in vain.
In an exclusive interview with MEA WorldWide (MEAWW), Spindel said he truly hoped that people would enjoy his latest comedy offering. "I just hope it gives people something to laugh at and not think about what's going on and lay back in a bed — maybe get a little drunk or whatever they want to do — and just laugh at something kind of fun and not take yourself too seriously," he said.
And it looks like people are doing just that if their reactions on social media are anything to go by. 'The Wrong Missy' is a hit and Twitter users have been raving about how they haven't stopped laughing for a single minute since they started watching the film.
"The wrong missy movie is having me dead... this movie is too much," one user tweeted. "#TheWrongMissy is hilarious. I was almost in tears from laughing. Haven't done that in a while," another added.
"Watched 'the wrong Missy' on @netflix with the super funny & kinda hot @DavidSpade This is the best thing to happen in lockdown since Carole Baskin," A third one said.
'The Wrong Missy' has officially become a staple watch during quarantine, according to this user who said, "Drop whatever you are doing and watch #TheWrongMissy, it'll help with the #COVID19 #coronavirus #QuarantineLife blues. We are falling over each other laughing, this is genius!! And so many great actors/actresses!"
Some even high-key related to Missy's character, like this person: "Watching The Wrong Missy and I might, just might, be Missy. Oh my god."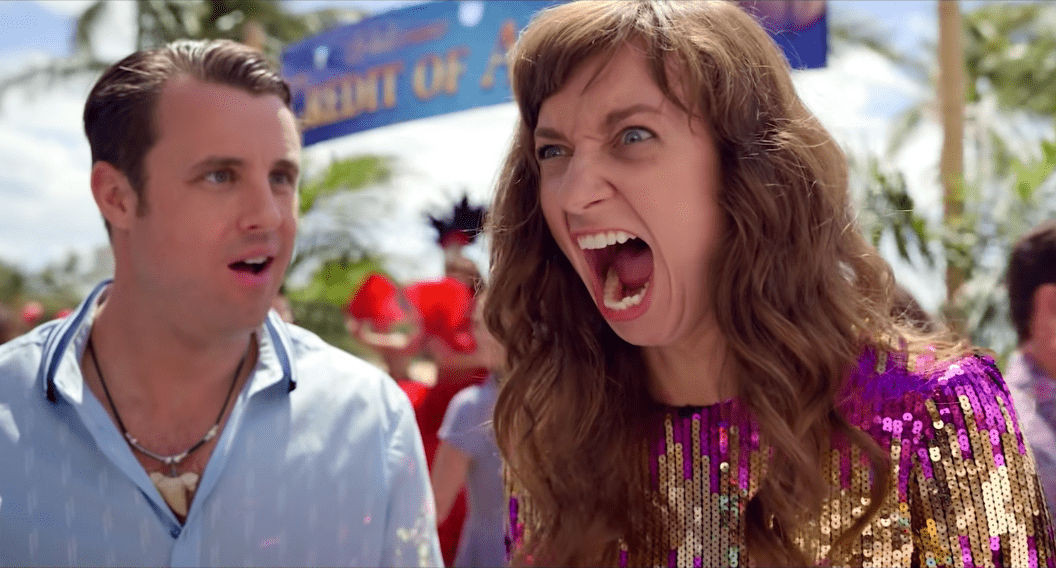 "Crazy Missy from the Wrong Missy being certified in everything is how I envisioned myself coming out of this quarantine," says another user, who has her quarantine priorities straight.
It's evident from these reactions and more that these two just stole the show — Lauren Lapkus and David Spade's hair. "Watching this movie 'The Wrong Missy' on Netflix and I'm kind of attracted to the crazy a** character Lauren Lapkus plays," a fan added.
"The funniest thing about #TheWrongMissy is @DavidSpade s hair," said another.
'The Wrong Missy' premiered on May 13 on Netflix.