'The Wrong Missy' Review: A hilarious must-watch with a healthy dose of cringe Contains Spoilers
Tyler Spindel's newest directorial offering is yet another comedy film that is bound to have you convulsing with laughter, and with Adam Sandler on board as the producer you know you're in for the ride of a lifetime.
Spindel is known for his much-acclaimed comedy short film 'Love and Germaphobia'. He also co-wrote and directed the 2018 Netflix Original film 'Father of the Year' which starred David Spade and Nat Faxon.
His latest film, 'The Wrong Missy', is also a Netflix Original comedy, and stars a well-endowed cast comprising David Spade and Lauren Lapkus in the lead role, with Geoff Pierson, Sarah Chalke, Molly Sims, Chris Witaske, and Roman Reigns in supporting roles. Comedy veterans and regulars at Sandler's Happy Madison Production including Nick Swardson, Rob Schneider, and even Jackie Sandler, Adam Sandler's wife, also make appearances.
Lapkus isn't exactly a new face, either. One may recall her role as Susan Fisher in 'Orange Is the New Black' and her appearances on shows like 'The Big Bang Theory', 'The Middle' and 'Jurassic World.'
Most of Happy Madison films feature guys, mostly Sandler's longtime comic buddies, who often stage inappropriate behavior that arouses full-on chuckles from their audiences. However, in 'The Wrong Missy', Lapkus' gets to deliver sexually explicit dialogues that adopt a whole lot of millennial lingo and x-rated innuendos.
Things go completely haywire for Tim Morriss (Spade) when the woman he thought he was going to be spending a weekend with in Hawaii turns out to be a disastrous blind date. Tim and Melissa or Missy's (Lapkus) first date doesn't go as well as planned, with the latter's obnoxiousness leading to Tim trying to make a run for it, and dislocating his ankle, in the process.
Months later, Tim's in a rush to get his gate when he bumps into Melissa Doherty (Sims) at the airport, and has a mix-up with the luggage. The two miss their scheduled flights and end up chatting with each other only to realize they have much in common. However, while things start to get hot and heavy between the two in the janitor's closet, Melissa has a rescheduled flight to catch and she leaves behind a number for Tim to reach her.
Tim, who is very smitten, forgets that he still has his nightmare blind date's number and ends up texting her, instead. He then invites her to join him on a weekend work trip in Hawaii, to which she readily agrees. It is only when they're on the flight that Tim realizes his blunder when the wrong Missy boards his flight, but there's no going back and he has to put up with her for the rest of the trip.
Missy is a force to be reckoned with, and extremely relentless in her pursuit of Tim - no matter what he does, he just can't seem to get rid of her. Missy's foul-mouthed overt personality becomes a hit among his colleagues, but the one person Tim really wants to impress is his boss, Jack Winstone (Pierson).
Over the weekend that the two spend together, Tim is hit with the realization that Missy is really not so bad and begins to harbor feelings for her until a jealous co-worker Jess (Jackie Sandler) reveals to Missy that she wasn't the one Tim had initially wanted to accompany him.
Missy snoops through Tim's phone and discovers his texts to the other Melissa, and immediately packs her bags. Once back home, Tim comprehends his feelings as being in love with Missy but fails to get her to talk to him. So he organizes a blind-date and attempts to trick Missy, the way she had when he'd first met her and wins her over after apologizing profusely and confessing to her.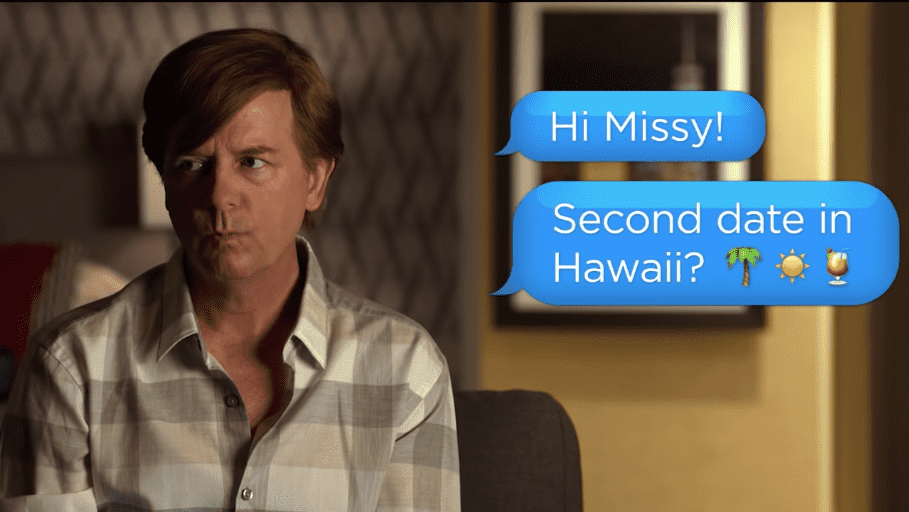 'The Wrong Missy' is a ridiculously amusing and knee-slapping experience fully packaged with cringe-worthy moments. While the plot may seem like typical rom-com cliché, the film has a strong foundation of a well-written script complete with witty dialogues and slangs, powered by perfectly-timed slapstick delivery.
A series of close-ups and medium shots in the nimble cinematography of Theo van de Sande pan in on the characters, adding depth and determining their significance in the storyline. The cutaways in the 89-minute movie are polished with seamless transitions between each scene - artful editing on the part of Brian M Robinson.
The vibrant colors coupled with the setting and the direction further cement the film's comedic elements and tone. The film's discography is a well-curated collection of upbeat and mirthful music which contributes to the fun factor. Matching a song to a particular scene is meticulous work, however, Mateo Messini's choice of musical scores to align with every scene successfully enhances the events transpiring within them.
The characters have impeccable comedic timing, and it carries on throughout the light-heartedness of the film. While we're so used to seeing Spade in all his comical glory, he seems so refreshingly unrecognizable as a 40 something businessman looking for love. Meanwhile, Lapkus nails the psychopathic, creepy yet oddly-relateable nightmare blind-date from hell character of Melissa, and you can't help but enjoy her antics while indulging in belly-aching laughter and a sense of second-hand embarrassment on behalf of Tim.
The film is every bit entertaining and has its 'what the f**k' moments as well, that overall make it a hilarious must watch for its absurdity.
'The Wrong Missy' premieres May 13 on Netflix.
Share this article:
the wrong missy netflix feature film review tyler spindel adam sandler david spade lauren lapkus