'The Wrong Missy' director Tyler Spindel says many great moments on the Netflix comedy are 'improvised'
'It's like getting to hang out with all your favorite comedians. It's not work, you just get to laugh,' says Spindel about his second directorial stint in an exclusive with MEA WorldWide (MEAWW) Netflix's new comedy film 'The Wrong Missy' drops today, and it looks every bit an entertainer. The film is produced by Adam Sandler's Happy Madison Productions and directed by Tyler Spindel.
It stars comedy veteran David Spade as a middle-aged man who accidentally invites a nightmare blind date (played by Lauren Lapkus), on a weekend work-related getaway over text, mistaking her to be someone else. That is when he realizes his blunder - he had been texting 'The Wrong Missy' this whole time.
MEA World Wide (MEAWW) reached out to director Tyler Spindel to chat with him about his beginnings and how he brought this film to life, ahead of the film's release on May 13.
'The Wrong Missy' is the second film under his directorial belt, his first being another Happy Madison production and Netflix Original, 'Father of the Year'. He has also directed the second unit for eight studio Happy Madison features including writing, producing, and directing the acclaimed comedy short film 'Love and Germophobia'.
Spindel did stand-up while he studied at Harvard, and just as any kid with the big dreams, he made the move to Los Angeles to pursue stand-up comedy as a career after graduating.
He hosted a weekly show at the Laugh Factory in Hollywood for quite some, growing as a comedian and honing his art, before he made the switch to directing comedy films, something he was also passionate about. He met and did stand-up with Nick Swardson who is a regular at Happy Madison, TJ Miller, and Adam Devine.
"I was never like an amazing stand up comic but I think my jokes for pretty good and I had this joke that I knew was a funny joke and I knew people should be laughing but they weren't and I just kept doing the joke. I knew I wrote it funny and it was never getting laughs," Spindel explained.
"I just couldn't figure out why. And then I gave the joke to a buddy of mine who was like a really great performer and he just crushed the joke and like annihilated it, got giant laughs with it and I was like you know what maybe I should be behind the camera. That's when I decided to stop doing stand up and start trying to get into directing."
From then on he made a smooth transition from stand-up comedy into directing comedy. "A lot of the stuff you learn in stand-up, which is like you learn timing, you learn how to tell a joke. Stand-ups the greatest training cause you learn what's funny right away, you don't have to wait three months to send it out and you get to see everybody's reaction first- hand. And also, I like to work with some of my favorite actors or people I met on the stand-up scene."
The key to making a good comedy film, according to Spindel is its ability to incite laughter and great timing "You have to be your own barometer if it doesn't make you laugh, how is it gonna make anybody else laugh?" said Spindel.
"And I think also to me, comedy is all about timing. It's all about surprising the audience, doing something or acting something out in a way that's not expected and just, you know, just kind of teetering the line always."
When it came to making his next comedy film, Spindel was on the lookout for something different. He wanted to invest his time and skills into a project that had a strong female comedian as the lead.
So when the script for 'The Wrong Missy' was handed to him, he knew he had found what he was looking for. And he sort of related to the whole concept of wrong texts. He recalls having accidentally texted his old boss, "I miss you."
"It was like a really horrible experience for me", he said. "I wanted to do something to just try to give people an escape that might just make something kind of like fun and silly. And so I just thought this would be a good vehicle for that."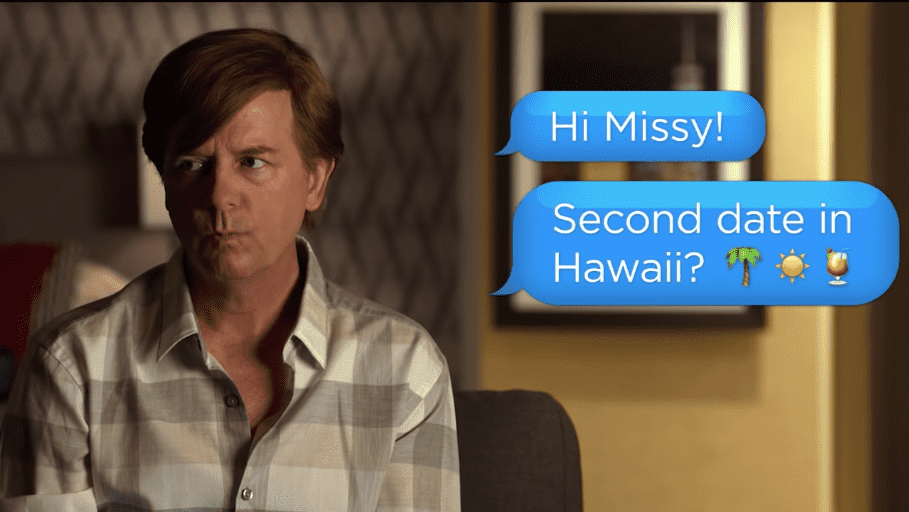 Once he had a script in hand, Spindel said casting wasn't too much of a challenge. He'd worked with David Spade previously on 'Father of the Year' and he also regular at Happy Madison, and so he immediately came to mind when he thought about Tim Morris.
For the role of Missy, however, they had auditioned several women and just kept looking until they found the right person. It was tedious and long but Lauren Lapkus won them over right as she came in.
"Lauren came in, she just annihilated [the audition]. And then that was it. We just stopped the auditions. Were like 'we just found her!' said Spindel. "You know, you have a voice in your head. You know how you want it to feel. You know what you want it to look like. But, I didn't know who it was until we saw it."
The film stuck to the script, story-wise, but Spindel said they would often improvise with dialogues. Comedy and jokes don't usually adhere to scripted dialogues, and jokes made impromptu have the perfect sense of timing to enhance the comedic element in the scene.
"They're all great improvisers," he said referring to Spade, Lapkus, Swardson, Schneider and others. "So, you know, a lot of times what we do is,we do the script, make sure we got the script right, you know — two, three, four times — whatever it was. And then I'd be like, 'Alright, now, just like, go nuts, see what happens'. A lot of the great moments in the movie are improvised, honestly."
Adam Sandler's Happy Madison Production has been around for over 20 years and has produced some of these best comedy classic till date including 'Don't Mess with the Zohan', 'Just Go with It', 'Deuce Bigalow, Male Gigolo', '50 First Dates', 'Grown Ups' and more.
When asked about a typical day on the set of a Happy Madison film, Spindel simply described it as being an "awesome" experience.
"It's like getting to hang out with all your favorite comedians. It's not work, you know, you just get to laugh — it's just it's honestly a trip," he quipped. "I would just say it's like it's something you would not even just do for free. It's something I would pay to do. And it's just very fortunate that I get paid to do it."
MEAWW asked Spindel about how it was like working with Spade and Lapkus as the protagonists of the film. Spade portrayed a mildly funny, slightly serious sort of a persona for the character male lead Tim, which is unlike the other "funny guy" characters he usually plays on the screen.
"What's great about having somebody with Spade's comic chops in a more straight role is that he can get your laughs with just like a look, or a little bit of a smile or whatever, just like a sarcastic line here or there", he said, in all praise of Spade's range.
"The thing about Spade is even when he's playing it straight, he's still going to get you some comedy," he added, describing him as an easy person to work with.
Speaking about Lauren, he commended her for her versatility and the different options she brought to the table. She would nail her parts in the very first take but would also try something different in what Spindel says were at least five or six different takes.
"And then honestly, the hardest part was in the edit — trying to decide which way to go — because I remember one scene we had like six different jokes from her that she spewed out. And so we're like, 'Man, we like them all! Which one do you use?'"
"She's honestly really sharp. She's a really smart person, she always gets what you're going for," he added, lauding her ability to memorize and deliver impromptu jokes seamlessly.
"And she didn't even have to look at them. She would just hear them and she remembered them all exactly. Then she would just do them on camera with the right timing and everything. I was just baffled that she was able to remember everything like that."
'The Wrong Missy' is bound to make us convulse with laughter if the headlining cast and the trailer is anything go by and Spindel truly hopes that amid this tough time, as the coronavirus pandemic rages on, it gives people a reason to laugh.
"I just hope it gives some people with something to laugh at and just to like, not think about what's going on and just lay back in a bed — maybe get a little drunk or whatever they want to do — and just, laugh at something kind of fun and not taking yourself too seriously," he said.
Nevertheless, he hopes everyone likes it and is buzzing with excitement to see the love and reaction the film is going to get from comedy fans and Netizens alike.
'The Wrong Missy' premieres on May 13 on Netflix.
Share this article:
'The Wrong Missy' director Tyler Spindel says many great moments on the Netflix comedy are 'improvised'