'So happy for the two of you': Rod Stewart rejoices on news of first grandson as daughter Ruby is expecting ESSEX, UNITED KINGDOM: Legendary English singer Rod Stewart has announced that he will welcome his second grandchild this year in April! Rod, who has eight children by five women, has a daughter Ruby Stewart who is now expecting a baby. He had announced the joyful news on his Instagram page with over 1.2 million followers.
On his stories, he reposted Ruby's video of the gender reveal where the family is elated that the baby will be a boy, which his daughter had confirmed in the pregnancy announcement. Ruby is his daughter by ex-partner Kelly Emberg, a model. Ruby had posted the ultrasound of the fetus on her social media handle announcing her pregnancy. She had also stated that she couldn't wait to give birth and embrace motherhood. Daily Mail reported that she is expecting the child with her boyfriend Jake Kalick.
READ MORE
Rod Stewart posts sweet family photo with wife Penny and six of his children in front of Christmas tree
Rod Stewart's 11-year-old son Aiden hospitalized after collapsing and turning 'blue' at soccer match
Rod had posted the wholesome family gender reveal moment from their Christmas party last week where he is the one revealing the gender out of an envelope with the rest of the family being absolutely delighted. Ruby's announcement was a short clip of her ultrasound, which was captioned, "Out of all of the things that happened in 2022 you were by far the most beautiful…We can't wait to meet you…Baby boy Kalick coming in April."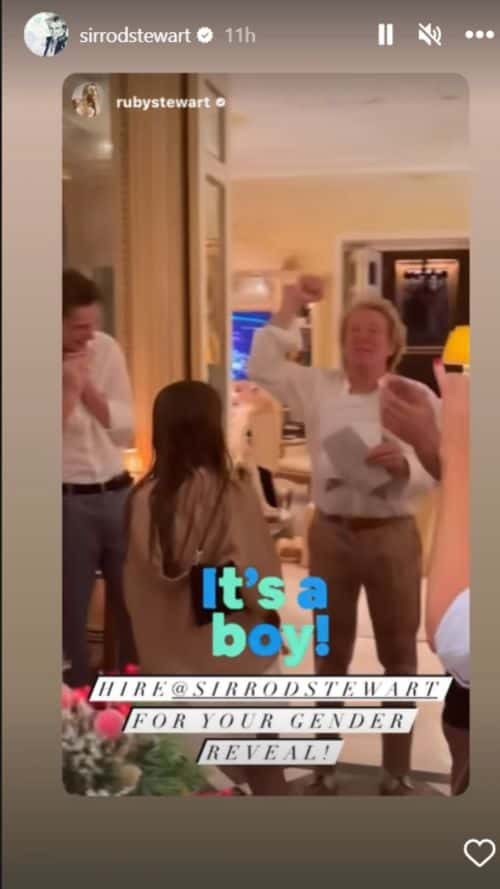 Her family has also shown up in the comments to offer their love and support for the expectant mother. Rod's wife Penny Lancaster had commented, "Can't wait to meet him." Her father Rod congratulated her by commenting, "So happy for the two of you." Her half-sister Kimberly Stewart had left a sweet comment as well, "Def has the Stewart nose." Her father's ex-wife Alana Hamilton Stewart had also left a congratulatory message on the post, with her comment saying, "How wonderful! So happy for you." Ruby's half-sister Renee Stewart had also posted a comment on the post expressing her happiness for the couple, saying, "love you guys!"
This is Rod's second grandchild, with his first being Delilah by daughter Kimberly with her partner Benicio Del Toro. Stewart also has a son Sean by his first wife Alana. He then went on to marry Rachel Hunter, whom he had divorced in 2006. They share daughter Renee and son Liam. His third and current marriage is to former model Lancaster, with whom he shares two sons, Alastair Wallace and Aiden Patrick. Rod is also father to Sarah Streeter, who he had in his teens. She was raised by her adoptive parents.
Share this article:
'So happy for the two of you': Rod Stewart rejoices on news of first grandson as daughter Ruby is expecting