'Return to Amish' Season 7: Kenneth Detweiler pursues forbidden passion that could get him 'shunned' by his community SARASOTA, FLORIDA: 'Return to Amish' Season 7 is off to a great start and the grooving drama already has the viewers hooked. Some fan favorites like Sabrina Burkholder, and Rosanna Miller have returned this season, but it's the newbies that have caught the audience's attention.
One new cast member of the TLC show apart from Daniel Miller is Kenneth Detwiller. Kenneth is a 20-year-old young man from Kentucky who has the dream to play basketball, but the sport is forbidden in their community. He belongs to the older Amish order and works hard as it is a value ingrained in him since he was young. He has revealed that he works on a farm and really enjoys being around livestock. In Episode 2, he had arrived in Florida to make his dream come true. In a sneak peek of the upcoming episode, the reality star is seen testing out his basketball skills and reveals being scared. To find out what Kenneth's fear is, keep reading.
RELATED ARTICLES
'Return To Amish' 2023: Why Carmela and Jeremiah Raber are 'envious' of Sabrina's pregnancy
'Return to Amish': Rosanna Miller and Johnny Detweiler stay together as they raise their daughter
---
View this post on Instagram
---
Kenneth Detweiler sneaks off to try his luck
In Kenneth's community basketball is a forbidden sport as they believe its too aggressive. However, he wants to pursue his passion and take the next step to follow his heart and play basketball. Kenneth wasn't given the opportunity to play the sport as he never got to go to high school and be a part of a team. The reality star sneaks off to a court several miles from his house to play basketball and he loves the sport as it allows him to pass some time alone and think. He sometimes goes to a nearby high school to watch their team practice and it always makes him wonder what it would feel like to play freely and practice the whole day without being scared.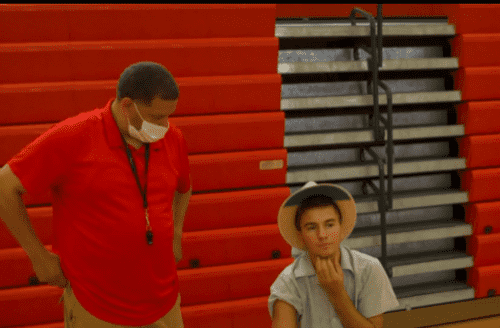 Kenneth Detweiler is scared of being 'shunned'
In the trailer episode, Kenneth shared a shocking truth! He has revealed that even by touching a basketball, he is breaking his communities rules and if they ever find out, they will turn their backs on him. He goes on to admit that the idea of being "shunned" by his community is "scary" but he still wants to pursue his passion. Kenneth will stay in Florida as over there he will be allowed to play the sport and though he will miss his family and farm life, he is ready for the next step.
Catch 'Return to Amish' Season 7's next episode on Tuesday, March 28, at 10 pm ET on TLC.
Share this article:
'Return to Amish' Season 7: Kenneth Detweiler pursues forbidden passion that could get him 'shunned'