'It was a dark phase': Priyanka Chopra Jonas says she experienced 'deep depression' over botched nose job NEW YORK CITY, NEW YORK: Priyanka Chopra has spoken up about the botched nose job she underwent in the early 2000s that earned her the nickname 'Plastic Chopra.' The 40-year-old actress opened up during her debut appearance on SiriusXM's 'The Howard Stern Show,' on May 2, about the unsuccessful surgery of a polyp from her nasal cavity. The 'Love Again' actress recalled, "It was a dark phase."
After winning Miss World 2000, Chopra underwent a life-changing surgery while being pursued by Bollywood. In addition to her most recent open radio interview, Chopra also enjoyed a spectacular date night with her spouse Nick Jonas at the Met Gala on May 1. The 'Sucker' hitmaker donned a leather jacket and tie, and she went for a strapless black gown with an overly high slit.
READ MORE
'I kept making same mistakes': Priyanka Chopra opens up about 'tumultuous relationship' before husband Nick Jonas
Who is Priyanka Chopra's dad? Rosie O'Donnell assumes Priyanka is Deepak Chopra's daughter
'I went into a deep, deep depression'
Aside from how the rhinoplasty changed her external appearance and inner thoughts, it also had an impact on her career. The Miss World 2000 winner claimed that after undergoing plastic surgery, she was sacked from three separate motion pictures and that she felt her acting career was "over before it started." "This thing happens, and my face looks completely different," she said, "I went into a deep, deep depression," said Priyanka as per Daily Mail.
Chopra stated that she was initially reluctant to have another surgery, but her late father Ashok Chopra, who was also a doctor, encouraged her to have the corrective procedure. The 'Quantico' alum went on to say, "I was terrified of that, but he was like, 'I will be in the room with you.'" The global icon added, "He held my hands through it and helped me build back my confidence." Chopra claimed that Bollywood director Anil Sharma assisted her in regaining her focus by casting her in a supporting role in a film even though she was intended for the lead role.
'Devastated and hopeless'
The Bollywood beauty writes in her memoir, 'Unfinished,' about how the failed surgery left her feeling "devastated and hopeless." She claimed that at the time, it caused some haters to refer to the former Miss World winner as "Plastic Chopra." She writes in the book, "Every time I looked in the mirror, a stranger looked back at me, and I didn't think my sense of self or my self-esteem would ever recover from the blow," wrote Priyanka.
The actress was still a young adult when she discovered a benign growth in her nasal cavity that required surgery. "Fortunately, a polypectomy sounded like a pretty routine procedure. Unfortunately, it wasn't," she wrote in her book. The surgeon "accidentally shaved the bridge of my nose and the bridge collapsed." The global star, who was already well-known in India for her beauty, was described as being "horrified." Chopra went on to write, "My original nose was gone. My face looked completely different. I wasn't me."
---
View this post on Instagram
---
Chopra also discussed how she transformed her point of view, Page Six reports. She added, "Now when I look in the mirror, I am no longer surprised; I've made peace with this slightly different me. I'm just like everyone else: I look at myself in the mirror and think maybe I can lose a little weight; I think maybe I can work out a little more. But I'm also content. This is my face. This is my body. I might be flawed, but I am me." After "multiple corrective surgeries," she has "gotten accustomed to this face."
Priyanka Chopra wows at Met Gala 2023
The power couple, Nick Jonas and Priyanka Chopra maintained a timeless aesthetic at the New York City event by dressing in formal black-tie clothing. The 'Citadel' star attended the event in a strapless black Valentino gown with a thigh-high slit. She wore it with a cape that had a black-and-white check pattern and was attached to a pair of white opera gloves for the special event. The Indian-born star completed her look with a pair of black platform heels and added a silver chain necklace with a blue crystal pendant as an accessory, as per Daily Mail.
Her husband Nick Jonas looked dapper in a black leather blazer over a white shirt, black dress pants, and a black tie with a clip on it. The famous pair previously attended the gala twice, in 2017 and 2019, the former time garnering media attention as guests of designer Ralph Lauren.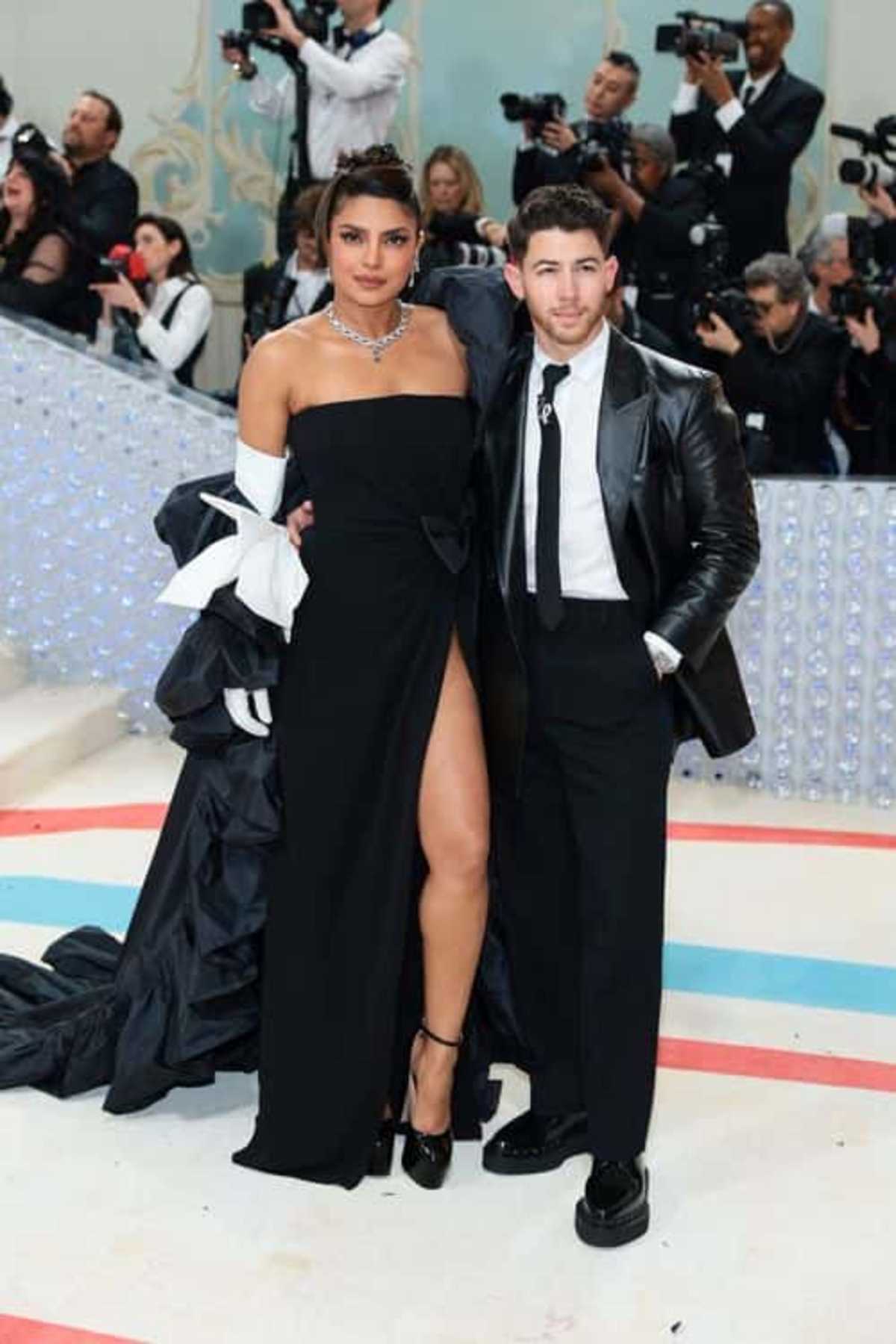 Share this article:
'Plastic Chopra': Priyanka Chopra Jonas recalls 'dark phase' of bullying after botched nose job