Michael Bublé reveals he lost his 'superhero alter ego' after son Noah's cancer battle VANCOUVER, CANADA: Michael Bublé has admitted that his son's "unthinkable" struggle with hepatoblastoma, a rare form of liver cancer led to him losing his "alter-ego". The musician, 47, said that before he "changed" because of Noah's illness at age nine in 2016, his persona as an entertainer was that of "a superhero."
Following his diagnosis, Noah had to get chemotherapy and radiotherapy, and he is currently in remission. Michael told Red magazine of the ordeal: "That, of course, changed me in a big way – it changed what mattered to me, it changed how I saw life."
READ MORE
Michael Buble inks 4th child Cielo's name on his arm, jokes he got space for 'at least six more kids'
Is Tyra Banks mispronouncing names on purpose? 'DWTS' fans wonder after she called Michael Bublé as Blubé on live TV
"For most of my life as an entertainer and, especially on stage, I'd become my alter ego. I'd become the superhero I always wanted to be. Then my wife and I went through this unthinkable thing, and I lost that alter ego."
---
View this post on Instagram
---
Bublé also asserted that his marriage to his wife Luisana Lopilato, 35 is healthy because they "understand one other's fulfillment." On maintaining a successful relationship, he added: "More than anything, my wife and I understand that each other's fulfillment is important…I'm not saying we're perfect – nobody is – but we both have that understanding. I won't be touring for certain months next year because she'll be filming a movie, and so I'll be Daddy on set, and then she'll do the same for me. We don't care what we do – being together is the goal."
In a recent interview, Michael went into detail about how his life was upended when he learned that his son Noah had cancer. The Canadian singer disclosed to The Mirror on January 22 that Noah's diagnosis with hepatoblastoma, a type of liver cancer, in 2016 at the age of three, left him feeling "so unstable and vulnerable."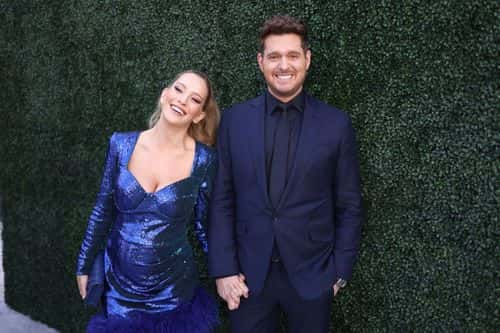 He said: "I've been through a lot, obviously. When I made the last record [in 2018], my son had just been in remission and I wasn't ready to come back," he explained. "I didn't know that at the time but, mentally, I was so unstable and vulnerable. I made a safe record with producers I liked and I just tried to protect myself and hold on to a career. But I feel really good now and I was raring to go — like this great weight had been lifted off me. My son was healthy, my kids and my wife were good, life is good. Why wouldn't I just explode wanting to make an incredible record?" he said. Michael and Luisana are also parents to Elias, 7, Vida, 4, and Cielo, 5 months.