Metallica to receive Polar Music Prize; Lars Ulrich and Robert Trujillo to accept the award on behalf of band
The Polar Music Prize — founded in 1989 — is awarded annually to individuals, groups, and institutions for exceptional achievements in the field of music. Singer/guitarist James Hetfield of Metallica (Source : Getty Images)
The popular metal band, Metallica, is all set to receive the prestigious Polar Music Prize from His Majesty King Carl XVI Gustaf of Sweden, on June 14, along with fellow laureate Dr Ahmad Sarmast, founder of the Afghanistan National Institute of Music (ANIM).
People living in Sweden can tune in to TV4 or stream the ceremony on TV4 Play beginning at 18.00 CEST.
Those residing in Afghanistan can catch the ceremony broadcast on TOLO news. Fans living outside the broadcast region of the Polar Music Prize can also catch a sneak peak of the event, as Metallica's socials will showcase them exploring Stockholm on Tuesday.
Band member Lars Ulrich, especially, will also be participating in the "Meet the Laureates" Polar Talk on Wednesday, and for the ceremony itself on Thursday.
Metallica commented, "We are truly humbled and inspired to be recognized in this manner and hope you will follow along with us throughout the whole experience."
The 'Nothing Else Matters' hitmakers, who had come together as a band back in 1981, currently comprise of James Hetfield, Lars Ulrich, Kirk Hammett, and Robert Trujillo.
So far it has been revealed that Lars and Robert are the ones expected to attend the event on behalf of their band, with the ceremony also including special performances from television personality Aryana Sayeed, as well as Loreen, Tuva Syvertsen, Loney Dear, Ghost, and Candlemass.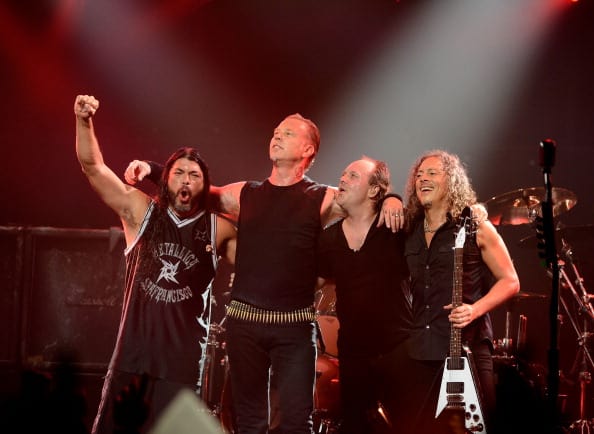 The Polar Music Prize — founded in 1989 — continues to be one of the most prestigious and unique music prizes in the world till date, and it is awarded annually to individuals, groups, and institutions for exceptional achievements in the field of music. The likes of Sting, Bjork, Pink Floyd, Peter Gabriel, Led Zeppelin, Bob Dylan, Stevie Wonder, Ray Charles, Sir Elton John, and Sir Paul McCartney are all on the list of past recipients of the coveted accolade.
As for Metallica, the band was recently in the news regarding a feud between their member Lars and fellow metal band, Megadeth's member, Dave Mustaine. It had spurred with Mustaine accusing Lars of being 'scared' of a potential re-release and performing together.
Mustaine was the original lead guitarist and co-founder of Metallica, before getting fired in 1983 for his drug abuse and alcoholism, among other clashes with fellow bandmates.
Recently, Greece's Rock Hard asked Mustaine if 'big four' of thrash (Metallica, Megadeth, Slayer, and Anthrax) would ever perform together again, and his response was, "Oh, I don't know about that. That has nothing to do with the 'Big Four.' I think Lars is just afraid to play with Megadeth."
He had also taken a dig at Metallica over the shelved release of the expanded version of the band's 1982 demo tape, 'No Life 'Til Leather', saying, "I'm not gonna give [Lars] my credit, so I'm not gonna be part of it."