Is Leah Messer quitting the show? 'Teen Mom' star seeks privacy amid Jaylan Mobley's alleged cheating scandal CLAY, WEST VIRGINIA: It was one of the most unexpected splits in the 'Teen Mom' franchise's history. Leah Messer and Jaylan Mobley announced their split in October, barely two months after getting engaged. The revelation startled many, especially because the pair provided no reason for their unexpected decision to split up. In another unexpected twist, it appears that Leah's quest for solitude has caused her to separate herself from the franchise that made her well-known.
Indeed, as a new season of 'Teen Mom: Family Reunion' approaches and people were quick to note that Leah isn't connected with the show. A new trailer and other promotional content, including an ad showing a digital 'poster' of the full group, hint that Leah is skipping this one.
RELATED ARTICLES
'Teen Mom: The Next Chapter': Jenelle Evans not returning to spinoff, fans say 'who was expecting her'
'Teen Mom 2': Kail refused to film because of Chris, fans appalled by the pettiness
Fans assume that it must be difficult for the actress to relive her relationship through television in the upcoming episodes. In fact, she has been open about her sorrow on social media. As a result, Leah has been desiring some space from the recent attention she has received as a result of her split. Not unexpectedly, this situation has raised many concerns among fans. "So does this mean Leah is no longer a part of the [Teen Mom] franchise?" one commenter asked on a Reddit page devoted to the franchise. "That's a bummer! She's one of my favorites," another person said, echoing many others sentiments.
Some fans speculated that Leah may have opted to skip this season since it would have required her entire family to participate. On the new season of Family Reunion, the Teen Moms will be joined by their mothers. And mother Messer hasn't been a big hit with fans since Leah wrote a memoir in which she disclosed she was allegedly molested as a youngster, as per The Sun. "I'd be surprised if Mama Dawn does any more substantial work with TM since Leah's book came out," one user said.
There are several reasons why Leah may have opted not to participate, but some fans remain persuaded that she has decided to leave the series forever. And the majority of those people assume her breakup with Jaylan is to blame for her newfound shyness. The current season of 'Teen Mom: The Next Chapter' depicts the height of Leah and Jaylan's relationship, and Leah has turned to Twitter on multiple occasions to roast her ex. She looks especially irritated at the plot in which Jaylan "buys her a house."
As per Leah, she put down the money for the house and had Jaylan put his name on the deed and pretend he surprised her to bolster his ego. The two have been exchanging barbs on Twitter, and Leah has stated that she was allegedly forced to sign an NDA that forbids her from disclosing the exact reason for the separation. So it's understandable that people believe she'll become tired of reality television and leave. The much more plausible answer is that she's missing one season of a spinoff program due to personal obligations.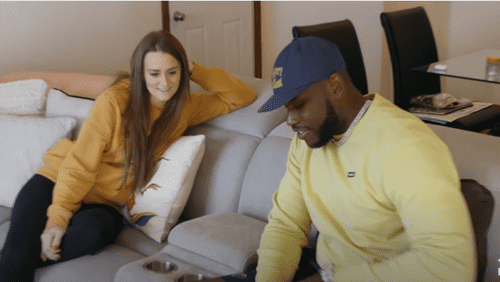 Why did Leah and Jaylan split?
When Leah Messer and Jaylan Mobley split up in November, fans jumped to one very definite conclusion: Jaylan had been found allegedly cheating on Leah, and Ms Messer had retaliated by pushing him out. But is that actually how it happened? Unfortunately, The Hollywood Gossip adds that Jaylan persuaded Leah to sign a non-disclosure agreement, so she's not permitted to discuss the reason for the breakup. "We're not sure why Leah agreed to sign the document, but it's possible that Jaylan threatened to make things very uncomfortable for her. Whatever the case, even though Leah's not allowed to talk, the truth will probably come out eventually, in some other way."
One possibility, according to the outlet, is Leah's sister, Victoria, who just reminded the world that she never signed an NDA. Sadly, it appears that she is not quite ready to spill the beans.
Victoria allegedly thinks Jaylan is a 'cheater,' based on a recent Instagram rage and a claim from UK tabloid The Sun, but she's holding off on calling him out of respect for her sister. "I never signed an NDA, but I do feel to an extent it's not my place to tell their story!" Victoria announced it to her followers earlier this week. "My sister told hers and told the extent of what she is allowed to say, but Jaylan has not and that is the problem, but more so HIS problem and should be his story, to tell the TRUTH, and even though he may not be ready and wants to continue manipulating the WHOLE situation."
Apparently, Victoria isn't ready to spill the beans just yet, but Jaylan shouldn't exhale a sigh of relief just yet. Since Vicky is visibly irritated and simply waiting for the proper chance. "I will say this, I'm on edge with the bulls**t. But the TRUTH IS in reality his hidden secrets of manipulation and etc. arent' drowning anyone any more than it is secretly drowning him, which is so sad! " She wrote a note.
It was interesting to note that this was not Victoria's first outburst towards Jaylan. She had criticized her sister's ex-fiancé just a week before, but she had stopped short of spilling the beans. "To be honest, I'm sick of my sister getting bashed and s**t talked…when in reality she had every reason to leave him. She has been honest, he has not! " she wrote back then, as per The Sun. "He has chosen to play the victim card and trying to manipulate the Internet just as much as he does to the people physically around him!" Victoria elaborated. "The truth behind the breakup should really be told by Jaylan but considering what lays behind the truth, that probably won't ever happen and honestly, that is so sad."
So, it may be some time before we know precisely what happened. However, based on Victoria's statements, we believe it is reasonable to assume that whatever Jaylan did was something allegedly nasty.
This article contains remarks made on the Internet by individual people and organizations. MEAWW cannot confirm them independently and does not support claims or opinions being made online.

Share this article:
Is Leah Messer quitting the show Teen Mom star seeks privacy split fiance Jaylan Mobley cheating