'Disgusting and money grab': Hilary Duff slams publisher of late ex-BF Aaron Carter's unfinished memoir
Hilary Duff slammed Ballast Books after an excerpt from the unfinished memoir claimed that the former lovers 'lost [their] virginity to each other' when they were preteens LOS ANGELES, CALIFORNIA: Hilary Duff is in a rage with the publisher of late ex-boyfriend Aaron Carter's posthumous memoir, which will be available for purchase next week. Duff slammed Ballast Books after an excerpt from the unfinished memoir claimed that the former lovers "lost [their] virginity to each other]" when they were preteens, she was "maybe" 13 and he was 12.
The 35-years-old told the Daily Mail, "It's really sad that within a week of Aaron's death, there's a publisher that seems to be recklessly pushing a book out to capitalize on this tragedy without taking appropriate time or care to fact check the validity of his work." The actress went on, "To water down Aaron's life story to what seems to be unverified click-bait for profit is disgusting. In no way do I condone shedding any light on what is so obviously an uninformed, heartless, money grab."
READ MORE
Hilary Duff looks sad as she is spotted filling gas in her Mercedes after tragic death of ex Aaron Carter
Aaron Carter's lover Melanie Martin was 'sobbing' after she saw bath 'with green water' that he died in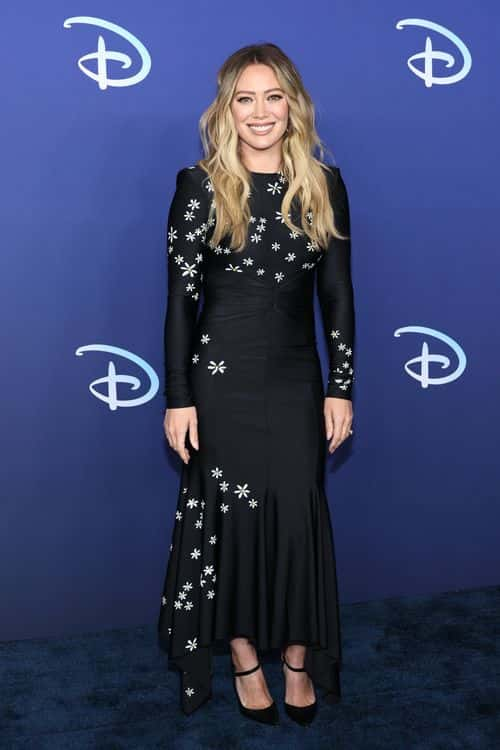 The late singer Aaron and actress Hilary dated on and off from 2000 to 2003 after becoming friends as teen idols. According to the autobiography, 'Aaron Carter: An Incomplete Story of an Incomplete Life,' the ex-couple allegedly lost their virginities to one another.
The excerpt obtained by the NY Post recounts Carter's early 2000s relationship with Duff and asserts that the two had their first-ever sexual encounter "in a hotel." "Hilary and I lost our virginity to each other at a hotel… in LA. I think it was her birthday, maybe her 13th [September 28 2000], but I don't remember. Her friends walked in, and we just yelled at them to get out." The teen stars had a sporadic relationship from 2000 to 2003 before calling it quits because of the infamous Lindsay Lohan love triangle. "I was dating her for like a year-and-a-half, then I just got a little bored so I went and I started getting to know Lindsay [Lohan], dating Lindsay."
Despite the way their romance may have ended, Duff wrote a heartfelt tribute to her ex-boyfriend after his death. "For Aaron- I'm deeply sorry that life was so hard for you and that you had to struggle in front of the whole world. You had a charm that was absolutely effervescent … boy did my teenage self love you deeply. Sending love to your family at this time. Rest easy."
Meanwhile, Aaron's family is still waiting for the toxicology test result. The 34-year-old singer was reportedly surrounded by numerous cans of compressed air and prescription medication bottles when police found his body in the bathtub on November 5.
Share this article:
'Disgusting and money grab': Hilary Duff slams publisher of late ex-BF Aaron Carter's unfinished memoir