'No closure': Aaron Carter never had a one-on-one conversation with his brother Nick before his death
Sources revealed that Aaron Carter believed he was on good terms with his brother in his final days, but never actually had a conversation with Nick LANCASTER, CALIFORNIA: Aaron and Nick Carter had several ups and downs in their relationship over the years, but the brothers never had a one-on-one conversation to bury the hatchet before Aaron died.
Sources revealed that Carter believed he was on good terms with his brother in his final days, but never actually had a conversation with Nick himself. The 34-year-old pop star, who shot to fame following his chart-topping song 'I Want Candy,' was found dead in his bathtub at his Lancaster, California home on Saturday, November 5. His body was first discovered by his house sitter. Authorities are still investigating the cause of death and the circumstances surrounding it.
ALSO READ
NO SUICIDE NOTE found at scene of Aaron Carter's death as family, friends claim artist did not intend to die
'You're going to die': Aaron Carter's fiancée Melanie Martin's CHILLING WARNING days before his death
Insiders, as per TMZ, said that in the months leading up to the tragedy, Carter's estranged sister Angel reached out to him and said she and Nick loved him and wanted him to get healthy. Because of this, Carter felt Nick and Angel were there for him and they were all on good terms. The sources also said that Carter further believed things were okay because past correspondences with his family were "usually explosive" but recent signals from his siblings "stood in stark contrast to the past."

It's worth noting that both Nick and Angel had restraining orders against Carter, meaning any direct correspondence between the siblings was out of the question - at least within the confines of the law. Nick first got the restraining order against his brother in 2019 after Carter allegedly threatened to kill Nick's pregnant wife and unborn child. Angel also got a restraining order the same year, accusing Carter of threatening to send hit men to her residence.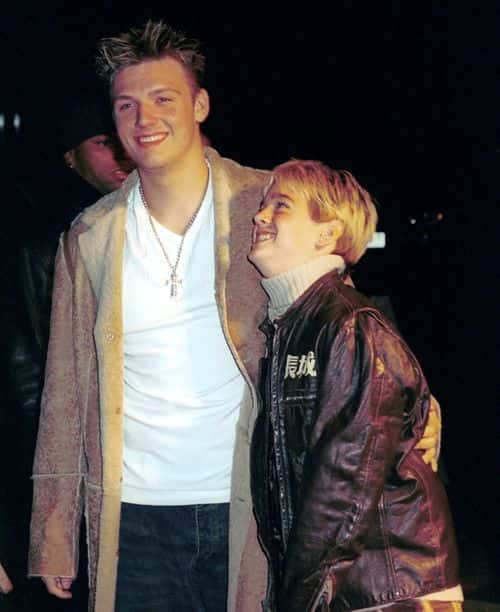 In the weeks leading up to Carter's death, however, it seemed like the ice was finally thawing. Insiders told TMZ that Carter felt Angel's message to him was Nick's way of reassuring him that they were back on good terms. Nick paid tribute to his late brother at a concert this week, saying he still loved him despite their rocky relationship. He said that Carter's untimely demise broke his heart, but as fate would have it, the brothers weren't able to talk to each other directly before the singer died.
TOP STORIES
WHERE'S THE FOOTAGE? Cops reveal they DID RECORD Paul Pelosi assault on body cam; David DePape charged
Sophia Rosing is PERMANENTLY kicked out of the University of Kentucky for hurling N-word at a Black student
MEAWW previously reported how a friend of Aaron's wished Nick had "done more for his blood brother, who had an unhealthy obsession with him." Gary Madatyan, a long-time friend of the artiste, said he often spoke about repairing his relationship with the Backstreet Boys singer, right up to his untimely death. "I wish he could have done a little more as a blood relative to Aaron," Madatyan, a celebrity stylist, told Page Six. "I'm not judging him. I'm not saying anything bad because I respect him. He's a talented artist. I love him, but Aaron had an obsession with his brother."
Madatyan added, "Mentally ill people think differently. He was pushing, poking to get that attention. Aaron did things he should have never done to his brother, but we're talking about mental health. He was crying out for help. He looked up to Nick in so many ways. They were trying to make everything good again."
Share this article:
'No closure': Aaron Carter never had a one-on-one conversation with his brother Nick before his death