Hilary Duff looks sad as she is spotted filling gas in her Mercedes after tragic death of ex Aaron Carter
Hilary Duff was wearing a brown trench coat and had a downcast expression, keeping her head down, as she filled up on gas on November 8, Tuesday LOS ANGELES, CALIFORNIA: Hilary Duff was spotted pumping gas in Los Angeles looking downcast after the tragic passing of her ex-boyfriend, Aaron Carter. Hilary stopped to fill up her Mercedes wearing a brown trench coat on November 8, Tuesday. She appeared downcast as she kept her head down during most of the outing.
Hilary Duff is mourning the loss of her ex-boyfriend Aaron Carter. Following the news that Carter, 34, was found dead on Saturday, Duff took to social media to post a message addressed to the singer. As teen stars, Duff and Carter dated on and off for about three years, and the 'That's How I Beat Shaq' performer made a guest appearance on her popular Disney Channel series, Lizzie McGuire.
READ MORE
From Lindsay Lohan to Hilary Duff: A look at Aaron Carter's love life as singer found dead at 34Hilary pumped gas in Los Angeles wearing a brown trench coat and taking a cal
What is Aaron Carter's net worth? Rapper, 34, owned luxurious $430K house with pool
The 35-year-old actress was spotted at a gas station in Los Angeles looking down in the dumps. Hilary paired her classic brown trench coat with a black scarf around her neck paired with a distressed, ankle-length jeans and black boots as she pumped gas. She was carrying her Mercedes key with a distinctive heart-shaped key chain, holding her phone and credit card in her right hand. Her hair was tied up in a messy bun, completing her look.
When the death of Aaron Carter, 34 was confirmed, the actress shared a gut-wrenching Instagram post mourning the loss of her ex-boyfriend. "I am deeply sorry that life was so hard and that you had to struggle in front of the whole world," the actress and singer captioned an Instagram post. "You had a charm that was absolutely effervescent. Boy, did my teenage self love you deeply," she added. "Sending love to your family at this time. Rest easy."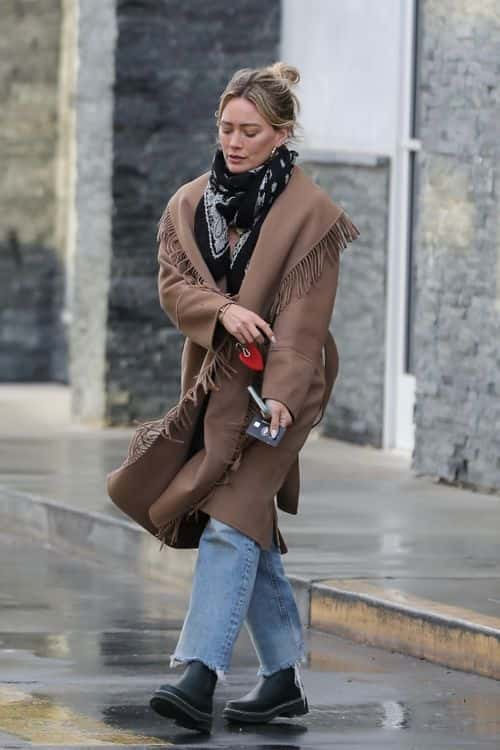 While Duff was still married to ex-husband Mike Comrie and was expecting her first child in 2012, Carter told Fox News that he would "always" love her. "I'm really happy for her that she's in a successful relationship and that she's going to have a baby," Carter said. "Sometimes I think to myself, maybe that could have been me, but it is what it is." He added, "She knows I will always love her."
In 2014, Carter reaffirmed his devotion, telling Entertainment Tonight that he would "never, ever give up on Hilary." In reaction, Duff admitted in an interview with BuzzFeed that same year that she wasn't entirely sure how to feel. "I don't know how I feel," she said. "I mean, that was so long ago, and obviously I'm still married, and I have a baby and we kind of just... don't know each other."
Carter dated Duff in 2001, and made a guest appearance in an episode of Lizzie McGuire. Eventually, the couple broke up in 2004, and Duff is currently wed to singer and record producer Matthew Koma, with whom she has two kids. Carter lived with his 11-month-old son, who he had with his ex-fiancée Melanie Martin.
Share this article:
Hilary Duff looks sad as she is spotted filling gas in her Mercedes after tragic death of ex Aaron Carter