'Most tracked flight in history': FlightRadar website crashes after 6 million people log in to view Queen's last journey
'Over the course of the flight 4.79 million people followed a portion of the flight, and we processed 76.2 million requests related,' the website says LONDON, UK: With an unprecedented six million people using the plane tracker to monitor Queen Elizabeth II's last flight, the monarch has brought down theFlightRadar24 website, as per LADbible. On September 8, the Queen passed away after more than 70 years as monarch. Her remains were brought to Edinburgh for a public funeral before being flown on a C-17 Globemaster transport jet to London on Tuesday, September 13. FlightRadar24, which tracked the journey online, later disclosed that the aircraft garnered the most attention in its history.
"70 years after her first flight as Queen aboard the BOAC Argonaut 'Atalanta', Queen Elizabeth II's final flight is the most tracked flight in FlightRadar24 history. In the minute after the transponder of [the Queen's final flight] activated, an unprecedented six million people attempted to follow the flight. Over the course of the flight 4.79 million people followed a portion of the flight, and we processed 76.2 million requests related to the flight," FlightRadar24 stated on their website.
READ MORE
Online flight radar image shows empty Ukrainian airspace amid Russian invasion
Schoolgirl receives SURPRISE letter of thanks from the Queen for Platinum Jubilee poem a day after her death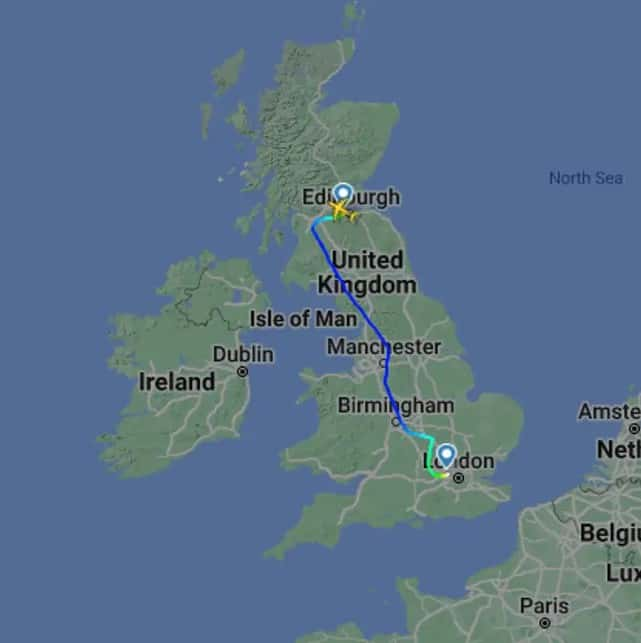 The coffin of the Queen has already arrived at Buckingham Palace after being driven from Edinburgh to the RAF Northolt airport in west London. The casket was met by the Royal Family when it arrived at the palace. On Wednesday, September 14, it will proceed in a solemn procession to Westminster Hall after a night resting in the Bow Room.
---
📊 Flight tracking statistics regarding the final flight of Queen Elizabeth II

In the minute after the transponder of C-17 ZZ177 activated, an unprecedented 6 million people attempted to follow the flight. This unfortunately impacted the stability of our platform. pic.twitter.com/VBB7vOhk3A

— Flightradar24 (@flightradar24) September 13, 2022
---
She will remain there for four days until her funeral on Monday, September 19, at which point her coffin will be transported to Windsor, where she and Prince Philip will be put to rest in St George's Chapel. The aircraft chosen for the Queen's farewell flight has a fascinating past of its own. According to Yahoo News, the head of the Royal Air Force, Air Chief Marshal Sir Mike Wigston, said that the aircraft had "extensively" contributed to relief operations all around the world. Thousands of civilians who were fleeing Kabul in 2021 also benefited from its assistance, and it has also been used to transport weaponry and humanitarian material to Ukraine in the wake of the Russian invasion in February.
Share this article:
'Most tracked flight in history': FlightRadar website crashes after 6 million people log in to view Queen's last journey