Who is Erin Nichole? Meet 'MAFS' star Chris Williams's ex-fiancée who he was engaged to before Mercedes Myrick Just when you thought 'Married at First Sight' stars Chris Williams and Paige Banks' drama has finally come to end, think again. Williams is a gift that keeps on giving, whether you want it or not. Williams recently had a falling out with Pastor Dwight Buckner Jr because he reached out to Banks to discuss the couple's situation. Williams has a long-standing problem with Banks reaching out to people or discussing their issues and this time around, it was no different. However, Pastor Dwight might have just done Williams more harm than good.
Turns out, during the conversation Pastor Dwight revealed to Banks that Williams was actually engaged before he met Mercedes Myrick. That means Williams was engaged not once, but twice, to two different women — a piece of information that he kept hidden from Banks.

RELATED ARTICLES
Does Chris Williams deserve a second chance? Here's why 'MAFS' star could be lying about loving Paige Banks
Is Chris Williams in love with his baby mama? A timeline of 'Married At First Sight' star's rumored relationships

While Pastor Dwight did mention that Williams was making unstable choices, he also implied that Banks should reconsider their situation. Williams didn't take too kindly to this invasion of his privacy and even blasted the pastor on social media. But turns out, Pastor Dwight might not be the only one with information on William's past, seeing that fans got to sleuthing and uncovered something rather interesting. Turns out we know just who William's first fiancée is.
Enter Erin Nichole, who was engaged to Williams back in 2014. As per the post shared by Pastor Cornelius Lindsey, the pair got engaged after a six-month courtship, after "willingness to prize purposeful conversation over intimacy". While the details are unknown as to why the couple split, here's what we know about Nichole.
---
Who is Erin Nichole?
Nichole is a blogger and a writer who resides in Atlanta Georgia. As per her website, "She's a mental and self care advocate that believes in taking care of you first, so that you are good for others to be around. Through her creative mind, Erin is storyteller at heart. Captivating her audience by being her vulnerable in sharing her raw life lessons in hopes to inspire and give others hope.'
How did Williams and Nichole meet?
Seeing that Cornelius Lindsey posted the image in 2014, there's a good chance the couple met through his wife, Heather Lindsey's 'Pinky Promise Movement' which preaches abstinence until marriage. Seeing that Williams himself claims to be rather religious and the same applies to Nichole, there's a possibility they both were a part of the movement.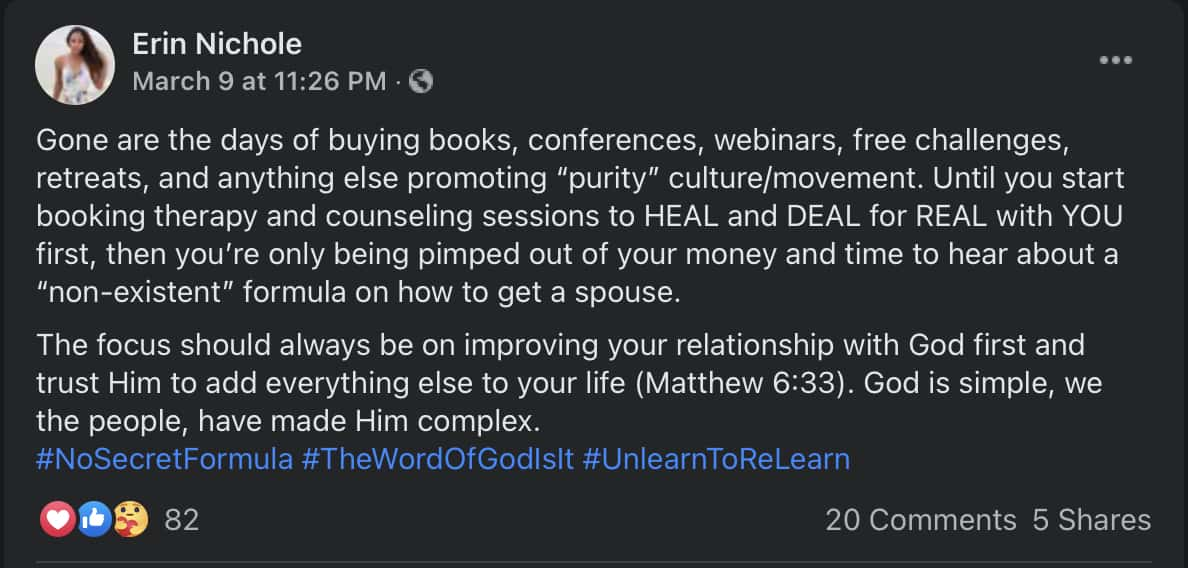 Nichole might have had a change of heart concerning her beliefs, seeing that she recently put up a post that read, "Gone are the days of buying books, conferences, webinars, free challenges, retreats, and anything else promoting "purity" culture/movement. Until you start booking therapy and counseling sessions to HEAL and DEAL for REAL with YOU first, then you're only being pimped out of your money and time to hear about a "non-existent" formula on how to get a spouse. The focus should always be on improving your relationship with God first and trust Him to add everything else to your life (Matthew 6:33). God is simple, we the people, have made Him complex. #NoSecretFormula #TheWordOfGodIsIt #UnlearnToReLearn."

Looks like Nichole has had a change of heart over the years regarding purity and chastity (which was incidentally something Williams asked Banks about on their wedding day). We wonder if Williams had anything to do with this change.