If you fear missing out because you aren't at Coachella, here's a list of 10 music festivals you can be at instead Let's face it - Coachella is too hyped for a music festival. The ticket prices have you paying through your nose and not to mention their crazy restrictions when it comes to food and beverages. They have great acts headlining for them and a very nice mix of different genres in performances, but it still somehow feels like a red carpet than a music festival - perhaps because it is. While celebrities come out of their private planes looking like they have found their faux enlightenment and inner peace, you will perhaps end up spending a bomb to camp out in the scorching desert reapplying your strongest sunscreen for the tenth time. To address the elephant in the room and all over the Internet - Coachella isn't the only great music festival. We give you 10 others where you can pitch your tent at.
1. Boston Calling May 25-27
Boston Calling literally has the best lineup this year - Eminem, The Killers, Jack White, Queens of the Stone Age, The National, Paramore, Tyler, the Creator, Bryson Tiller, Portugal. the Man, Fleet Foxes, The Decemberists, Brockhampton, Maggie Rogers, Daniel Caesar, Stormzy, Thundercat, Belly, Pussy Riot, Perfume Genius, Noname, Alex G, Taylor Bennett, among others. Held over the course of three days, this music festival also features secret jamming sessions every year - where you can have intimate acoustic music sessions with mystery artists. Who knows, lady luck may favor you and you could be having a tete-a-tete with the Rap God. Held at Harvard Athletic Complex, Allston, MA, tickets range from $279 to $1,099.
2. Stagecoach April 27-29
Stagecoach happens right where Coachella does, the Empire Polo Club, but the difference is, it is much more chill. You can Instagram pictures of your hippie self, grabbing some chilled beer and enjoying the sand while grooving to some really cool country music. This year Keith Urban, Garth Brooks, and Florida Georgia Line are the big names that will be at your service at Stagecoach. It's country - classic music vibe for $329.
3. Lightning in a Bottle May 23-28
It doesn't get hippier than this - Lightning in a Bottle is all about music, sustainability, art, yoga and spiritual wellness. What's more? It's vegetarian. There's live painting, yoga workshops and you can get your families to camp in with you if you'd like! The lineup this year has names like Anderson. Pak and the Free Nationals, Zhu, Griz Fever Ray and Mikey Lion. From the sound of it, it also has the most amazing people. One LB goer testifies for this. He says, "On the first night I, unfortunately, dropped my wallet, which had all of my cards, ID, and $200 cash. I woke up and accepted my fate that I had lost everything on me. However later that night, I noticed a totem pole that had my full name written on it, and very confused, I asked the people why they have my name on their totem pole. They shouted, "WE'VE FOUND DANIEL!!!" and explained how they found the wallet and were carrying around a sign trying to find me. I had never experienced such a wonderful act of kindness, truly blown away! To have my wallet handed to me with everything still in it was remarkable!" Would you find this at Coachella? Perhaps not. Tickets start from $295. You can find out all about here.
4. Lollapalooza August 2-5
Lollapalooza is said to make "hands wave, heads nod, and crowds holler" and also offer the most amazing lineup of festival food. They have 8 stages, a massive variety of 170 bands playing from all over the world. This year, you can kiss your FOMO goodbye grooving to the tunes of The Weeknd, Bruno Mars, Jack White, Arctic Monkeys, Travis Scott, The National, Vampire Weekend, Odesza, Logic, Post Malone, Khalid, Lil Uzi Vert, Portugal. the Man, Tyler, the Creator, CHVRCHES, St. Vincent, Zedd, Excision, Walk the Moon, Dua Lipa, LL Cool J, Camila Cabello, Gucci Mane, Brockhampton among others. Tickets start at $120.
5. Fireflies Music Festival June 14-17
Apart from the fact that you can grove to artists like Kendrick Lamar, Arctic Monkeys, The Killers, Odezsa, Lil Wayne, Logic, Martin Garrix, SZA, Alt-J, Portugal. the Man, Foster the People, MGMT to name a few, at Fireflies Music Festival, you can also let your hair down and chill with a hammock if you want at their Nook or you can enjoy amazing DJ tracks at the Thicket, where you can put on headphones and dance the days and nights away in the midst of trees. Tickets start at $109.
6. Bonnaroo June 7-8
This year at Bonnaroo's annual bash, Eminem, The Killers, Muse, Future, Bassnectar, Sturgill Simpson, Bon Iver, Khalid, Paramore, Kaskade, Alt-J, Dua Lipa, Sheryl Crow, Anderson .Paak & the Free Nationals, Sylvan Esso are set to perform along with other 130 bands that you can take a pick off its 10 stages. Held at Manchester, TN, tickets range from $299.50 to $12,750.
7. Hangout Music Fest May 18-20
Hangout Music Festival held at Gulf Shores, AL is all about having a nice getaway watching some really great live music and chilling by the pool. While tickets range from $279 to $1,699, to listen to a lineup that has Halsey, The Killers, The Chainsmokers, Kendrick Lamar and Zedd under one roof, is worth it. Plus you can drink as much alcohol as you want as long as you're 21 and above, of course!
8.Panorama July 27-29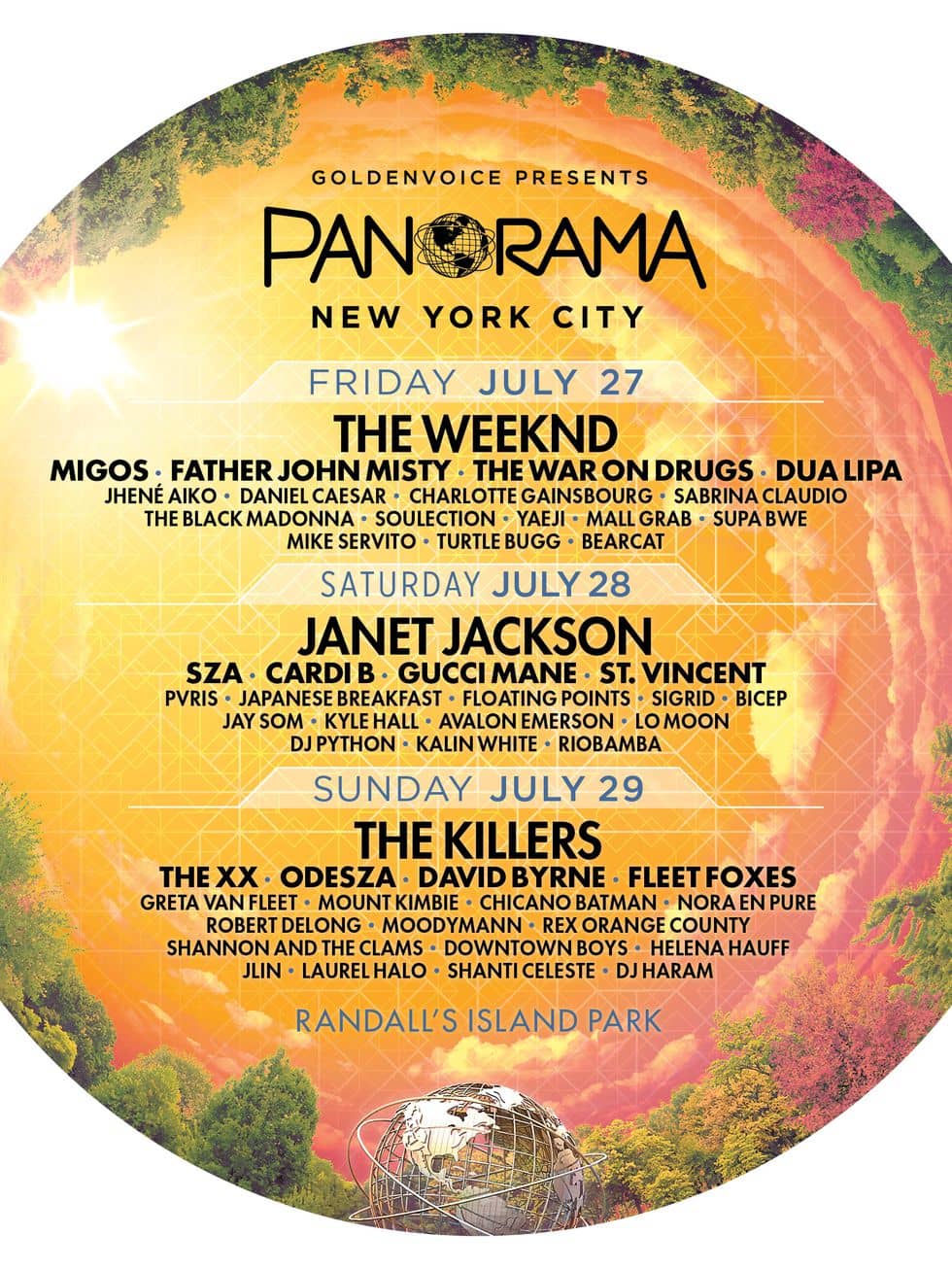 This music festival has Cardi B headlining - enough said. Imagine grooving to Bodak Yellow as you eat some junk food and chill in your best Coachella inspired outfit - for $99 - yep, sounds like a dream.
Held at Randall's Island Park, New York, Panorama has The Weeknd, Janet Jackson, The Killers, Migos, Father John Misty, SZA, Cardi B, Gucci Mane, St. Vincent, The XX, The War on Drugs, Odesza, David Byrne, Fleet Foxes, Jhené Aiko, Daniel Caesar, Charlotte Gainsbourg, Sabrina Claudio in their lineup this year.
9. Broke LA Fest April 21-22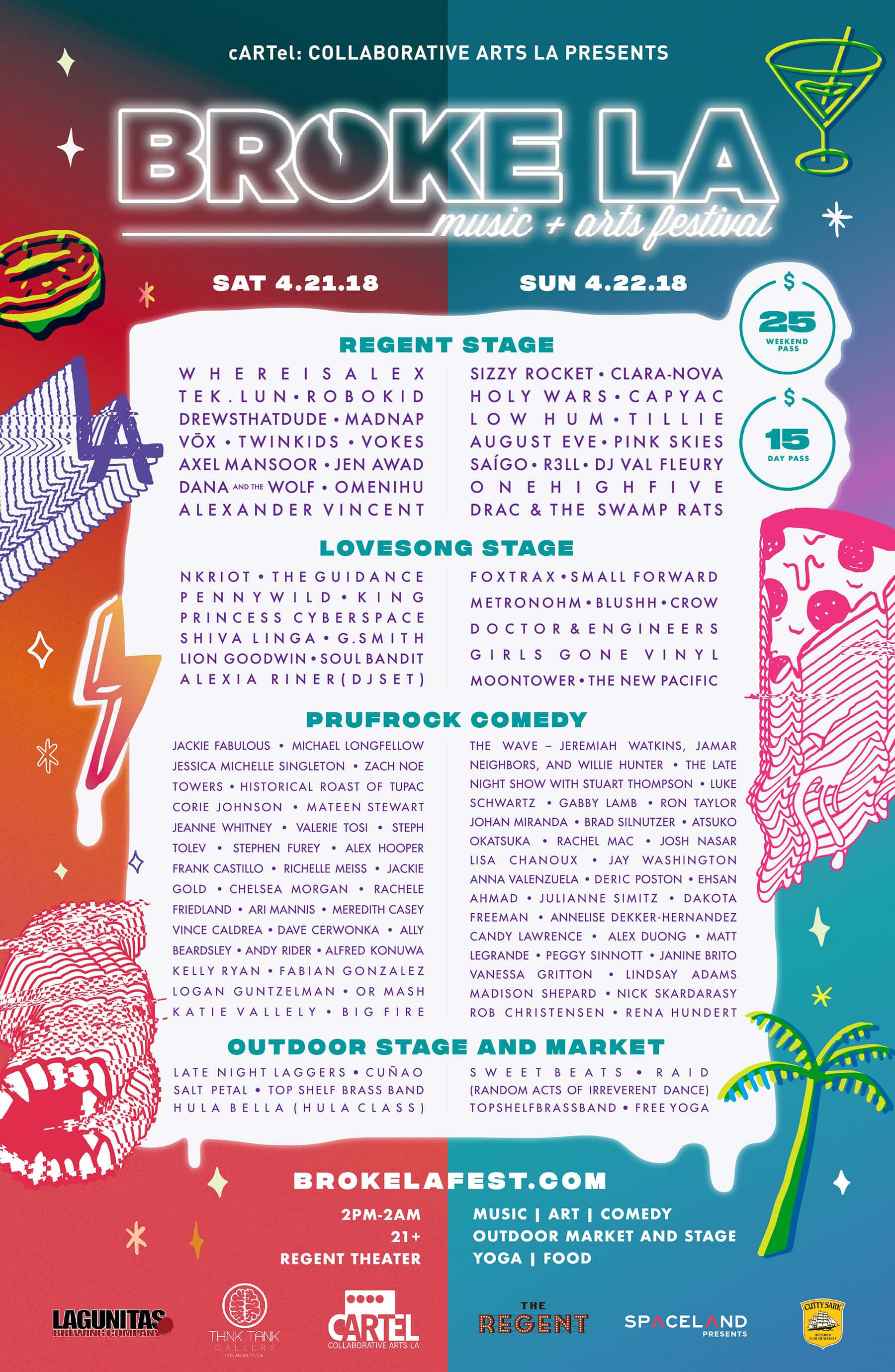 Don't let the name fool you. The festival, which features the best-emerging 50 bands of Los Angeles is happening at Regent Theatre with two stages that let you take a pick. They also have a comedy show lineup on the first day and an eclectic mix of a variety of genres that will leave you wondering why did you even have Coachella FOMO in the first place. The festival was called Brokeella before, has been around from 2011 so rest assured they know what they are doing. Plus, the tickets cost just $25!
10. Pitchfork Music Festival July 20-22
Pitchfork Music Festival held at Chicago's Union Park has over 40 acts. The festival highlights the best in new and emerging music, their lineup this year includes Ms. Lauryn Hill, Fleet Foxes, Tame Impala, Chaka Khan, The War on Drugs, Courtney Barnett, Earl Sweatshirt, Syd, Julien Baker, Blood Orange, Kelela, DRAM, Noname, Japandroids, (Sandy) Alex G, Smino, and more. Over 60,000 people attend this festival from all age groups and over 26 countries. Tickets cost $75 for a single day.