Who is Brian Perez? Military vet and 'Unpolished' star Lexi Martone spark romance rumors after Miami date 'Unpolished' star Lexi Martone's breakup with her ex-boyfriend Joe Fraumeni left her in a very complicated situation and in one of the episodes she was seen venting out at her mother Jennifer Martone about not being present for her emotionally during that phase. Lexi had ripped the bandaid off and called it quits with Fraumeni with who she had moved in within the very first year of their relationship.
Lack of compatibility and the fact that she was held back at times by Fraumeni led to Lexi calling it quits even though it was a difficult decision to make. Lexi tried moving on from him and tried a couple of dating apps but so far she's found no luck, according to the current track of her TV show. However, Lexi's social media activity in the last week of February 2021 tells a different story. She was in Miami, Florida soaking in the sun and hitting the road with a handsome young man who fans believe is Lexi's love interest. Continue reading below for more information on Lexi's rumored new boyfriend.
RELATED ARTICLES
'Unpolished': Who is Demetrius? Here's why fans think Lexi Martone should have 'pepper-sprayed' her blind date
'Unpolished': Is Lexi Martone overworked? Fans say Bria should 'stop p**sing money away for a stupid wedding'
Who is Brian Perez and is Lexi Martone dating him?
Brian Perez is a resident of Miami, Florida. His Instagram account '@bp219' doesn't give out much aside from the fact that he is a member of the US Air Force. His feed is full of photographs taken during the various missions that he has been a part of. His feed also reveals that he is very close to his mom as well as with Michelle with whom he's not related by blood but the two share a sibling bond.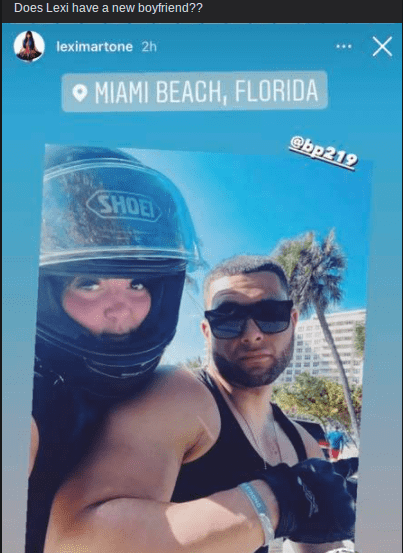 Coming to his relationship with Lexi, there's nothing on his feed that hints towards it apart from a fire emoji comment by Lexi on his recent post on the gram. Lexi is known to keep a tight lid on her personal relationships, a very good example is her relationship with Fraumeni that only came out much later. She is not the one to show her connections off but she did bend the rules with Brian. On Saturday, February 27, Lexi shared a couple of photos on her Instagram stories from her weekend getaway in Miami along with Marsha Toussaint, her friend, and colleague at Salon Martone, and joining the two ladies was Perez who is a Miami resident.
Everyone who knows Lexi would know about her obsession with superbikes and she was seen touring around the Magic City riding pillion with Perez who himself is a motor enthusiast. She did share a selfie with Perez that she took wearing a helmet and she looked flushed from the heat. The photo also highlighted Perez's brawny physique and a perfectly chiseled jawline. The two along with Marsha then spent the evening at Martini Bar in Doral, Miami-Dade County, and Lexi was seen letting her hair down and busting some very sexy moves.
Whether Lexi and Brian are truly an item or no is yet to be confirmed by both of them, however, there's been a lot of talk amongst the 'Unpolished' audiences about their presumed relationship. A fan posted the photo Lexi shared on her stories with Brian on the closed Facebook group called Unpolished on TLC, enquiring if anyone knew if they were a couple. While no one really knew if they were together, a lot of fans hoped that it be the case. "She looks so happy!! I hope he's good to her and it works out. She deserves the Best!!!," wrote a fan. "Awesome Lexi you enjoy your life and have fun," read another comment. "I hope so !! She deserves to have happiness," responded another fan. "Lexi Martone, you go girl! Have a blast," another fan wrote.
Catch the season finale of 'Unpolished' Season 2 on Tuesday, March 2, 2021, on TLC.