Overwhelmed Brendan Fraser MOVED TO TEARS after his movie 'The Whale' received 6-minute standing ovation
Brendan Fraser tried to leave the theater at one point after the screening but stayed back after he heard the roaring applause VENICE, ITALY: American-Canadian Actor, Brendan James Fraser was brought to tears and was emotional after a six-minute standing ovation for his film, Darren Aronofsky's 'The Whale' at the Venice Film Festival. The footage of Fraser soaking it all in was recorded and has since gone viral on Twitter, as reported by Variety.
The Brenaissance is moving full steam ahead with the latest performance from Fraser who stars as a morbidly obese man. 'The Whale' is the tale that is based initially on the play of the same name by Samuel D Hunter, who wrote the screenplay for the feature film directed by Darren Aronofsky.
READ MORE:
Brendan Fraser is unrecognizable as star transforms into a 600-pound man for 'The Whale'
'His cowardice is breathtaking': Anonymous 'Batgirl' actor calls David Zaslav 'imbecile' after cancellation
The film portrays a reclusive overweight English teacher hoping to reconnect with his seventeen-year-old daughter, played by (Sadie Sink) before it's too late. Recently, thanks to the cancellation of 'Batgirl', the 53-year-old actor faced a spot of trouble recently but things are surely looking up for Fraser now. There was a standing ovation for 'The Whale' that lasted for six minutes. Footage of Fraser taking it all in was recorded and has since gone viral on Twitter, as reported by Variety.
In the footage, Fraser can be seen tears, clearly stunned, appreciative, and grateful for all of the love the people present over there were bestowing upon him along with the movie's fellow cast and crew. Phoebe Waller-Bridge, Nick Kroll, and Hillary Clinton staffer Huma Abedin were among the crowd and were visibly moved by the film and were even spotted shedding a tear or two.
Considering the fact that the film premiered only a few short hours ago, it is already generating Oscar buzz, which is pretty amazing. Fraser stayed behind once he saw and heard the raucous applause, though, according to the reports he had initially gone to leave after the screening. The true story is we are not really astonished by 'Black Swan' director Darren Aronofsky at the helm of the film as we were expecting nothing less.
When it comes to the positive reception to 'The Whale', it's definitely not limited to this particular audience that was present in Venice. Its early screenings have been equally heartwarming and overwhelmingly positive. This generated a buzz about Fraser entering the race for Best Actor at the Academy Awards. We wish that it would happen and if it does, it would be the first Oscar nomination for the veteran actor.
"The movie follows a 600-pound man named Charlie (Fraser) who tries to reconnect with his daughter (Sink) years after abandoning his family for a new life with his gay lover, who has since died. Charlie's binge eating has resulted in dramatically gaining weight and causing the middle-aged man major health problems," per the movie web.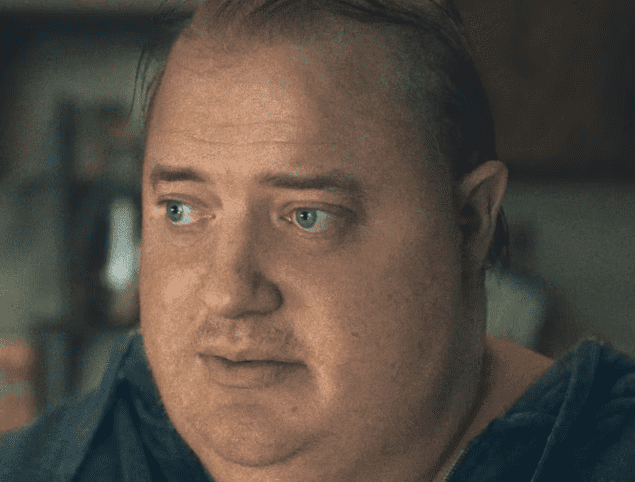 Brendan said, "I want to learn from the people I'm working with at this point in my career. I've had such variety, a lot of high highs and low lows, so what I'm keen for, in the second half of my time doing this, is to feel like I'm contributing to the craft and I'm learning from it. This is a prime opportunity. I wanted to disappear into it. My hope was that I would become unrecognizable."
Looks like the challenge of carrying 50 to 600 extra pounds during shooting paid off as many critics are praising Fraser's performance.
Share this article:
Overwhelmed Brendan Fraser MOVED TO TEARS after his movie 'The Whale' received 6-minute standing ovation