'Below Deck' Season 9: 5 things you need to know about show starring Capt Sean Meagher
When an unexpected delay leaves Captain Lee stranded on land, Captain Sean Meagher steps in to oversee the ship Captain Lee Rosbach of 'Below Deck' (Bravo)
Bravo's hit reality show 'Below Deck' is back with Season Nine to give us the scoop on all the craziness that goes down in the lives of crew members aboard a luxury yacht during charter season. The crew members have to deftly juggle between the crazy demands of the guests while ensuring that their personal lives don't affect their professional lives.
Set on the stunning waters of St. Kitts in the Caribbean, superyacht My Seanna welcomes back veterans Eddie Lucas, in his new role as first officer, alongside chef Rachel Hargrove who is ready to redeem herself after a memorable last charter season. A fresh crop of yachties include new chief stewardess Heather Chase, stews Jessica Albert and Fraser Olender and deckhands Jake Foulger, Rayna Lindsey and Wes O'Dell. Before we get into the details of the new 'Below Deck' Season, if you're interested in catching up on other similar shows then check out: 'Below Deck: Mediterranean', and 'Below Deck Sailing Yacht'.
RELATED ARTICLES
'Below Deck': Is Rachel Hargrove still dating boyfriend Vincenzo? Chef has emotional moment in Season 8 finale
'Below Deck': Do charter guests get booking discount for being on show? Fans speculate 'they just foot tip'
When does 'Below Deck' Season 9 release and where can you watch it
'Below Deck' Season 9 is all set to premiere on Monday, October 25, at 9/8c on Bravo. You can catch up the first eight seasons of 'Below Deck' on Peacock.
What is 'Below Deck' Season 9 all about
When an unexpected delay leaves Captain Lee stranded on land, Captain Sean Meagher steps in to oversee the ship with a "hands-on" management style catching the crew off guard and yearning for the "Stud of the Sea's" swift return. Fresh off his promotion, Eddie's new role as first officer gets derailed when he quickly realizes he might have to pull double duty on deck if he wants his team to succeed. Chief stew Heather is eager to deliver her guests an unforgettable experience, but when one of her stews becomes severely unmotivated, she must hustle to pick up the slack and maintain her five-star service. In order to move forward, chef Rachel must tend to some unsavory leftover beef with Eddie from last season. As department "boat-mances" blossom, alliances form and bonds are broken, this crew proves the Caribbean seas are as choppy as they are clear.
Who stars on 'Below Deck' Season 9
Newly appointed first officer Eddie Lucas and chef Rachel Hargrove will be returning to the series, alongside new yachties, including new chief stewardess Heather Chase, stews Jessica Albert and Fraser Olender and deckhands Jake Foulger, Rayna Lindsay and Wes O'Dell. If you're wondering about Captain Lee Rosbach, then we got bad news for you. Owing to an unexpected delay, Captain Lee was left strandedm and Captain Sean Meaghar takes over the reins. We will have to watch the show to see if Captain Lee manages to make it to the deck finally.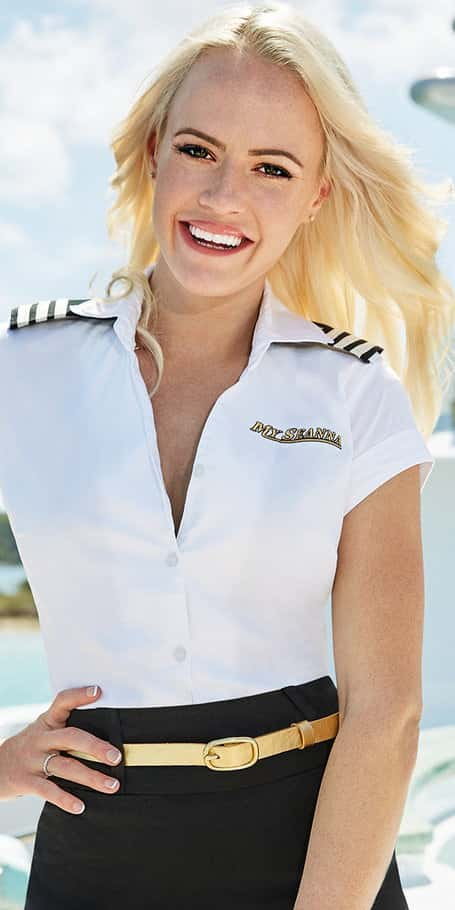 Who are the showrunners
'Below Deck' is produced by 51 Minds. Mark Cronin, Courtland Cox, Lauren Simms, Cristina Lopez and Tania Hamidi serve as executive producers along with Christian Sarabia and Zachary Klein, who serve as executive producers from 51 Minds.
Trailer