Is Bebe Rexha collaborating with BTS and Harry Styles? Instagram Live sparks craze for 'super pop and K-pop hit' c, known professionally as Bebe Rexha, recently had an Instagram Live session with her fans in which she talked about writing a demo for K-pop band BTS and also expressed her desire to collaborate with Harry Styles. During the Instagram Live session, when a fan questioned Rexha if she is still writing music for other artists, the Grammy Awards nominated singer stated that she has recently written a demo for BTS.
Rexha, 31, further revealed that the demo is not a song for BTS but just an idea, which as of now, they have not yet heard. "Did a demo for BTS yesterday...but it's a mess...I got to work on it. I have to clean it up", Rexha said. "It's actually really bomb!"
RELATED ARTICLES
Is Bebe Rexha collaborating with Doja Cat? Fans say they 'need it bad' as singer teases new music
Bebe Rexha announces 'Baby, I'm Jealous' remix with Doja Cat and Natti Natasha, Latin fans call it 'pure fire'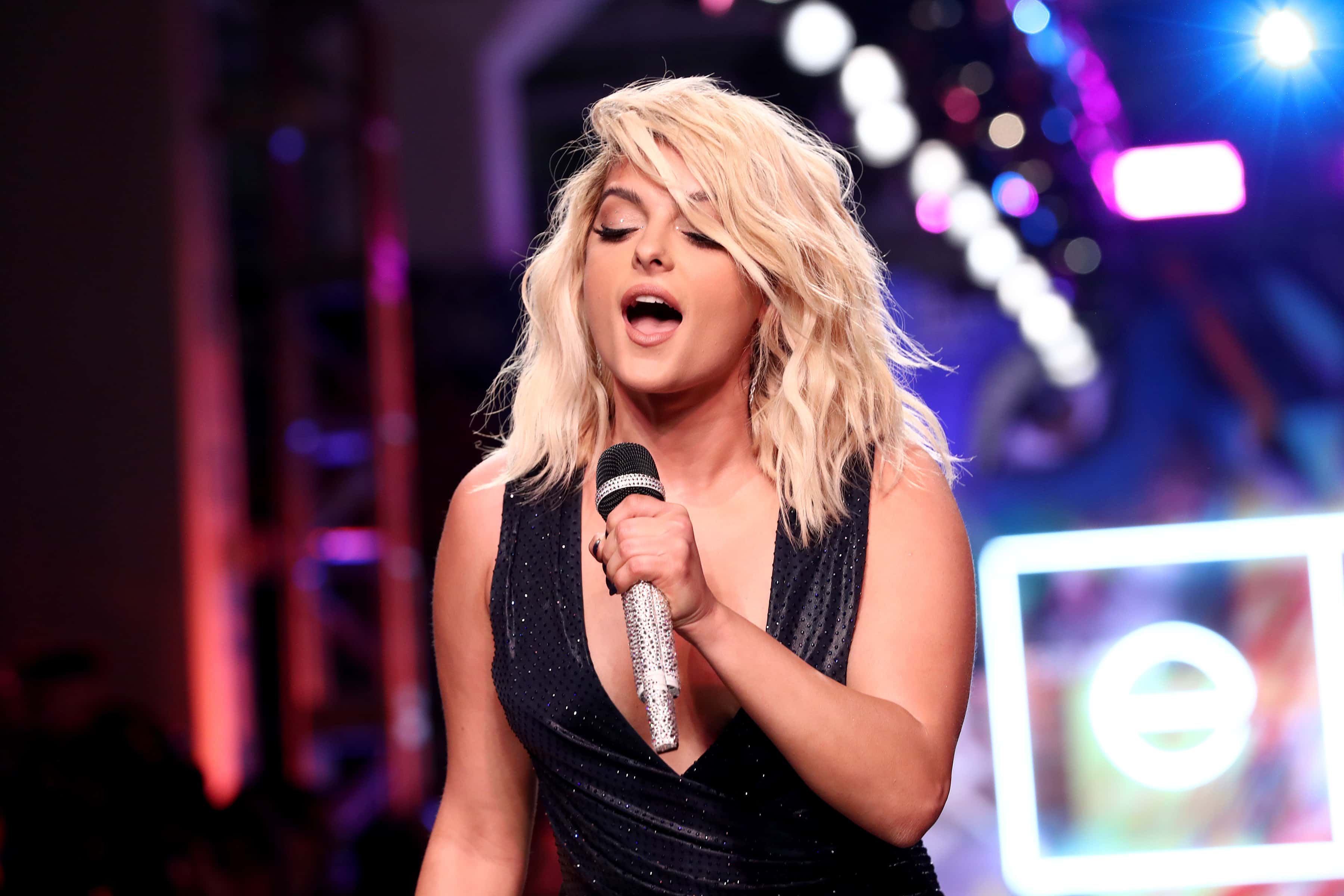 Rexha then called on to her friend Sherlot and asked her to send the BTS demo to Devin and see what he thinks of it. When her friend replies that he had already checked and sent the notes, Rexha says that she will check it afterward while revealing to her live audience that the demo is really "dope".
Rexha previously met BTS when the K-pop band performed at the Billboard Music Awards 2018 (BBMAs), where the boy band won the Top Social Artist Award. At that time, Rexha asked BTS' Kim Tae-Hyung for a selfie, which she later put up on her Instagram story. In addition to this, Tae-Hyung and Rexha also jammed to Kelly Clarkson's performance. They both were seen excitedly nodding their heads along to the beats. Check out the video from the 2018 BBMAs:
This will not be the first collaboration between Rexha and a K-pop band. Back in 2010, she co-wrote a song 'Lucifer' for the SHINee group. Following the live session, fans of BTS and Rexha took to Twitter to express their emotions. One user wrote: "BTS + Bebe Rexha = Perfect iconic wonderful wonderful super pop and k-pop hit".
Collaboration with Harry Styles:
During the Instagram live session, Rexha also talked about a possible collaboration with Harry Styles. The former One-Direction singer, who was recently in controversy over his Vogue magazine cover photo, is one of those singers with whom Rexha would love to collab in the future. The acclaimed singer added that she loves Styles' music videos, but she is not allowed to divulge more information to her fans at this moment.
"Honestly, I would love to collab with Harry Styles. I think he is incredible... I love his music videos...they are amazing," Rexha said. "But I don't know... am I allowed to do that? Like, I don't know... cause I did a song with Louis, so I don't know like... is that like allowed? I don't know. I don't know what that is... is that allowed?... I'm not sure." In 2017, Rexha wrote 'Back to You' for Louis Tomlinson, another member of One Direction. So, if Rexha works with Styles, then it would be her second official collaboration with someone who was once associated with One Direction.
In the past, Rexha has seen success with several collaborations, including 'Me, Myself & I' with G-Eazy, 'In The Name of Love' with Martin Garrix, and 'Meant to Be' with Florida Georgia Line. However, it was Eminem's single 'The Monster' feat. Rihanna, which gave Rexha the international recognition that she truly deserves.