Netflix 'Wish Dragon': Air time, how to live stream, trailer and all you need to know about animated film Who wouldn't want to see their wildest dreams come true? Think about it, if you were given three wishes and you could have nothing your heart possibly desires, what would you wish for?
If you've wished for something new to watch, then get ready for Netflix's 'Wish Dragon'. This light-hearted movie follows the story of Din, a young man on a quest to reunite with his best friend. If you're looking for more animated Netflix titles to check out, consider -- 'Eden', 'Love, Death + Robots' and 'Yasuke'.
READ MORE
'Eden' Review: Netflix's first Japanese original anime paints an interesting dystopian picture
'Eden' Full Cast List: Meet Rosario Dawson, David Tennant, Neil Patrick Harris and rest of the stars of Netflix's anime series
Air time
'Wish Dragon' premieres on Netflix on June 11, 2021.
How to live stream
You can live stream the movie on Netflix from June 11 onwards.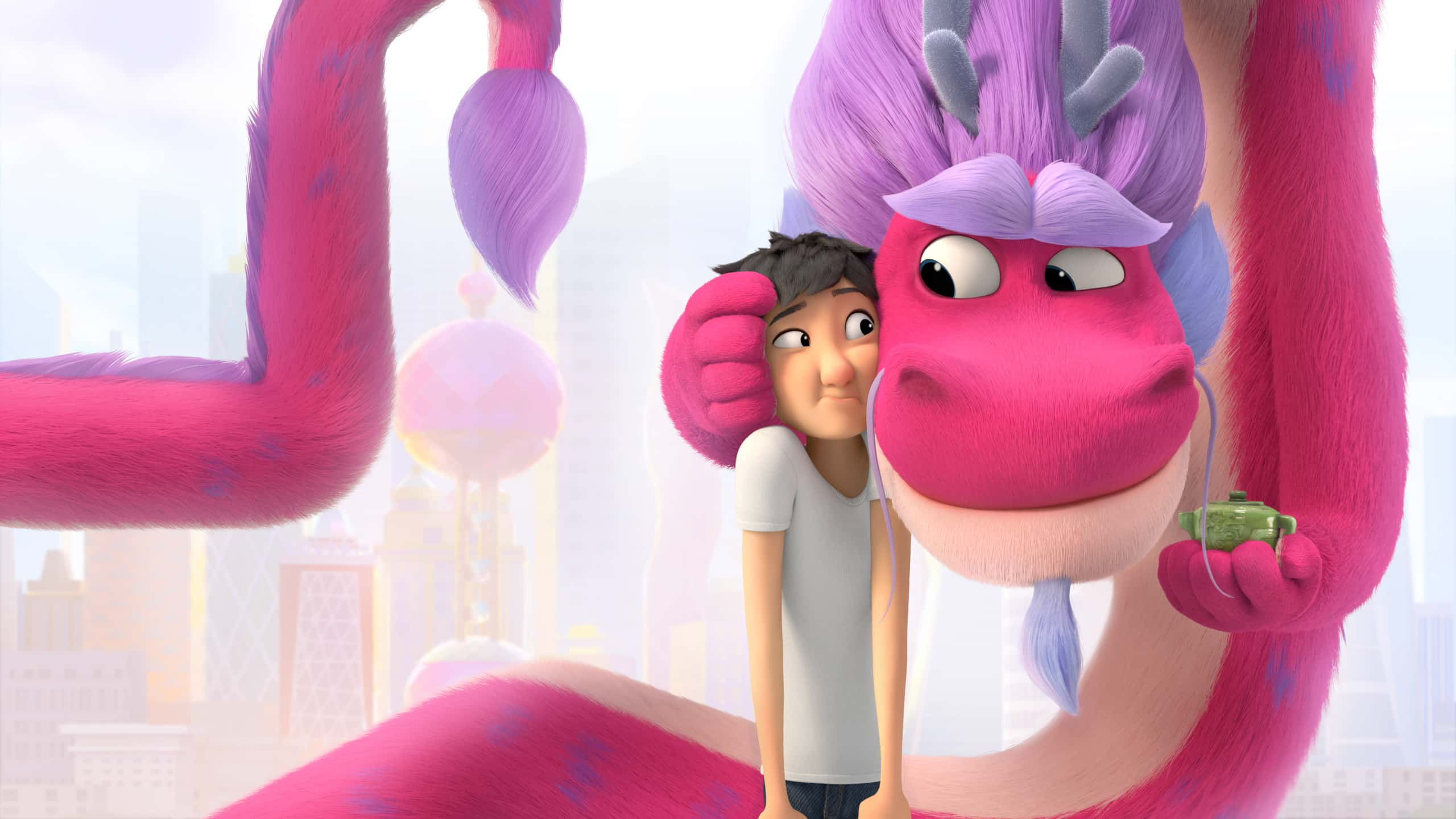 Plot
For Din, life is not easy. Between his job and being a college student, the hustle never stops. Until he stumbles upon a magic teapot, which happens to be the home of a wish dragon. With three wishes bestowed upon him, it's up to Din to use them wisely. But for him, what truly matters is being able to reunite with his childhood best friend, Lina. But, turns out, the secret of the wish dragon isn't quite a secret and now, it's up to Din to protect all that he loves, including a certain smart-mouth dragon.
As per the official synopsis -- "In Sony Pictures Animation's 'Wish Dragon', Din, a working-class college student with big dreams but small means, and Long, a cynical but all-powerful dragon capable of granting wishes, set off on a hilarious adventure through modern-day Shanghai in pursuit of Din's long-lost childhood friend, Lina. Their journey forces them to answer some of life's biggest questions – because when you can wish for anything, you have to decide what really matters."
Cast
Jimmy Wong
Wong voices the character of Din. He is an actor and musician, best known for his 2011 music video 'Ching Chong: Asians in the Library Song'. Wong's other work includes feature films such as 'John Dies at the End', 'The Circle', and the live-action version of 'Mulan.'
John Cho
Cho voices the character of Long, the wish dragon. Cho is known for his works such as the 'Harold & Kumar' films, the 'Star Trek', 'Shopping for Fangs' and 'Yellow', to name a few. He is the first Asian-American actor in history to headline a mainstream thriller film in Hollywood, with his film 'Searching' and was the first Asian-American actor cast as a romantic lead when he starred as Henry Higgs in the 2014 sitcom 'Selfie'.
Constance Wu
Constance Wu voices the character of Mrs. Song. Wu's most notable work is her role as Jessica Huang in the series 'Fresh Off the Boat'. She was also the star of the 2018 romantic comedy-drama film 'Crazy Rich Asians', for which she was nominated for the Golden Globe Award for Best Actress in a Comedy or Musical and the Screen Actors Guild Award for Outstanding Performance by a Cast in a Motion Picture.
Natasha Liu Bordizzo
Bordizzo voices the character of Lina. An Australian actress and model, Bordizzo made her debut in Netflix's 'Crouching Tiger', 'Hidden Dragon: Sword of Destiny'. In 2019, she portrayed the character of Helena in Netflix's 'The Society'.
'Wish Dragon' also features the likes of Will Yun Lee, Bobby Lee, Jimmy O. Yang and Ian Chen.
Director/Writer
Chris Appelhans
Chris Appelhans is the director and writer of 'Wish Dragon'. He is an illustrator, production designer and film director from Idaho, who currently lives in Los Angeles. He has also illustrated two children's books -- 'Greyhound, A Groundhog' in 2017 and 'Sparky' in 2014.
Trailers
Get ready for an adventure of a lifetime as Din, the protagonist, along with the wish dragon try to win back his best friend, Lina. Hilarity ensues as Din and Lina reunite, but there is also trouble afoot, seeing that the wish dragon's teapot is highly coveted.
As per the caption shared alongside the trailer, "Determined teen Din is longing to reconnect with his childhood best friend when he meets a wish-granting dragon that leads him on an adventure a thousand years in the making."
If you like this, you'll love these
'Raya and the Last Dragon'
'The Mitchells vs the Machines'
'Canvas'
'Over the Moon'