Turbo Trusser on 'Shark Tank': What is the cost, who are the founders and how you can nail the roast this Thanksgiving LOS ANGELES, CALIFORNIA: A couple of Stark County entrepreneurs are pitching their product to sharks. Kirk Hyust and Brian Halasinski are taking their Turbo Trusser, a stainless steel device that removes the need for cooking thread and master chef skills to truss fowl, to 'Shark Tank.'
'Shark Tank' is an entrepreneurial-themed reality series in which entrepreneurs present their companies and products to business moguls in order to persuade them to invest. The fourteenth season began with a live premiere. On September 30, four more firms and aspiring entrepreneurs will have their turn in the tank. Two Canton, Ohio entrepreneurs will showcase the Turbo Trusser to the sharks on the episode, hoping to entice the Shark(s) who will help their firm expand.
RELATED ARTICLES
Pizza Pack on 'Shark Tank': How much does it cost and who are the founders?
Dirty Cookie on 'Shark Tank': What is the cost, who is the founder and how to get your hands on cookie shot glasses!
What is Turbo Trusser?
On Easter, Christmas, and Thanksgiving alone, 80 million turkeys are consumed in the United States. To truss the slippery birds, you have to wrestle them into surrender, breast side up, then wrap the thread over the neck bone, under the wings, and firmly below the breastplate before knotting it and tying the legs together. In other words, you bind the tom or hen into a little bundle while the birds try to escape from your grasp. Kirk Hyust and Brian Halasinski have found a solution! They designed the Turbo Trusser ('Just Hook It and Cook It'), a brilliant (and kind of cute) contraption for rapidly and effectively trussing birds and turkeys.
The Turbo Trusser is intended to make trussing turkeys or chickens more convenient. It connects to the legs and wings with two wire hooks installed in the stainless steel trusser. The legs are then inserted into the trusser's precisely constructed slots. It is dishwasher safe and may be used with ovens, rotisseries, grills, roasters, smokers, and deep fryers. The Turbo Trusser was designed and manufactured in Northeast Ohio. Cleveland Metal Stamping imprints the form, while Wire Products of Cleveland manufactures the wire. Wadsworth Rohrer Corp manufactures the packaging. This product is made of dishwasher-safe stainless steel and was created with turkey and chicken in mind.
If you're wondering how it works, simply slide the hooks into the trusser through the holes in the eyes of the chicken or turkey design. After that, position the trusser in front of the body cavity and insert the legs into the properly formed notches. Finally, the hooks can be used to retain the wings close to the body.
Who are the founders?
Kirk is Turbo Trusser's vice president of product development and Hall of Fame Innovations, LLC's vice president of product development. He developed the unique Kirk Wrench, which adjusts and reaches into the smallest spots more effectively than any other wrench on the market. He received his diploma from the Culinary Institute of America. He is now a coach with Invent Right, a Nevada-based firm that teaches innovators how to successfully sell their products.
Turbo Trusser, LLC's president is Brian. His experience includes product creation and introducing new items to the retail sector. He also has a long history in medical sales. He holds a business degree from Kent State University as well as an MBA from Malone University.
Kirk and Brian became friends seven years ago while Kirk was rebuilding Brian's house. Kirk and Brian came up with the Turbo Trusser after several fits and starts with other innovations. They were born and bred in the Ohio Rust Belt, which was once a manufacturing hub, and chose to work with local businesses. Brian, Kirk, and Brian's wife Bre utilize a sealing machine to complete orders from their warehouse, which is a family enterprise.
Brian and Kirk work their regular jobs and operate this firm at the same time. "You always want to sell more," Brian said, "but being able to generate that kind of sales with very little marketing experience or dollars is pretty good." When the product was revealed earlier last year, he applied online to be on the show. He applied again once they reached $50,000 in sales a few months later. He described the application procedure as simple, adding that he answered a few questions on the online application. In April, he received a call from 'Shark Tank' producers asking for further information. "They told you throughout the whole process as they continued to narrow it down there were no guarantees you were going to move on," he claimed. "Even if you taped the show, it didn't guarantee your (segment) would ever be seen on TV."
What is the cost and where to buy the Turbo Trusser from?
The Turbo Trusser was introduced late last year and is now available in 80 retail locations across Canada and the United States. It's available in Cleveland Heights at Hartville Hardware & Lumber, Custom Fireplace Shop in Jackson Township, Ace shops in Kent and Akron, and Mister Brisket. It can also be purchased through turbotrusser.com or Amazon. According to the founders, the product has been supplied to customers in Scotland, England, Canada, Australia, Chile, Italy, and Germany. Since introducing the product, they have sold over 10,000 pieces and made approximately $100,000 in sales. The product retails for $14.99.
Where is Turbo Trusser now?
The company was founded in 2021. Today, the Turbo Trusser has a modest Instagram following of 800+ followers. The product is also available on Amazon, where it has 73 ratings and an average rating of 4.3 out of 5 stars. After the product was developed, it established its website, and it was originally offered in the United States. In 2021, they submitted for an online event, where their product became a commercial hit, selling $50,000 in a matter of months. Brian claimed to have sold $65,000 in the first 90 days after launching his product. Now, Trusser gadgets are mostly sold at retail establishments. Although not many people have purchased it on Amazon, it has received largely positive ratings.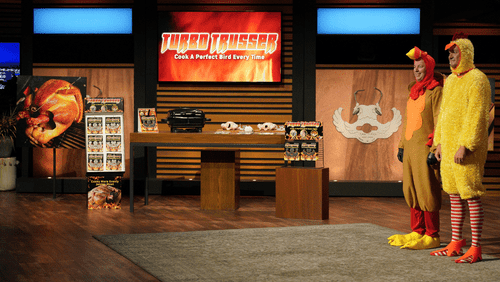 Who will seal the deal?
Lori Greiner was one of the sharks the two aimed to impress during the taping. Brian couldn't reveal any specifics about the episode or which sharks they pitched their product to until the show aired. "We have a kitchen product," he explained, "and Lori Greiner does a lot of QVC and our product is very demonstrable. You don't even know which sharks will be there until right before you go to tape it."
So, if all goes well, Shark Lori Greiner may actually seal the deal, or it could be Shark Kevin O'Leary! However, the brand's sales figures and profit margins will ultimately determine whether or not the sharks invest in the firm. So, we'll just have to wait and see whether the Sharks strike a deal.
'Shark Tank' Season 14, Episode 2 airs on ABC on Friday, September 30, 2022, at 8 pm ET. Catch the latest episode featuring products like The Woobles, Banana Phone, Stealth Bros & Co, and Turbo Trusser.
Missed an episode? Been wanting to catch up? Episodes can also be viewed the next day on demand and on Hulu. You can also watch old seasons and episodes on Amazon Prime Video and iTunes.



Share this article:
What is the cost, who are the founders and how the trusser can make perfect roast