Highlight reel: VH1's 'Dear Mama: A Love Letter To Moms' returns to the small screen for third edition
A quick round up of some of the most heartwarming moments during the third annual edition of VH1's Dear Mama: A Love Letter To Moms. Jhene Aiko and her daughter Namiko Love Browner (Getty Images)
VH1 returned with its annual Mother's Day special "Dear Mama: A Love Letter To Moms" today (May 7). Co-hosted by comedian and 'Black-ish' star Anthony Anderson (his third time hosting) along with actress and 'Power' star La La Anthony, the event recognizes mothers with celebrity guests paying tribute to the women who have shaped their success.
Celebrity participants this year included Colin Kaepernick, Sean "Diddy" Combs, Gabrielle Union, Teyana Taylor, Ne-Yo, Jhené Aiko, Bobby Brown, Jessie J and Patti LaBelle. The show took place at The Theatre at Ace Hotel in downtown Los Angeles.
Past stars who've participated in the special include Queen Latifah, Mary J. Blige, Ludacris, DJ Khaled, Alicia Keys, Will Smith, Halle Berry and Maxwell.
Check out a highlight reel of the best and most heart-warming moments in pictures below:
Pictured above: After joking that his mom Teresa didn't know what football was until he got to college, Colin Kaepernick talks about what his life was like growing up in a world where the privilege of his parents did not always protect him. He praises his mom for doing everything she could to give him the best possible life and says that she "chose [him]" and she's "stuck with [him]!" Teresa joins him on stage, since "moms always have the final word" and says that Colin was always a wonderful son, student and athlete, and she's overwhelmed with pride, even if he "doesn't call his mom enough!"
Pictured above: Teyana Taylor honoring her mother, Nikki, and recognizing the tremendous impact that she's had in making her the wife and mother that she is today, before welcoming surprise guest Bobby Brown to the stage.
Pictured above: Gabrielle Union showering her mother Theresa with praise and thanking her for raising Gabrielle in a home filled with love, learning and acceptance. Gabrielle surprises her mom with an appearance by award-winning recording artist Ne-Yo who performs a medley of his hit singles 'Good Man' and 'Miss Independent.'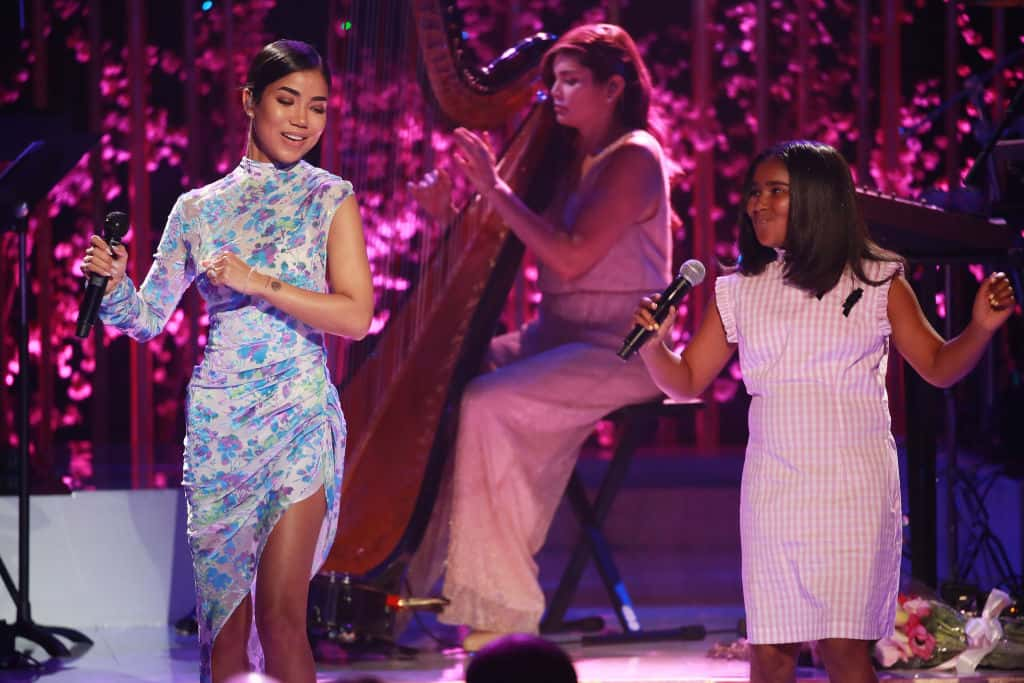 Pictured above: Jhené Aiko is joined on stage by her daughter Namiko Love to perform a poem for her mother, and sing a song that they wrote together, "Sing To Me."
Jessie J delivers a sweet tribute to her mother, Rose, who encouraged her to write music that stands the test of time. Jessie sings her new song "Queen" and then gets the crowd on their feet with her rendition of the iconic hit "I'm Every Woman."
Stay tuned for video footage from VH1's Dear Mama: A Love Letter To Moms.