'What is success?' Tom Brady shares cryptic post a day after Gisele Bundchen denies ultimatum rumors LOS ANGELES, CALIFORNIA: Is Tom Brady reacting to Gisele Bundchen's Vanity Fair interview for the April 2023 issue? The iconic American football quarterback recently took to his Instagram to share a quote by the famous author Ralph Waldo Emerson. Apparently, the innocuous quote on "success", however, came on the heels of Brady's ex-wife Bundchen's interview with Vanity Fair.
A day after the former Victoria's Secret Angel, Bundchen claimed in the interview that she did not give Brady an ultimatum for his retirement, the 45-year-old former Super Bowl star shared this cryptic quote through his social media.
RELATED ARTICLES
Gisele Bundchen subtly shows affection for Tom Brady and stepson Jack amid divorce from NFL star
Tom Brady lost 15 pounds and mental focus after divorce while his ex Gisele Bundchen thrives
The quote begins with a philosophical question, "What is success?" It then continues to answer it by, "To laugh often and much; To win the respect of intelligent people and the affection of children;".
"To earn the appreciation of honest critics and endure the betrayal of false friends; To appreciate the beauty; To find the best in others; To leave the world a bit better, whether by a healthy child, a garden patch or a redeemed social condition;" the quote continues.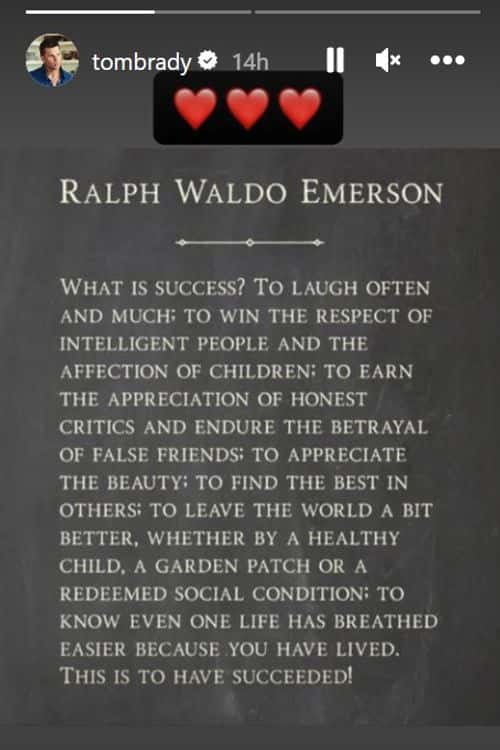 "To know even one life has breathed easier because you have lived. This is to have succeeded!" The seven times Super Bowl champion used three heart emojis over his post. However, Brady is yet to come out with an official statement regarding Bundchen's interview.
What did Gisele Bundchen say?
Bundchen, who is the cover girl for Vanity Fair's April 2023 issue, bared her heart for the cover story. While on the topic of her split, the mother of two says she has not given any ultimatum to Brady to retire from his career. She added, those accusations were "very hurtful" and "the craziest thing I've ever heard."
A visibly emotional Bundchen continues, "Listen, I have always cheered for him, and I would continue forever". The former Victoria's Secret Angel further adds, "If there's one person I want to be the happiest in the world, it's him, believe me. I want him to achieve and to conquer. I want all his dreams to come true. That's what I want, really, from the bottom of my heart.
Bundchen's interview also indicates a gradual disintegration in their marriage as she says, "Sometimes you grow together; sometimes you grow apart," before adding, "When I was 26 years old and he was 29 years old, we met, we wanted a family, we wanted things together. As time goes by, we realize that we just wanted different things, and now we have a choice to make. That doesn't mean you don't love the person. It just means that in order for you to be authentic and truly live the life that you want to live, you have to have somebody who can meet you in the middle, right? It's a dance. It's a balance."
Why did Tom Brady and Gisele Bundchen file for divorce?
After a successful 13 years of married life, the former power couple decided to separate in 2022 with their divorce being finalized in October. During that time, rumors were that "Gisele is frustrated and sick of his career coming before their family, who has always supported him," reports People. According to People, multiple sources have confirmed that Brady's decision to un-retire after initially deciding to retire on February 1, 2022, put a toll on their relationship. After playing another season for Tampa Bay Buccaneers, Brady announced his final retirement on February 1, 2023. They share two children together, Benjamin and Vivian.