'The Marvelous Mrs Maisel' Finale Review: Midge Maisel makes a reckless decision on Gordon Ford's show Spoilers for 'The Marvelous Mrs Maisel' Season 5 Episode 9
LOS ANGELES, CALIFORNIA: Miriam 'Midge' Maisel is a brilliant comedian, but in 'The Marvelous Mrs Maisel' Season 5, she had been working for Gordon Ford as a writer. In the penultimate episode of Season 5, we see Susie Myerson call in a huge favor which lands Midge the biggest gig of her life. Without a doubt, everyone was expecting this huge opportunity to turn into something in the final episode, and that's exactly what happened, only with a few hiccups.
It is no secret that Gordon thinks that Midge Maisel is funny and a great writer, but at the same time, he is unwilling to give her the spotlight she deserves. As Midge excitedly prepares for a stand-up act on 'The Gordon Ford Show', Gordon reveals that he is bringing her on as a writer, not a comedian. Midge and Susie are both disappointed, but that doesn't stop Midge from taking what she deserves.
RELATED ARTICLES
'The Marvelous Mrs Maisel' Season 5 Episode 8 takes us back to when Joel and Midge met
'The Marvelous Mrs Maisel' Season 5 Episode 7 Review: Danny Stevens has an offer for Midge
'Resident female writer'
Midge's family, friends, and ex-husband are all at 'The Gordon Ford Show' to support her, which only heightens Midge's disappointment. Gordon brings her on his show, addressing her as the 'resident female writer' over and over again. Instead of the couch, she is made to sit on a stool, and the second she responds with something witty and funny, making the audience laugh, Gordon feels threatened. Gordon calls for an early commercial, but his producer tells him that there are still four minutes of the segment left, and they have to be used. Midge realizes that she has four minutes to either make it or break it, and she does something reckless, with Susie supporting her decision.
Midge takes the mic!
Midge finally does something she should have done a long time ago. She grabs the mic, stands up to Gordon, and does what she has done best for five seasons of 'The Marvelous Mrs Maisel'. Once Midge starts talking, there is no stopping her. The audience doubles down with laughter as she talks about her kids, her ex-husband, her divorce, being Jewish, her parents, drinking, smoking, and everything under the sun one can think of. This is Midge's last performance on 'The Marvelous Mrs Maisel' and it is worth every second.
In a shocking turn of events, even Gordon can't stop himself from laughing as he realizes just how brilliant she is. One of the key scenes of 'The Marvelous Mrs Maisel' series finale takes place after Midge's act. Instead of walking off the stage, Gordon shocks her and the viewers by inviting her to sit on the couch: the famous couch. At this point, Midge knows she is on the brink of success as Gordon fires her, both of them smiling ear to ear. Everything that Midge has worked for in the last five seasons of 'The Marvelous Mrs. Maisel' has led her to this moment. We highly recommend sitting with a few tissues because this moment is a sure-shot tear-jerker!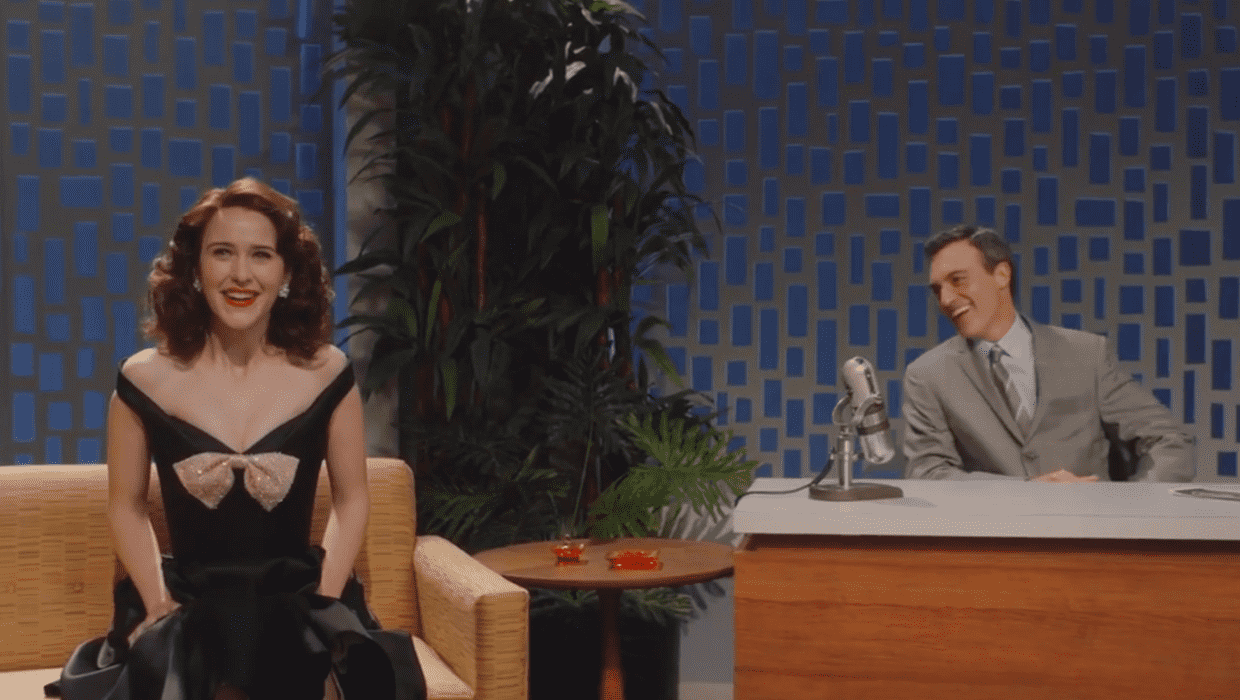 You can stream 'The Marvelous Mrs Maisel' series finale on Prime Video from May 26, 2023.
Share this article:
'The Marvelous Mrs Maisel' Finale Review: Midge Maisel makes a reckless decision on Gordon Ford's show