'The Lost Daughter' Ending Explained: Is Leda about to die? Spoilers for 'The Lost Daughter'
Maggie Gyllenhaal's feature directorial debut is finally here and audiences can now tune in to watch 'The Lost Daughter'. The Netflix movie boasts of a stellar cast consisting of Olivia Colman. Dakota Johnson, Jessie Buckley, Peter Sarsgaard and more that bring a haunting tale to life.
'The Lost Daughter' is inspired by the book of the same name by the Italian novelist Elena Ferrante whose identity remains a secret to this day. This author has had many of her works adapted into shows and movies with Maggie Gyllenhaal doing the same for Netflix. If you're curious about how the movie played out and what happens towards the end, read on to know along with how the book ended as well.
RELATED ARTICLES
Netflix's 'Cobra Kai' Season 4: 5 things you didn't know about Ralph Macchio
Full list of Netflix shows CANCELED in 2021: Here's what we lost
The movie begins as we see Leda (Olivia Colman) with what looks like a small stab wound near the abdomen walk up to and collapse on the beach. We then see the events preceding this intriguing start. Leda who is on holiday in Greece becomes obsessed with a young mother Nina (Dakota Johnson) and her daughter Elena (Athena Martin). Seeing their interactions she's reminded of her own past as a young mother which was a painful time for her. One occasion sees Leda help find Elena when she gets lost and return her safely to Nina, sparking a casual friendship, but Elena won't stop crying as she loses her doll Nani, prompting their whole family to look for it. Leda is helpful and even gifts Nina a hatpin when her hat keeps falling off furthering their friendship. The movie shifts between a young Leda(Jessie Buckley) and the old one who's shaken up. We found out that when she was young she had abandoned her two daughters as the stress of being a young mom was too much, but later returned after a few years. We also see that Nina comes from a dangerous family and is having an affair with one of the workers at Leda's hotel and later asks Leda if they can use her room when she leaves. But Leda is also harboring a secret and is the one who impulsive took the doll and has had it ever since.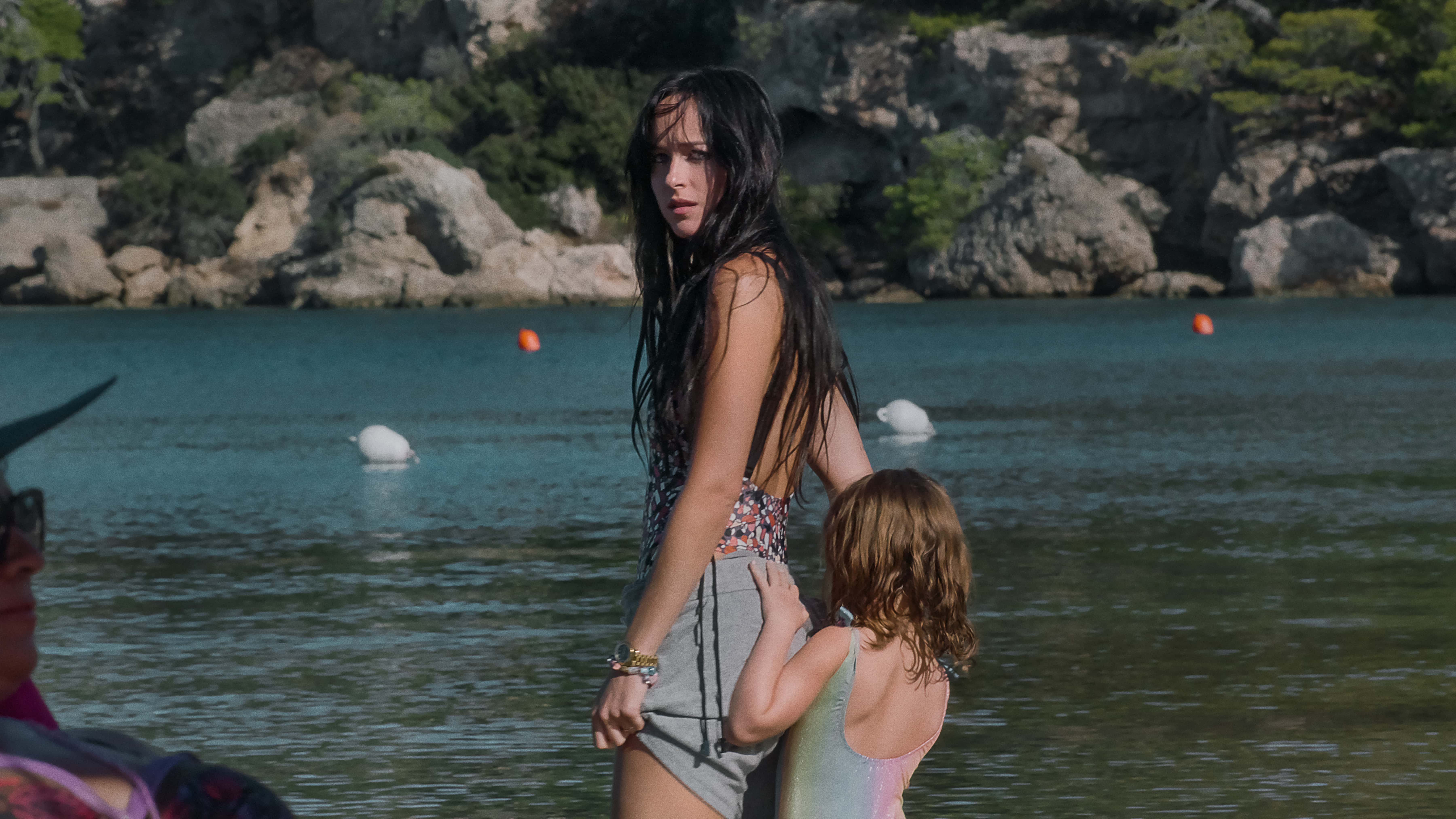 What happens at the end of the movie?
Nina pays a visit to Leda's room after she's close to breaking down from the stress of handling her daughter. As Leda calms her down she also ends up telling her that she has had the doll all along. When Nina finds out she's furious and yells at her asking why she did it when she knew the trouble the doll was causing. She storms off with the doll but not before stabbing her with the hatpin that Leda had given her. Leda who's leaving that night walks to the beach where we see the opening scene re-enacted.
The unconscious Leda wakes up in the morning and recalls a happy memory with her daughters who give her a call. As she sits and chats with them on the phone, we see her smile with a bloodstain on her shirt with the movie ending on that note.
What happens at the end of the book?
The movie is mostly faithful to the book except for the ending. In the book after Leda is saddened by Nina's anger and wounded she heads home, but while she is moving out she gets a call from her daughters, who asks how she's doing. Leda's response is the final line of the novel: "I'm dead, but I'm fine."
Both the endings leave audiences open to interpreting what happens next.
'The Lost Daughter' is now streaming on Netflix.
Share this article:
the lost daughter ending explained netflix movie olivia colman dakota johnson elena ferrante book