Taylor Swift turns heads in dazzling emerald-studded bodysuit as she bags 4 awards at 2022 MTV EMAs
Taylor Swift was nominated in six categories and won four awards at the EMAs — Best Artist, Best Video, Best Pop, and Best Longform Video DUSSELDORF, GERMANY: Taylor Swift made a dramatic entrance on the red carpet at the 2022 MTV Europe Music Awards on November 13 in Dusseldorf, Germany. It was an altogether very successful evening for the singer. The 32-year-old, who was nominated in six categories, bagged four awards: Best Artist, Best Video, Best Pop, and Best Longform Video.
Swift, whose song 'Anti-Hero' from her ground-breaking new album 'Midnights' is now at the top of the charts, made a surprise appearance at the awards ceremony in Dusseldorf to receive her awards, the latest in a string of triumphs for the singer-songwriter. She stated, "The fans are the only reason any of this happens for me," as she accepted her first award of the evening as reported by Daily Mail.
READ MORE
Nick Cannon says he pays 'lot more' than $3M in child support as he prepares for baby number 12!
'Will cheer England on from afar': Dua Lipa debunks rumors that she will perform at FIFA World Cup 2022
But her award wins were not the only reason Swift was the talk of the town on the evening of the EMAs. Her choice of outfit for the red carpet turned more than a head. The "Anti-Hero" singer opted for a bold costume by David Koma, which included a dramatic bodysuit paired with a sparkling emerald stone- and crystal-encrusted skirt with a chain-link design. She showed off her trim body in the bodysuit which a deep, plunging neckline and spaghetti straps.
Taylor's dress, which is vintage but still in style, is from the designer's Spring 2019 line. She accessorized with a selection of edgy ear cuffs and a pair of black Giuseppe Zanotti open-toed shoes. To finish off the glamorous look Taylor pulled her bangs back into a bun, added a sharp cat-eye, and applied nude lipstick. It was a simple yet sexy look from Swift.
Later during the show, David Hasselhoff of Baywatch presented Swift with the Best Artist Award, and she responded to the adoring crowd by saying, "You have no idea how much this even means to me to do this as a career…There's not a single moment I take that for granted. I love you so much, I can't believe I get to do this as a job, and it's all because of you. Thank you so, so much."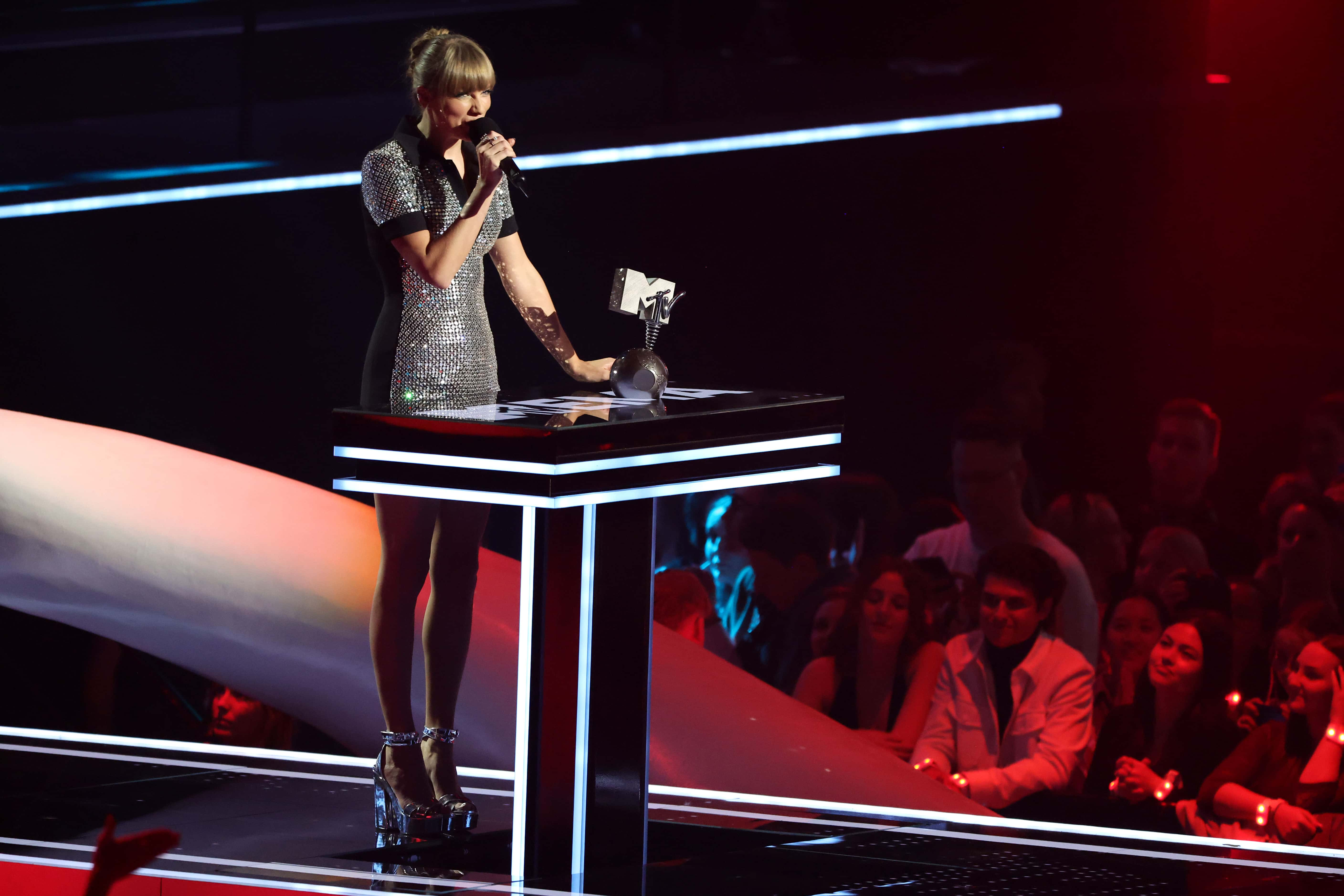 Taylor made an appearance at the award ceremony three months after winning Video of the Year at the 2022 MTV VMAs. She also revealed her tenth studio album, Midnights, that evening. When the album was released on October 21, it debuted at No 1 on the Billboard charts, making Taylor the first artist in the chart's 64-plus-year history to ever occupy each and every top-10 song position as per E! News.
"It's a journey through all the musical eras of my career," she said in a video message to her fans on 'Good Morning America' on Nov 1. "I'm just so excited that I get to look you guys in the eye and say 'thank you' for everything. Thank you for this incredible week with Midnights and everything that you've done for me."
Share this article:
Taylor Swift turns heads in dazzling emerald-studded bodysuit as she bags 4 awards at 2022 MTV EMAs