'Supervillain: The Making of Tekashi 6ix9ine': Release date, showtime, plot, cast and all you need to know about docuseries on rapper Rapper Tekashi or 6ix9ine, whose real name is Daniel Hernandez, is one of the most controversial figures in hip-hop but that doesn't stop him for how he wants to go about his life and his music. The 24-year-old hip-hop artist enjoys a huge fan following despite all the memes and controversies surrounding his rap career. Fans can now have a closer look at his life, all thanks to a brand new three-part docu-series titled 'Supervillain: The Making of Tekashi 6ix9ine.' The new project will shed light on the 'Gooba' hitmaker's rise to notoriety and his fall as a convicted criminal. Here's everything else you need to know about Tekashi's new docu-series.
RELATED ARTICLES
Tekashi 6ix9ine forced to relocate after address is leaked online amid house arrest
Sex offender Tekashi 6ix9ine claims he's 'compared to Trump every day', doesn't regret exposing Nine Trey gang
Release date
According to the official press release, 'Supervillain: The Making of Tekashi 6ix9ine' will premiere on Showtime on February 21, 2021, at 10 pm ET/PT. Fans can catch the new episodes every Sunday through March 7, while the entire series will release for on-demand streaming or download on Showtime and across all Showtime partner platforms on the same day.
Plot
The three-part docuseries profiles the Mexican-Puerto Rican hip-hop artist and his aspiration to go down as one of the most infamous celebrities ever known. The docu-film will include interviews with Tekashi69 after his release from prison last year after he made a plea deal to testify against fellow gang members. Interestingly, 'Supervillain' is based on the Rolling Stone article 'Tekashi 6ix9ine: The Rise and Fall of a Hip-Hop Supervillain' and is narrated by 'Better Call Saul' actor Giancarlo Esposito.
The brand new project is helmed by Karam Gill, who is known for his documentaries 'Ice Cold' and 'G-Funk.' Speaking about 'Supervillain: The Making of Tekashi 6ix9ine,' he said, "We live in an attention economy — a digital culture that can empower people with no talent or morals to become famous. This series is bigger than 6ix9ine. It's a cautionary tale about manufactured celebrity and how, when our society allows 'supervillains' to rise, the collateral damage can be massive. In the era of Trump and the January 6th insurrection, understanding and analyzing these stories is extremely important."
Cast
The teaser shows Tekashi 6ix9ine giving interviews, filming music videos, performing at concerts along with court appearances. Rapper's lesser-known girlfriend Jade is also spotted talking to the camera. Apart from these two, we might also see Tekashi's unknown close friends.
Tekashi69
Tekashi is known for his distinctive rainbow-colored hair, extensive tattoos, public feuds with fellow celebrities and legal issues. He rose to fame in late 2017 after the release of his debut single, 'Gummo' proved to be a sleeper hit.
Jade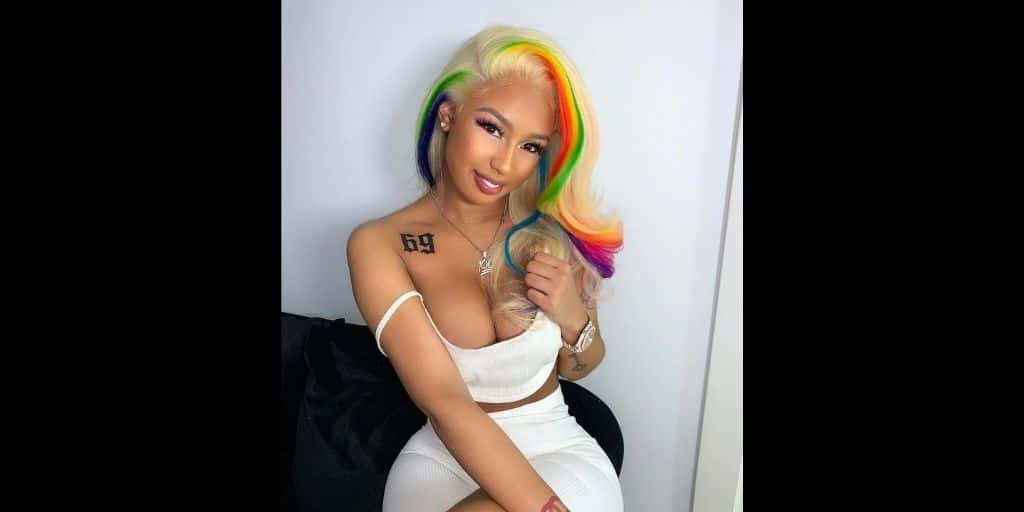 Tekashi 6ix9ine began dating Jade, who goes by the username of 'OhSoYouJade' on Instagram, just a few weeks before heading to prison on racketeering charges at the end of 2018. Jade, whose real name is Rachel Wattley, is often spotted wearing a long, rainbow-colored wig in honor of her rapper boyfriend who is equally famous for his colorful locks. Jade also has a large 69 tattoo on her collarbone.
Crew
'Supervillain: The Making of Tekashi 6ix9ine' is produced by Imagine Documentaries, Rolling Stone and Lightbox. Brian Grazer serves as the executive producer with Justin Wilkes and Sara Bernstein of Imagine Documentaries, Gus Wenner of Rolling Stone, Jonathan Chinn and Simon Chinn of Lightbox, journalist Stephen Witt and Peter J. Scalettar.
Trailer
If you like this, you'll love these
'Can't Stop, Won't Stop — A Bad Boy Story'
'Fade to Black'
'Hip-Hop Evolution'
'Travis Scott: Look Mom I Can Fly'
'Rapture'