'Oh man!' Shania Twain, 57, exudes casual chic at JFK Airport with husband Frederic Thiebaud NEW YORK CITY, NEW YORK: Singer Shania Twain looked absolutely worry-free and was all smiles as she arrived at the John F Kennedy International Airport in New York City with her husband of 12 years Frederic Thiebaud on their wedding anniversary on Sunday, January 1. The country singer opted for a simple look to blend in as she wore a black hoodie with jeans.
According to PEOPLE, Twain and Thiebaud have been married since 2011, following her divorce from her ex-husband Robert John Lange. The circumstances of their split and her eventual romance were quite peculiar and was reportedly called the "husband swap," with Lange cheating on Twain with Theibaud's ex-wife Marie-Anne first. Then, Twain began her romance with Thiebaud soon after. Lange and Twain were married between 1993 to 2011 and share a son, Eja, born in 2001.
RELATED NEWS
Shania Twain opens up on her struggle with Lyme disease: "I couldn't even call out for my dog"
'Real Country': Shania Twain's new reality show was born out of lack of women on country radio
The country singer wore a simple black hoodie that had 'Republic Records' written on it, along with blue jeans and a pair of white sneakers. She also wore a black baseball cap with a white peace sign that hung low over her head along with brown sunglasses.
She held her suitcases and bags as she walked out of the airport with her hair pulled back, followed by her husband. Thiebaud was also dressed casually for the day, in a grey polo and black jeans, with a partly zipped black jacket. He finished his look off with a pair of black and white sneakers. His curly hair looked long and till his shoulders.
This is a rare appearance for the star, who had spent her New Year with her husband and posted a picture as well. Twain and Thiebaud's relationship began when their spouses had affairs with each other and the pair turned to each other for support. "I got to observe Fred going through the same thing I was and I admired how he handled it. That is where I fell in love with him, because he was so exemplary in every way," Twain reportedly said.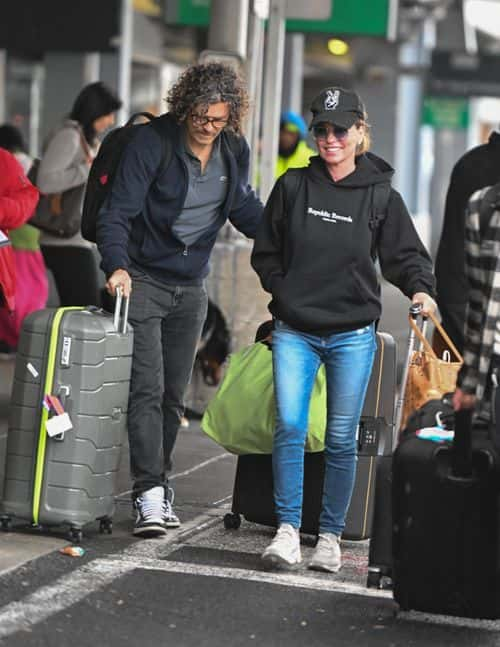 "[He] has been the most constant companion and support," Twain is quoted to have said at the time, according to PEOPLE, adding, "We leaned on one another through the ups and downs, taking turns holding each other up. We've become stronger and closer through it all, as have our children, Eja and Johanna."