After Rihanna fired Draya for mocking Megan Thee Stallion, she sent the rapper some sweet Savage X Fenty merch Rihanna is definitely a savvy marketer and a savage boss when it comes to her Savage Fenty X lingerie brand. After one of the label's brand ambassadors, Megan Thee Stallion, was mocked by a fellow endorser, Draya Michele, for getting shot in the foot recently, Queen RiRi took swift action. Draya Michele was reportedly dumped by Savage X Fenty, and a brand new set of designer lingerie was sent to the 'Savage' singer, Megan Thee Stallion as a token of Rihanna's goodwill. The Texan rapper promptly modeled the gorgeous new collection on social media, accompanied by the caption "Love y'all @savagexfenty @badgalriri." You can check out the stunning new shots on her recent Instagram post by clicking here and here as well.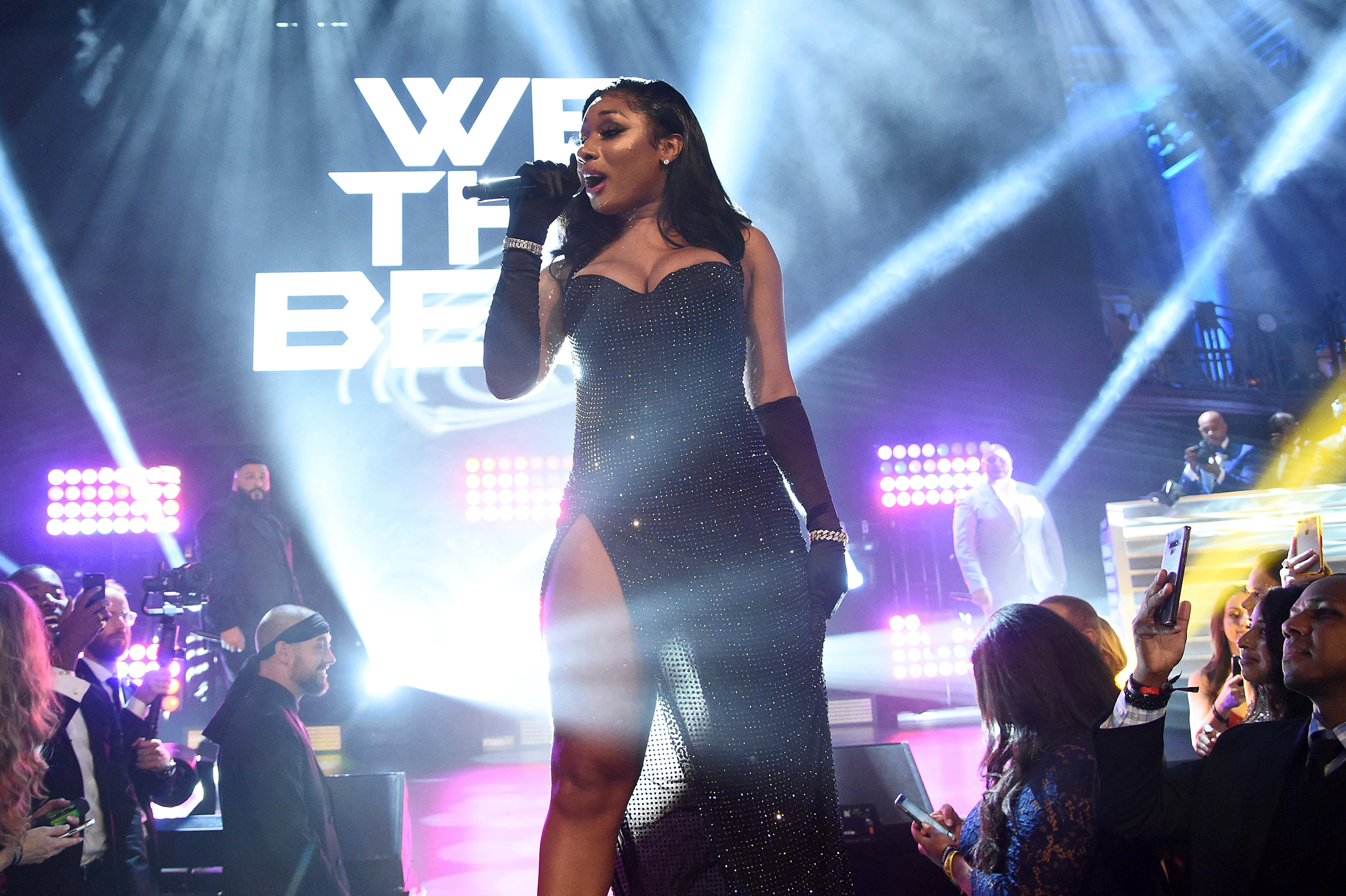 Besides sending the rapper some lovely lacey intimates, Rihanna also sent her a heartfelt note that read, "Wishing you a full and speedy recovery, Meg! Just know you've got a whole crew over here sending good vibes your way! Love, Rihanna and the Fenty Corp gang." Megan Thee Stallion is recovering well after being shot multiple times a few weeks ago on July 12 after attending a pool party with the rapper Tory Lanez. Lanez was allegedly connected to the shooting, and was later detained by police on a concealed weapons charge. Although Megan Thee Stallion has not named Lanez as the shooter personally, she did break her social media silence on Monday, July 27, the Canadian rapper's birthday, to give more details about the grisly injuries she suffered, revealing that "the bullets didn't touch bones, they didn't break tendons." She also confessed, "I know my mama and my daddy and my granny had to be looking out for me with that one, because where the bullets hit at, they missed everything."
Most people were offering their sympathies and wishing Megan Thee Stallion a speedy recovery after her surgery, but one fellow Savage X Fenty endorser, the reality star and model Draya Michele had actually mocked her regarding the incident. In a recent interview, Draya Michele had likened Tory and Megan to Bobby Brown and Whitney Houston's troubled relationship, and quipped, "I want you to like me so much you shoot me in the foot." A seething Megan Thee Stallion responded, saying "Dumb b**** that s*** ain't f***ing funny, who tf jokes about getting shot?" This drew the ire of many fans, with some people noting that Draya shouldn't have been making light of violence against women, considering even Rihanna, the founder of Savage X Fenty, had endured her own highly-publicized domestic violence episode at the hands of Chris Brown.
Although Draya later apologized, saying "I truly don't glorify domestic violence…I was trying to say just love me deeply. But while trying to be funny, I offended many, including Meg. And I'm sorry." This apology was a little too late, as Savage X Fenty promptly dropped her from the label according to many accounts. One fan tweeted, "Savage X Fenty still follows Megan but does not follow Draya. And Meg's pictures are still up while I see none of Draya. So I think they truly have severed ties." Another follower noted, "Draya being cut from Savage x Fenty makes sense seeing how her 'joke' not only makes a mockery of Meg's experience, it makes a mockery of other women's experiences too. Like Rihanna's. Who owns the brand."
So it seems Rihanna was being savvy enough to take care of her brand image and its ambassadors, but the mutual love-in didn't stop there. As Megan Thee Stallion later showed on her Instagram Stories, the singer Lizzo had also sent her a care package as well, filled with her favorite candy. "God, Lizzo, I love you! What the hell! This whole thing is filled up with Lucas and my favorite s***!" Megan exclaimed while rifling through the Mexican candy and lollipops like a delighted child. Thanks to all this mutual admiration, we might even get a collaboration soon that features two or three of these talented singers, so let's keep our fingers crossed for that!