'RHOA' Season 14 Episode 8: The ladies try to work out their friendship while dropping some pounds Bravo hit 'The Real Housewives of Atlanta' is presently on its 14th season and has been airing for more than a decade. A lot of friendship dramas will be addressed in the forthcoming episode of the show, some for the better and some to heighten the tension.
The upcoming Sunday episode, which airs on June 26, has the following episode synopsis, "Shereé and Marlo question if Kandi has been a good friend; Drew and Sanya fall out over another rescinded invitation, and Kenya and Shereé hash out their issues." Fans are undoubtedly interested to watch how Sanya, a newbie, would reconnect with the anchor who introduced her to the show after their falling out. However, after Kandi failed to help a friend in need, a decade-long friendship between Shereé and her is in jeopardy. In the meantime, Kandi alleges that Marlo is trying to start a hate campaign against her and roping Shereé into it.
RELATED ARTICLES
Did LeBron James cheat on wife Savannah with Drew Sidora? 'RHOA' star's sister reveals truth
'RHOA' Season 14: Kandi isn't stoked to model for Sanya's Black Friday shoot with Kenya
Drew ultimately plans an event for her fitness company, "Drop it with Drew," in the teaser clip that Bravo released in advance of the episode airing on Sunday. She wants to show to her pals, nevertheless, that her business is entirely legitimate. The 'RHOA' ladies appear to encourage Drew's endeavor in health and fitness because of this. Along with her husband Todd, Kandi goes to the venue with her friend Monyetta and her spouse Heath Carter. Although Kandi appears eager to "drop it with Drew," she wonders if it really is the facility. Sanya, on the other hand, is going to Drew's event with Shereé and Marlo and is happy to have received an invitation rather than an "univite." Sanya admits in a confessional that she wasn't certain she would attend Drew's event, but she wants to return to that nice place with her and is hoping and praying that today is the genuine beginning. The women start laughing as they approach the facility and see the banner with Drew's face hanging outside.
Another video clip reveals that Shereé and Kandi's friendship is the other one in need of repair. The two get together with Marlo in a sauna to work out all their issues. There isn't a better spot to chat with the ladies, according to Shereé, where they can engage in girlie discussion and lose weight without exercising. Marlo, who is on her way in, however, criticizes Kandi for not being a friend while she was away. As soon as Kandi arrives, she declines to enter the sauna and opts to continue the conversation from behind the glass doors, claiming obligations elsewhere.
As a conversation starter, Kandi brings up her impending project and the sex scene that must be filmed on the first day, something she was unaware of. Shereé confronts Kandi about her recent actions to quickly get to the subject. She acknowledges that she and Kandi got along well. Shereé recalls their time spent together at "The Smalls" ten years ago, as well as their picnics, visits to Kandi's house for the holidays, and other activities. She goes on to express that she misses everything, especially now that she doesn't feel that Kandi is there for her when she needs her most. After the Tyrone incident, she was expecting Kandi to get in touch with her, but it didn't happen. Kandi comes clean, saying that she had been waiting for Shereé to be ready to tell her about the sensitive information. Shereé confesses that she was disappointed that Kandi hadn't called to check how she was doing, since she had expected her to have done more for her. She continues by expressing her disappointment in Kandi.
In a different sneak peek, Kandi is seen catching up with Kenya while attending a candle-making lesson with her friend Monyetta. Kenya Moore informs Kandi about Marlo
Hampton's remarks about her as they are both attending the candle-making class. Kenya tells how Marlo essentially roasted Kandi for this when Monyetta mentioned supporting Kandi with her nonprofit, "Kandi Cares." She remembers their discussion at the luncheon in the previous episode, where Marlo essentially criticized Kandi for giving old clothing to her charity. She also mentioned how Marlo had begun to criticize Kandi for not being a reliable friend and for abandoning Shereé when she most needed her. When Monyetta, a friend of Kandi's, heard this, she quickly denied it. She says Kandi is a friend that would constantly be there for you. Kenya concurs with Monyetta and claims that Kandi waited for her for a long time while she was busy filming 'Dancing with the Stars.' Kandi is baffled and upset with Marlo for pursuing her simply because she didn't contact or message Shereé. Kandi claims that Marlo is starting a hate campaign against her, despite saying she does everything she can for her friends.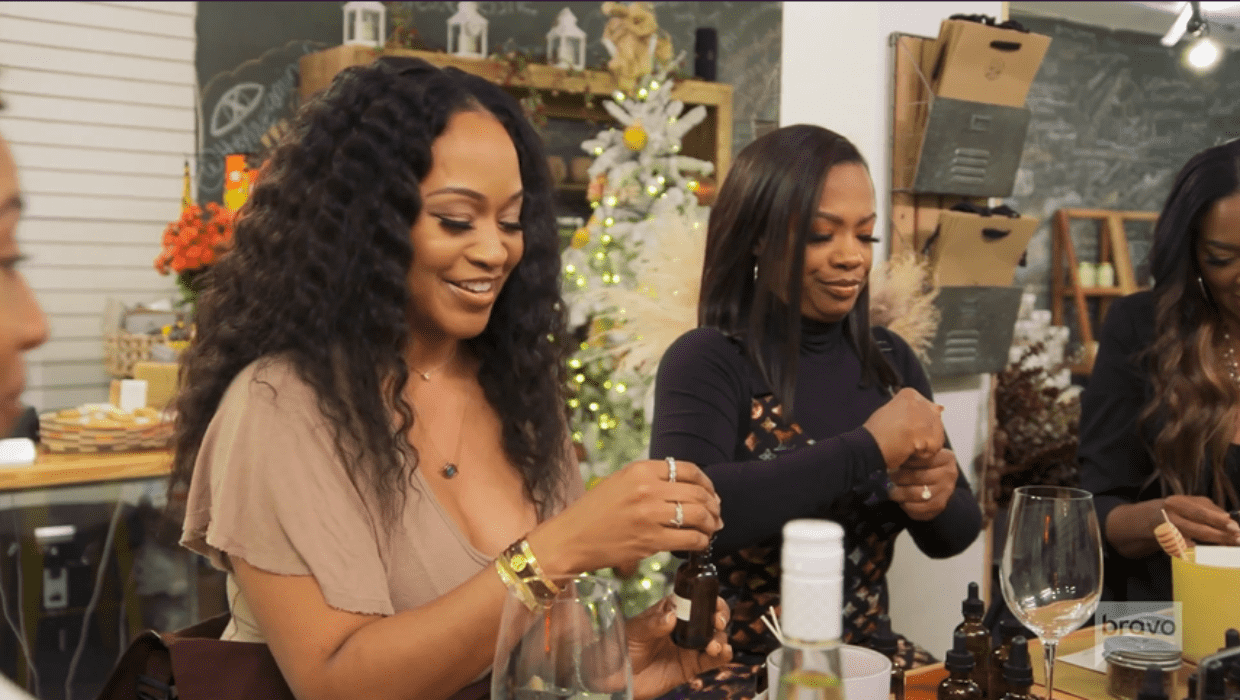 Interested in learning if the ladies can genuinely end the drama and mend their friendship? Watch the latest episode of 'The Real Housewives of Atlanta' Season 14 on Bravo this Sunday at 8 pm.