'Goodbye Gan Gan': Prince George and Princess Charlotte walk behind Queen's coffin at funeral
Prince George was said to be very close to the late Queen who even celebrated his 9th birthday LONDON, UNITED KINGDOM: Prince George and Princess Charlotte were spotted for the first time since the Queen's death as they arrived for her funeral on Monday, September 19. George, 9, second-in-line to the throne, was accompanied by his younger sister Charlotte, 7, and their parents, the Prince and Princess of Wales, William and Catherine, as they walked with the coffin to Westminster Abbey.
According to the Mirror, the Queen's coffin was lying-in-state for four days prior to the funeral. Thousands came to catch one last glimpse of the longest-reigning monarch, who passed away on Thursday, September 8, at her Balmoral residence.
RELATED STORIES
Who is David Hoyle? Dean of Westminster calls scale of Queen's funeral 'unprecedented'
Queen's funeral will be 'glorious' as she did not want a 'long, boring' event, former Archbishop reveals
The procession through Westminster Abbey was led by King Charles and Queen Consort Camilla, followed by Princess Anne and her husband Vice Admiral Sir Timothy Laurence, Prince Andrew, Prince Edward and Sophie Wessex.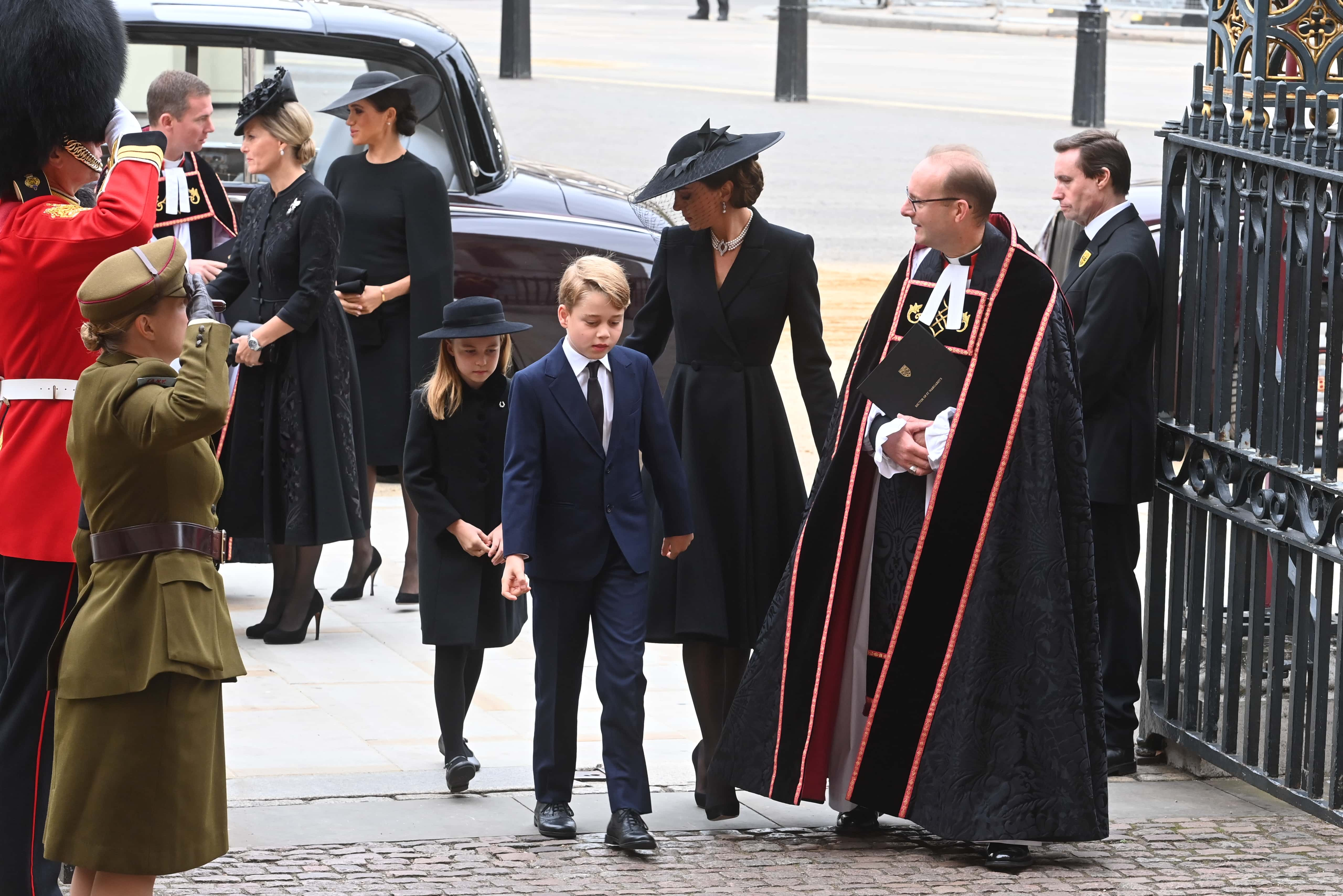 The Queen's children were followed by William, Kate, and their two children, followed by Prince Harry and Meghan Markle, Peter Phillips and the Earl of Snowdon as well as the Duke of Kent, the Duke of Gloucester and Prince Michael of Kent.
Charlotte and George joined other royals for the committal service at St George's Chapel in Windsor. Earlier, the two attended for a memorial event for their great grandfather Prince Philip, who died in April 2021. However, they did not go to his funeral due to Covid restrictions across UK.
As per the outlet, Geroge is younger than both his father and uncle, Harry, who took part in the official coffin procession for their mother, Princess Diana. William and Harry were aged 15 and 12, respectively then.
Despite the period of national mourning, William and Kate continued to send their children to school. Their youngest, Prince Louis, who is four years old, did not attend as he is too young. According to the DailyMail, an insider said, "Courtiers are keen for Prince George to be at the funeral in some capacity, if only to reassure the nation of the order of succession."
the outlet also reported reported Kate saying that George "understands the loss" of his great-grandmother, who he nicknamed 'Gan Gan', when she met mourners in Sandringham on September 15. He reportedly had a close relationship with his great-grandmother. The Queen also celebrated his ninth birthday in July by sharing a picture of them together on the balcony at Buckingham Palace at the Jubilee weekend. The Queen's official Twitter page featured the post saying, "Wishing a very Happy 9th Birthday to Prince George!!" along with a cake emoji.
Ever since the Queen passed away, William and Kate's children have not been in the public as their parents met mourners and other dignitaries.
Share this article:
'Goodbye Gan Gan': Prince George and Princess Charlotte walk behind Queen's coffin at funeral