Pierce Brosnan looks dapper as he goes on dinner date with wife of 22 years Keely Shaye Smith SANTA MONICA, CALIFORNIA: Pierce Brosnan, 69, and his wife Keely Shaye Smith, 59, appeared to be having the time of their lives when they went out to dinner in Santa Monica on Thursday, February 2. The couple went to Giorgio Baldi. an upscale restaurant, where they met up with some friends.
The couple wed in 2001, and have been together for 22 years. They looked very much in love as they were spotted coming out of the restaurant holding each other's hands, as the 'James Bond' star gently guided his wife across the road.
READ MORE
'Peace be with you': Pierce Brosnan happily reveals name of fourth grandchild as son Sean becomes dad again
Bond vibes! Pierce Brosnan dons jacket and shades as he steps out in style for grocery run in Malibu
Pierce Brosnan and wife Keely Shaye Smith go on a dinner date
Brosnan looked handsome in a stylish navy outfit with a zip-up jacket and matching pants. He paired the ensemble with black leather shoes.
Meanwhile, Smith made a statement with a strand of green beads around her neck and a black top and skirt with embellishments. She carried a black overcoat in her arms along with a black handbag. She wore black shoes to match her outfit. The couple was pictured holding hands outside the restaurant, as per Daily Mail.
Pierce Brosnan and Keely Shaye Smith got married in 2001
The 'Mamma Mia!' actor met Smith during a trip to Mexico in 1994 after the death of his first wife Cassandra Harris in 1991. The couple tied the knot in 2001 in Brosnan's native Ireland after almost seven years of dating. The couple shares two sons, Dylan, 25, and Paris, 21.
During an interview in 2008, Brosnan reflected on finding happiness in his life amid major grief. "I've been very lucky in my life. I have been able to go through quite a few lives and still retain a certain identity and love of life," he shared at the time, as per Us Weekly. "I had a great marriage which sadly had its own ending, and I was lucky enough to find love again. We were meant to find each other. I thank God for her every day. When Keely looks at me, I go weak. I love her vitality, her passion. She has this strength that I wouldn't be able to live without."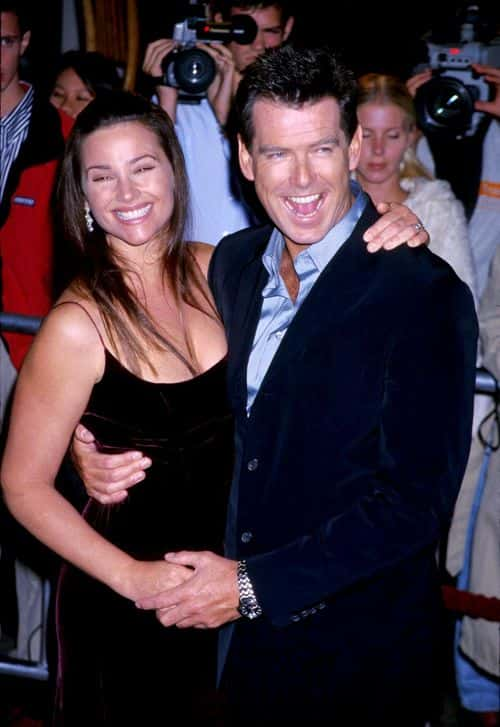 Share this article:
Pierce Brosnan looks dapper as he goes on dinner date with wife of 22 years Keely Shaye Smith