Oscars 2022 Red Carpet worst dressed celebs: What were Billie Eilish, Niecy Nash and Julia Vernon thinking! The who's who of the entertainment industry descended at the Dolby Theatre, Hollywood in California, to ring in the 94th Academy Awards. Aisde from eagerly waiting to watch who gets to take home the coveted Oscar trophy, fans also love watching the red carpet looks of their favorite celebrities.
While most celebrities like Nicole Kidman, Vanessa Hudgens, Timothee Chalamet, etc, looked amazing, some others totally missed the mark with their outfit choices. We rounded up the top 10 worst dressed celebrities of Sunday, March 27 night, read on to know which celebrities made it to this unfortunate list.
RELATED ARTICLES
Oscars 2022: How much do hosts get paid? Wanda Sykes says 'gonna cost me money'
Oscars 2022 Full Winners List: Troy Kotsur wins Best Supporting Actor for 'CODA'
Maya Rudolph
The 'SNL' alum walked down the carpet in a bright orange gown with fluffy feathers on the edges of the sleeves and the hemline. We aren't really sure what Maya was going for with her look, but the outfit was sadly very unflattering. Aside from the gown's silhouette making it seem like she was wearing her nightdress, the color made her look like a bright tangerine.
Billie Eilish
The 'Bad Guy' traded in her signature baggy clothes for a black Gucci dress. The 'Best Original Song' nominee's dress sadly failed to meet the mark. The tiered black off-the shoulders gown was anything but flattering on Billie, as it looked like a love child of a garbage bag and a loofah. Sorry Billie, while we love your music, your fashion game still needs some work.
Halle Bailey and Chloe Bailey
The usually trendy singer sibling duo surprised many with their fashion choice for the Oscars. The sisters seem to have been channeling their inner 'Little Mermaid' vibes in their dress. Chloe's turquoise Roberto Cavalli dress with a huge cutout in the front and Halle's limb-baring dress, looked bizarre to put it mildly.
Mary Parent
We have one word for Mary Parent- Why? The famous producer walked down the red carpet in a green gown with black detailing and a giant flower near the bust.
Niecy Nash
Niecy Nash's bright pink gown with a slit that went all the way upto her crotch was grabbing all eyeballs, but sadly wrong reasons. As she walked down the red carpet in her bright pink gown risking a wardrobe malfunction, Niecy safely earned her spot on this year's worst-dressed list.
Diane Warren
Unlike many of her peers, Diane decided to wear a pantsuit instead of a gown for the Oscars ceremony. The legendary songwriter donned a bright green blazer and matching pants. The silver chain around her neck and the bright boom-box shaped bag that she was carrying, sadly didn't compliment her outfit and made it look garish instead of high-end.
Julia Vernon
British makeup artist Julia Vernon's outfit raised quite a few eyebrows as she walked the red carpet. Clad in a grey-tiered and voluminous top that looked like a giant loofah, with skin-tight leather leggings, and chunky boots, Julia didn't look like she was dressed for the biggest night of the entertainment industry.
Serena Williams
The tennis legend wore a rose pink Gucci gown with black lacy flowers dotted across the bodice. The sheer dress sadly didn't flatter Serena, thanks to the excessive pink in her outfit.
H.E.R.
Singer H.E.R. turned up at the Oscars ceremony donned in a neon green asymmetrical dress with a big train. While she kept her look simple with minimal accessories, unfortunately, the singer's outfit missed the mark. Probably a different color and silhouette for the next Oscars, maybe?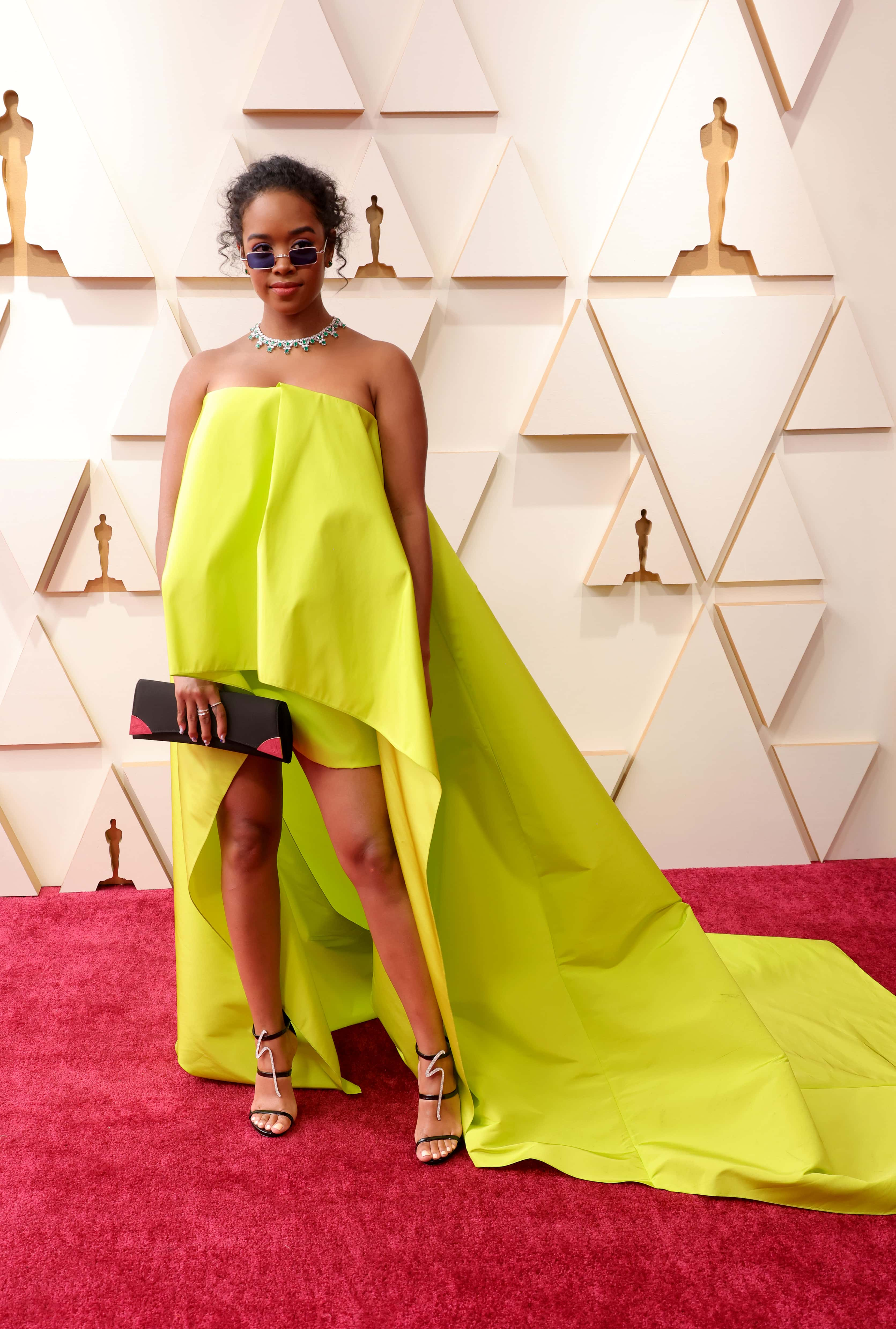 Wesley Snipes
We aren't sure if Wesley Snipes dressed up for Oscars or a 'Hunger Games'. While the famous actor's burgundy suit was definitely a welcome change from the boring black suits that most of his counterparts wore, it, unfortunately, resembled an outfit from the set of 'Hunger Games' rather than something to be worn for an Oscars party.
The ceremony for the 94th Academy Awards is being held at the Dolby Theatre, Hollywood, California. Viewers can catch the event exclusively on ABC at 8/7c.