Worst dressed celebs at MTV Movie & TV Awards 2022: Erika Jayne, Ariana Madix, Diplo and more
Celebrities like Lisa Rinna, 'Stranger Things' star Eduardo Franco and Ariana Madix couldn't get their outfits right MTV Movie & TV Awards - Erika Jayne, Ariana Madix and Diplo (Photo: Presley Ann/Amy Sussman/ Rich Polk/Getty Images for MTV)
MTV Movie and TV Awards went full swing with stars coming in to celebrate the lively event. Known to give us some of the most controversial and fun moments, MTV Movie and TV Awards 2022 felt like a breeze blowing in a rough summer. Many celebrities found their way to the event, and so many won the Golden Popcorn trophy as well. The event brought back stars like Jennifer Lopez, Paris Hilton, and even Chris Evans rocking the stage.
Movies and shows like 'Spider-Man: No Way Home', 'Euphoria', 'Selling Sunset', 'RuPaul's Drag Race', etc., bagged numerous awards and the famous 'Harry Potter' star Daniel Radcliffe won the Best Villain award for 'The Lost City'. But amid all this, some stars rocked the red carpet, and some were a serious swing and a miss. Stars like Syndey Sweeney, Olivia Rodrigo, and Jennifer Lopez wore some of the best outfits. However, celebrities like Sarah Shahi, 'Stranger Things' star Eduardo Franco, and Ariana Madix just couldn't get it right.
RELATED ARTICLES
Bobby Brown dating history: Singer calls Janet Jackson the 'crush of my life'
Is Pete Davidson quitting SNL for reality TV? Fans say 'he getting that Kardashian money'
Eduardo Franco
The 'Stranger Things' actor, Eduardo Franco, wore something that called for a big casual call and didn't look red carpet material at all. The actor starring in the hit series has enjoyed some critical fame, but this outfit does not hit the mark. He wore a wrinkled short-sleeve Kahlua shirt, wide-leg grey pants, and multi-colored Vans sneakers.
Dixie & Charlie D'Amelio
'The D'Aemila Show' was a rock-on show and it even won the Best Unscripted Series in MTV Movie & TV Awards. Both, Charlie and Dixie, wore raging outfits that were hard to make sense of. The former wore a weird combination of white top and blow skirt with a black bottom overall with flowers on it and a pretty questionable finishing, and the latter wore a black shimmery puffed-up outfit.
Ryan Mitchell
The TV and radio host, Ryan Mitchell, surely made heads turn with his tacky outfit which was a dedicated pink color with flowers embroidered, a black t-shirt underneath, white shoes, and sunglasses. His black nail paint could only compliment his tee which was barely visible.
Lisa Rinna
Lisa Rinna could have worn anything but she chose this for unknown reasons. 'The Real Housewives of Beverly Hills' star wore a plum crushed velvet catsuit that will teleport you back into the 80s. The outfit got tackier with a knot on the bust and a crystal belt. All this was accompanied by an eye make-up of almost the same color.
Diplo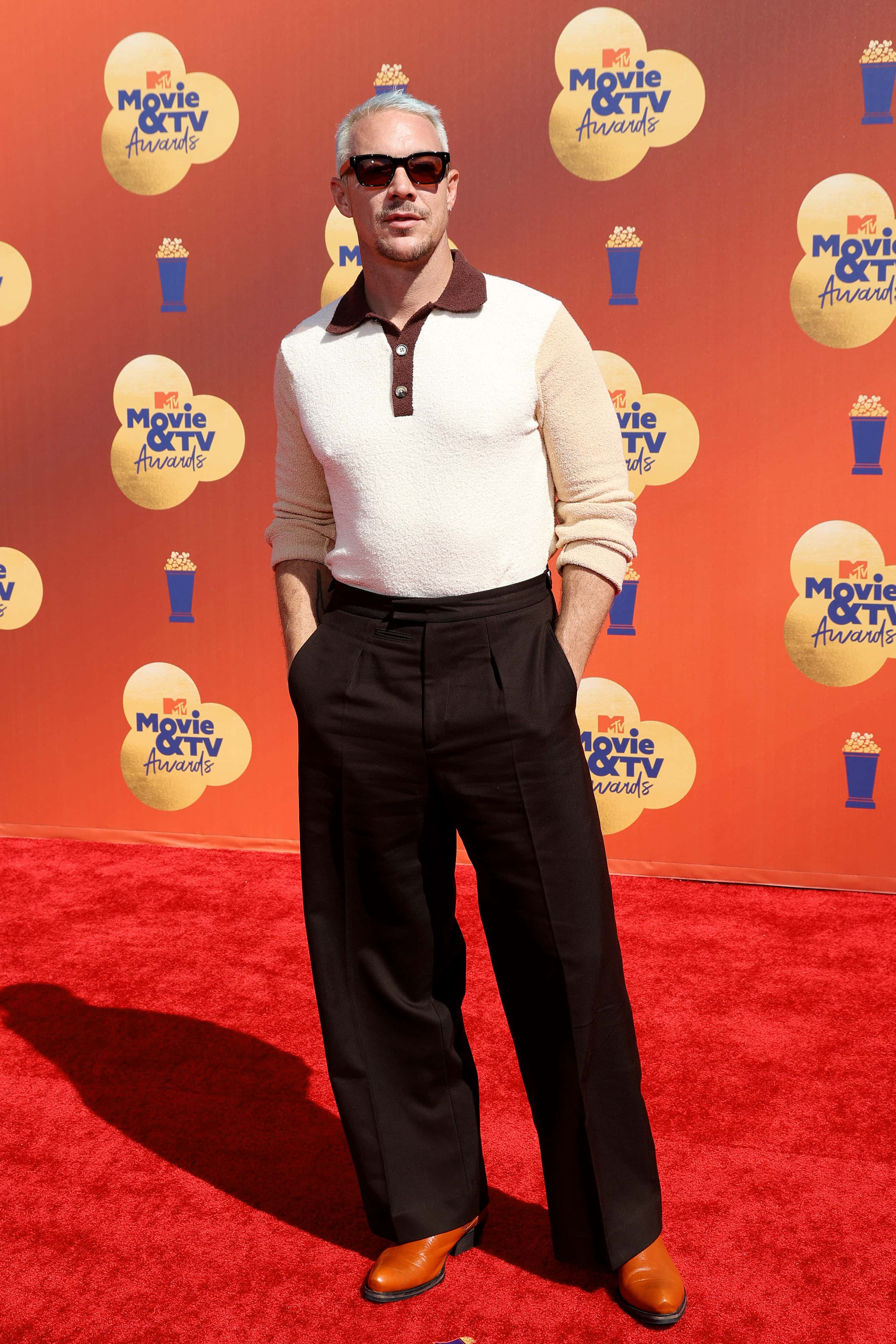 The famous DJ, known for his kick-ass music and outfits, missed the target on this one. Diplo, 43, wore a beige and brown sweater tucked into wide-leg brown pants. To top it all off, he wore orange boots which only matched the MTV Movie & TV Awards' banner and not his outfit.
Ariana Madix
Ariana left only a little behind the curtain as she wore a raunchy outfit to the event. She wore a see-through chainlink mesh skirt that revealed a seeable pair of fittings that seem uncomfortable. her all-pink outfit featured a feathered top, a pink handbag, and pink heels.
Tom Sandoval
Ariana's boyfriend and 'Vanderpump Rules' co-star wore an ill-fitted silk suit with 'WTF' shoes that throw his whole outfit out of the equation even more. He sported a '70s style sunglasses and once again, gigantic boots that didn't go with the outfit.
Erika Jayne
'The Real Housewives of Beverly Hills' star, 50, wore an oversized pink suit with heavy jewelry and over-the-top make-up. The pink-colored lace-dup gloves were a bit too much while she wore her hair in a tight ponytail and sported pink pointed shoes.
Cazzie David
'The Umbrella Acamdey' star wore a parrot green shimmery short dress with green stripped heels. She missed the mark because there were literally no accessories whatsoever, and in an attempt to look sober, she looked boring.
Teddi Mellencamp Arroyave
Teddi looked severely out of fashion only because of her '80s style outfit. The shimmery style and overall cut make you feel like she's on her way to an '80s dance party. The fringed dress was paired with her pink salsa flappers.