Mnet's 'Kingdom': Date, hosts, how to live stream and all you need to know about idol competition show featuring iKon, Stray Kids and The Boyz Mnet's 'Kingdom' will be celebrating its 2021 edition with a star-studded K-pop lineup featuring the fourth generation superstars Stray Kids, 'Road To Kingdom' winner The Boyz, Ateez and now the latest to join the lineup is YG Entertainment's group iKon. TVXQ's Yunho and Changmin will be the MC of the Mnet show, reports have stated.
Mnet's 'Kingdom' which comes as a counterpart to the popular TV show 'Queendom' is all set to gear up for its sequel after 'Road To Kingdom' aired last year where the K-pop group The Boyz were announced to be the winners. This new concept variety show which is all set to drop its first episode on April 1 promises a lineup that has K-pop enthusiasts already looking forward to the show.

'Road To Kingdom', the first edition as the counterpart to 'Queendom', aired on April 2020 and continued till June 2020 where seven boy groups participated including Too, The Boyz, Pentagon, ONF, Golden Child, Verivery and Oneus. The Boyz emerged as winners and qualified for 'Kingdom'. Next in MAMA 2020, it was announced that Stray Kids and Ateez will also be joining the show following The Boyz.
Date
'The first episode of Mnet's 'Kingdom' will start on April 1, at 7:50 pm KST.
Hosts
SM Entertainment's popular K-pop duo TVXQ's Yunho and Changmin will be MC's for the Mnet show.
Line-up
The Boyz
Stray Kids
Ateez
iKon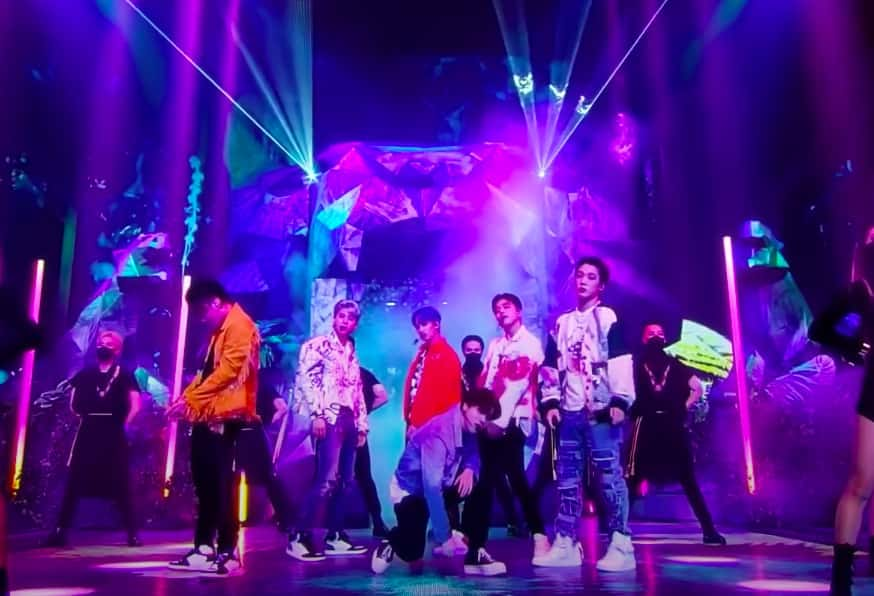 SF9
BTOB
Concept
If 'Kingdom' follows the footsteps of 'Road To Kingdom', it will have several rounds where the groups have to come up with rearranged renditions of their hit songs, make new songs and also cover their seniors' song with a never-seen-before concept. The winners will be decided based on accumulated views, votes, and also judging their comeback singles' success.
How to live stream
The final episode of 'Kingdom: Legendary War' will be live-streamed globally from the Mnet K-pop channel from 7.50 pm KST (6.50 am ET). All the previous episodes of 'Kingdom' can be watched on Rakuten Viki. Click here to watch all the previous episodes.
Pre-buzz
While the show promises a star-studded lineup and more, some iKon fans took it to Twitter to share their disappointment with sending the band to another survival show. A fan said, "All of us is disappointed cause they been through much from having 2 survival show, but i think they need this to regain the recognition, so let's just support them!" Another said, "This is such a stupid move.. they are already well known... their songs are always charting. they only need proper promotions and comebacks!!!!" A user said, "No elimination for Kingdom please let all the groups enjoy the competition, create memories and have fun, we're all looking forward for interactions through this show." A fan of The Boyz said, "Since it's kingdom, tbz will for sure have their stunts and choreos more advanced than what they have previously shown on rtk.. all i am praying for is for them to pull them off without getting hurt. it's gonna be another long ride!"
---
All of us is disappointed cause they been through much from having 2 survival show, but i think they need this to regain the recognition, so let's just support them

— MAY (@f_maillah) January 22, 2021
---
---
this is such a stupid move.. they are already well known... their songs are always charting. they only need proper promotions and comebacks!!!!

— ho. (@loeyfansclub) January 22, 2021
---
---
No elimination for Kingdom please let all the groups enjoy the competition, create memories and have fun, we're all looking forward for interactions through this show.

— 🦄 (@2jaericsohn) January 22, 2021
---
---
since it's kingdom, tbz will for sure have their stunts and choreos more advanced than what they have previously shown on rtk.. all i am praying for is for them to pull them off without getting hurt 🙏🏻🙏🏻 it's gonna be another long ride

— ✰ (@K1MSUNWOO) January 22, 2021
---
Stream some of the most iconic performances of 'Kingdom' here
Share this article:
Mnet Kingdom iKon lineup Stray Kids The Boyz TVXQ Yunho Changmin MC date how to live stream kpop