Who was Phyllis Fox? Michael J Fox mourns death of beloved mother, 92, with emotional anecdote at NYCC NEW YORK CITY, NEW YORK: Michael J Fox mourned the loss of his mother, Phyllis Fox, while attending the 'Back to the Future' Reunion Panel at New York Comic Con (NYCC) on Saturday. The 61-year-old actor remembered his mother who passed away on September 24, 2022, at 92. Fox joined his co-star Christopher Lloyd on the panel and remembered a funny anecdote related to his mother about she was against the actor agreeing to 'Back to the Future' which would eventually be a record-breaking movie for Fox.
The critically acclaimed actor remembered how his mother, Phyllis, was strictly against his decision of taking on 'Back to the Future' while he was already shooting for ABC's 'Family Ties' as she thought Fox would be really tired if he shot the TV show in the morning and the future blockbuster in the night. Fox explained, "I was 23 years old, and I called her, she was in Canada, and I said, 'They want me to do this Steven Spielberg movie, but I have to do it at night and I have to do Family Ties in the daytime.' And she said, 'You'll be too tired.'" He replied to his mother, "'I live for this kind of tired. It'll be okay.' To this day — well, till two weeks ago — my mother thought it was a really bad idea for me to do Back to the Future. She loved the movie, [but she was right], I got tired."
READ MORE
What is Michael J Fox doing in Lil Nas X's 'Holiday' teaser? Fans glad 'Back to the Future' star is still alive
Is Michael J Fox quitting acting? His struggles with Parkinson's disease and how he got over 'darkest times'
Who was Phyllis Fox?
Phyllis Fox was born in Winnipeg, Manitoba in 1929, and her father, Henry 'Skip' Piper, was a WWI veteran and customs agent. Her mother's name was Jane 'Jenny' Piper. Phyllis was an active scholastic athlete and after her post-graduation, she remained in Ladner, BC, where she met a young soldier at the nearby Vancouver Wireless Station named William 'Bill' Nelson Fox. The couple quickly married in 1950 and soon had a little girl, Karen. She gave birth to a son named Mark who tragically passed away as an infant. Other children who followed were Steven, Jackie, Michael, and Kelli.
Throughout her life, Phyllis was actively involved in many service organizations and causes, including The Order of the Amaranth which is a fraternal organization made of Master Masons and their properly qualified female relatives who are emphatically reminded of their duties to God in their teachings. Phyllis ran campaigns to raise awareness for Diabetes and Parkinson's Disease and was also active in serving on the board of the Michael J Fox Theatre in Burnaby. She is survived by sons Steve and Michael, plus daughters Jackie and Kelli, and nine grandchildren, 10 great-grandchildren, and a great-great-granddaughter. "Nothing made her happier than watching her family grow," Phyllis' obituary states.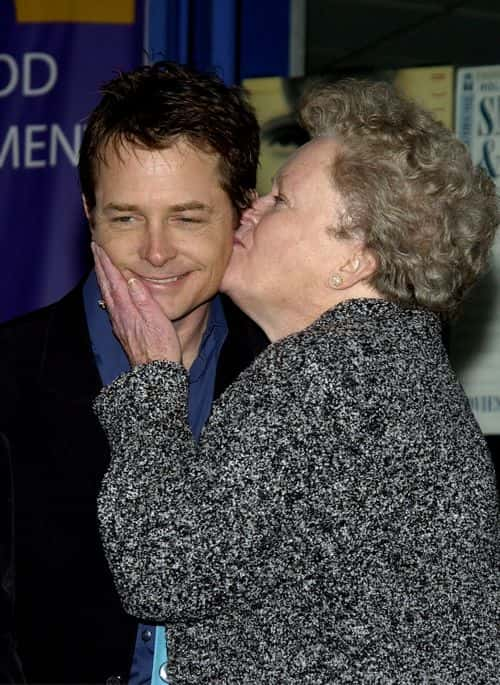 Fox reflected on his Parkinson's disease diagnosis in 1998 and his own health struggle during Comic Con. He said, "Well, in the last year I've broken my cheek, my eye socket, my hand, my elbow … my shoulder. I had a rough year of getting beat up. But that was really cool because it made me realize … with gratitude, it's sustainable. If you can find something to be grateful for, if you can find something and say, 'Well, that's good,' … It'll always get better… I'm very optimistic. I'd say optimism is thinking that things are more likely to get better than they are to get worse. If you believe in that, and you are grateful for it, that'll sustain you the rest of your life."
Share this article:
Who was Phyllis Fox? Michael J Fox mourns death of beloved mother, 92, with emotional anecdote at NYCC