Meghan Markle has 'SHUT DOWN' her network after Queen's death to prevent 'unauthorized leaks'
The Duchess of Sussex is reportedly not responding to emails or texts and is only speaking to Prince Harry, her mother, and her American PR agency LONDON, ENGLAND: Meghan Markle is reportedly not responding to emails or texts from friends to ensure nothing is leaked. The Duchess of Sussex is only talking to her husband, Prince Harry, her mother, and her PR team.
According to sources at Radar Online, "Meghan has shut-down. There is zero chance of her telling a friends something, that they tell another friend and then it ends up on Radar." The source added that the 41-year-old "is communicating constantly with her American PR team from London, her mom, and no-one else in the USA, to prevent any unauthorized leaks."
READ MORE
'I chose him too': Meghan Markle hits back at people for saying she was 'lucky' that Harry 'chose' her
The new Princess of Wales: Kate Middleton becomes first royal to use title, 25 years after Princess Diana's death
As per the outlet, the Duchess of Sussex is known to be friends with the media, including Gayle King and Oprah Winfrey. The source said, "this situation is very precious. One wrong word to the wrong person could blow everything up," adding, "her phone is off. If she doesn't call you, you are not going to get through to her."
However, according to critics, Meghan will spill the details on her own podcast, 'Archetypes'. The source said, "Meghan has the number one podcast in the USA," and that "she doesn't need Gayle Kings help getting her side of the story out anymore."
This comes in just after King Charles III reportedly made it quite clear to Prince Harry to not bring Meghan Markle to see Queen Elizabeth II when the doctors expressed their concern for her health. Meghan had also initially caught a lot of flak after it was announced that she along with Prince Harry will be heading to Balmoral to see the Queen. The Queen peacefully died on September 8 at the age of 96.
The Sun reported that Harry eventually made the trip alone. The publication claimed that there was plenty of room on the plane that Prince William took along with Prince Andrew, Prince Edward, and his wife Sophie at his British base of Frogmore Cottage in Windsor. The Sun reported that Harry was "refused" a seat on the plane.
According to an insider, "Charles told Harry that it wasn't right or appropriate for Meghan to be in Balmoral at such a deeply sad time." The source continued, "It was pointed out to him that Kate was not going and that the numbers really should be limited to the very closest family" adding, "Charles made it very, very clear Meghan would not be welcome."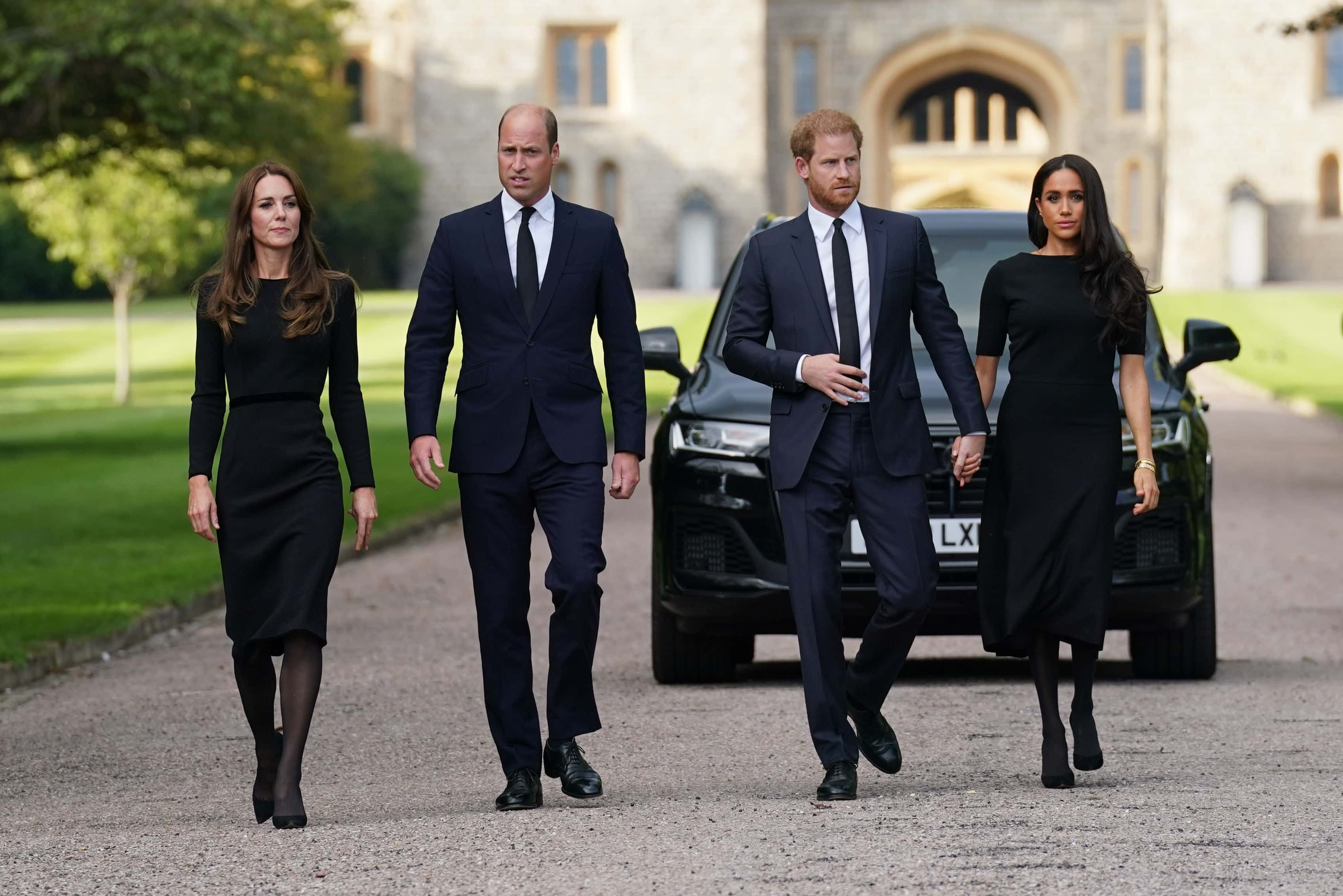 However, Meghan did surprise everyone by arriving at Windsor Castle on Saturday, September 10. She was joined by Harry, Prince William, and Kate Middleton as the Royals greeted mourners. The mother-of-two also interacted with the crowd, accepting bouquets of flowers. A royal source said, "[It was] an important show of unity at an incredibly difficult time" for the family.
Share this article:
Meghan Markle has 'SHUT DOWN' her network after Queen's death to prevent 'unauthorized leaks'