'Love Island' Season 3 Full Cast List: Meet the 12 hot singles looking for love on CBS show With less than a week for the release of the all-new 'Love Island' season 3, CBS has finally revealed the list of the 12 hot singles, who will be spending this summer on the sunny, picturesque beaches of Hawaii hoping to find love and possibly a shot at winning the coveted $100,000 prize in the end.
CBS' hit show 'Love Island' features 12 young singles, who are referred to as "islanders". These islanders need to be coupled up throughout the show and occasionally complete various challenges assigned to them. The goal of the show is to remain coupled up until the end of the season, the winning couple will receive a cash prize and possibly a new romantic prospect. So, in case you're wondering who these young lucky islanders are, then read on to know all about them.
RELATED ARTICLES
'Love Island': Carrington says he and Kierstan are 'exotic', fans call him an 'egomaniacal White douche'
'Love Island' Season 2: Most shocking moments from Noah and Johnny to Tre declaring his interest in Kierstan
Cashay Proudfoot
Cashay is a 25-year-old waitress from New York. Dance seems to be very important for Cashay, as she explains that the one non-negotiable trait that she's looking for in her partner is his ability to dance. She shares how she wants a man who can hit the dance floor with the same enthusiasm as her. In an interview with Parade, she shared the qualities that are a major turn-off for her. "I can't do a man who smokes cigarettes, I need a man who can dance, and I need someone who's emotionally mature," the New Yorker explained.
Christian Longnecker
This 24-year-old coffee company owner from Oahu, Hawaii, claims that he has been by himself for the past eight months. Christian is more than ready to make a 'real connection'. He told the outlet that Jamison is the drink that best describes him. "What's a drink that gets you blasted, just tore up? Jamison, some gnarly whiskey. Straight to the point, hits you in your feels. Ready to rock."
Javonny Vega
Javonny is a 26-year-old real estate investor from Boca Raton, Florida. He revealed that he got a tiger tattoo for his 24th birthday because he's a Leo. While zodiac symbols might not be his strong suit, Javonny knows exactly what he doesn't want in his partner. "Low sex drive, a woman who doesn't care for her well-being and wants to be lazy, and a woman who doesn't want to be great.," he shared when asked about the qualities that he doesn't want in his partner.
Jeremy Hershberg
Jeremy is a 27-year-old personal trainer from New York. He describes himself as a "pretty nice, quiet guy, and a big nerd." He came on 'Love Island' because he was trying to get out of his shell and 'try something new'. "Bad communication, lack of spontaneity, and no sense of humor.," are the three traits that will have Jeremy running to the hills.
Josh Goldstein
"I maybe a baseball player but I'm a nice guy, I swear", says Josh in the trailer of 'Love Island' Season 3. The 24-year-old college athlete from Haverhill, Massachusetts places loyalty and trustworthy as the traits that he is seeking for in his partner. He opened up about his past infidelity in his relationship. "I've only been in one serious relationship, and I was very young in college. One thing led to another and ultimately, I did cheat on her. There was a lot of stuff going on behind the scenes. I instantly regretted it. I went through a lot mentally because that's not who I am. I felt terrible and let my guard down. I made a mistake, and I'm a completely changed person now," says Josh.
Korey Gandy
Korey is a 28-year-old rental car agent from Virginia Beach, Virginia. Korey explains in the trailer that he knows exactly what he's looking for in life, and also knows how to get it! The rental car agent is also pretty clear about the traits that he doesn't want his potential partner to possess. "Someone who's not serious, someone who just wants to backstab and get to the end, and someone who lies. As long as you're truthful and respectful, things will end up working out," he explains.
Kyra Lizama
The pandemic hasn't been kind on Kyra's dating life. She shares how difficult dating has been in the trailer while also revealing that she was banned from a dating app. Kyra is a 23-year-old COVID relief worker from Honolulu, Hawaii. Being self-absorbed, caring excessively about materialistic things, and being closed off from getting to know her, are the three absolute no-nos for Kyra.
Melvin 'Cinco' Holland, Jr
Melvin is a 25-year-old delivery driver from Ashburn, Virginia. Melvin makes no bones about being a very competitive person, and he is looking for somebody who is as competitive and driven as him. He candidly explains in the trailer that they "gotta win together". Melvin has both cheated and been cheated on. He shares, "It was me being young, dumb, and not able to communicate. But I've learned from it and grown from it. I've matured and learned I don't want to deal with that drama, or put anyone else through that drama."
Olivia Kaiser
Responsible, professional, crazy, and wild are some of the adjectives that Olivia uses while describing herself. Olivia is a 28-year-old business owner from Anchorage, Alaska. The best dating advice that Olivia has ever been given is reportedly to 'move on'. She explains, "When you know in your head it's over, it's over. A lot of people hang onto the hope, and it doesn't get you anywhere and is very unhealthy. I've learned that the hard way. Be we are a-changin'!"
Shannon St Claire
Shannon is a 24-year-old controller at a construction company. A good physique seems to be very important for Shannon, as she explains that she just wants to latch on to muscles like a chihuahua. If you're a liar, cheater, and a fake, then you're definitely not this blonde beauty's type.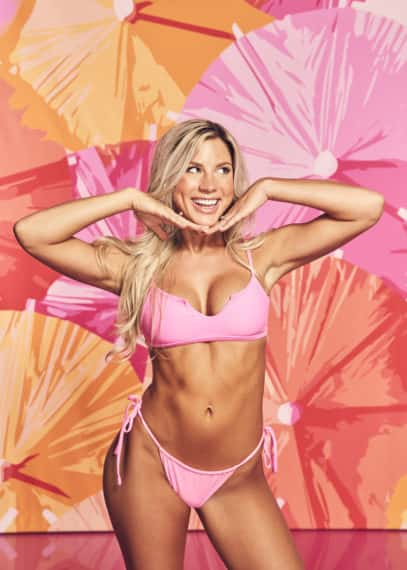 Trina Njoroge
Trina is a 24-year-old psychiatric nurse who claims that she can detect red flags from miles away! Although Trina has never cheated on anybody she reveals that she has been cheated on in an "emotional affair". She shares, "I haven't cheated on a partner, but I was cheated on in an emotional affair. It was really rough, but it built my self-confidence and made me love me for who I am. I come into men's lives to teach them love, but they come into my life to teach me self-love."
Will Moncada
Will moved to the US seven years ago, he's now an American citizen and very proud of it. This 26-year-old budtender who originally hails from Colombia is ready to find love. The three qualities that he absolutely doesn't want in his partner are, "Someone who is not willing to exercise to me, someone who doesn't like to wake up and explore the world, and someone who treats other people badly."
'Love Island' Season 3 is all set to premiere with a 90-minute episode on Wednesday, July 7 at 9:30 PM ET/PT on CBS.