Lifetime Christmas Movies Full List: Release dates and all about 35 holiday films Christmas is the season of joy, happiness, and love. The festive season is not only about family dinners and gifts, but also involves various Christmas TV specials, holiday movies and other entertainment features. We all have our favorite memories from the holiday season, be it family gatherings, Santa Claus, singing Christmas carols, and exchanging gifts.
The holiday season is one of the best times of the year, to spend with family and friends. It's nice to stay in and watch a family movie or sit by the fireplace to catch up on some Christmas-themed TV shows with your loved ones. The season of snowy days, shopping for presents, unwinding with loved ones over a hot cup of cocoa is right around the corner, so gear up!
RELATED ARTICLES
'First Christmas': Release date, plot details, cast and all you need to know about OWN holiday movie
'Spotlight on Christmas': Release date, plot, cast, trailer and all you need to know about the Lifetime holiday movie
1) Rebuilding a Dream Christmas
| December 23, 8 pm ET/PT
Cast: Meggan Kaiser (as Abbey), Zane Stephens (as Josh), and Bryson JonSteele
About: Real estate broker, Abbey, is told to go home against her will, to repair a vintage house that she inherited from her grandmother. She makes up her mind to sell the house and hires Josh to give her a hand with the fixing. Working together brings back fond memories and Abbey, Josh and his son form a special bond.
2) Writing Around the Christmas Tree
December 25, 8 pm ET/PT
Cast: Krystal Joy Brown (Mikaela), Curtis Hamilton (as Levi).
About: Mikaela is a successful romance novelist, who ironically, doesn't have the same luck in her own love life. When she visits a B&b for a writer's retreat, she meets Levi, who advises her to not write about things she doesn't give a chance for or hasn't experienced.
3) Hot Chocolate Holiday
December 24, 8 pm ET/PT
Cast: Aubrey Reynolds (as Colette), Johnny Swenson (Marcus)
About: Colette is the owner of a coffee shop, known for her famous hot chocolate. A new desert store opens up, and Marcus, the owner, steals her customers via the secret recipe of his hot chocolate, which happens to taste just like her grandmother's! Colette wants his lies to be out in the open, but soon enough, something starts to blossom between the cocoa experts!
4) A Picture Perfect Holiday
November 13, 8 pm ET/PT
Cast: Tatyana Ali, Henderson Wade, and Dina Meyer
About: Gaby Jones (Tatyana) is a fashion photographer, and is yearning to make a name and fame for herself with her new job at a magazine. She attends a photography retreat to showcase her skills, only to realize her rental is double-booked with wildlife photographer, Sean (Henderson). The two toggle between their personal and professional life.
5) An Ice Wine Christmas
November 12, 8 pm ET/PT
Cast: Roselyn Sanchez, Lyriq Bent
About: Camila (Roselyn) visits the vineyards of Evergreen in New York to participate in the town's Ice Wine Christmas Gestival. She spends time with her mum and sister. Her sister, Beth, hires a wine specialist called Declan (Bent), who plans on heading their local winery business hereon.
6) Dancing Through the Snow
November 19, 8 pm ET/PT
Cast: AnnaLynne McCord, Colin Lawrence, Bianca Lawrence
About: Michael Foster (Colin) is a firefighter by profession and father to Lily (Bianca). A video of the father-daughter duo doing a ballet routine goes viral, and now, Michael is the most-wanted bachelor. However, he has his heart set on Lily's ballet teacher, Olivia (AnnaLynne).
7) You Make It Feel Like Christmas
November 20, 8 pm ET/PT
Cast: Mary Antonini, Michael Xavier, Stephanie Sy, and Alex Poch-Goldin
About: Emma (Mary) is a talented designer, finding no time to go home for the holidays, ever since her work is appreciated by Kate Marguiles (Stephanie), much to her dad, Tom's (Alex) dislike. When Emma's ex and childhood best friend, Aaron (Michael) makes it home for holidays after military duty, he is determined to get her home as well.
8) Baking Spirits Bright
November 21, 8 pm ET/PT
Cast: Rekha Sharma, Dion Johnstone, Aadila Dosani, Praneet Akilla, Manoj Sood, and Nimet Kanji
About: Mira Varma (Rekha) takes immense pride in making fruitcakes, her family's business, despite the decline in its demand. When her parents hire Brady Phillips (Dion), Mira tries her best to hold on to what matters most about the company.
9) Reba McEntire's Christmas in Tune
November 26, 8 pm ET/PT
Cast: Reba McEntire, John Schneider, Candice King, and Justin David
About: Georgia (Reba) and Joe Winter (John) decide to reunite years after their personal and professional breakup, after their daughter Belle (Candice) asks them to take part in a Christmas Charity concert. Will singing bring back old memories again?
10) Merry Liddle Christmas Baby
November 27, 8 om ET/PT
Cast: Kelly Rowland, Thomas Cardot, Bresha Webbm Latonya Williams, Jaime M Callica, and Nathan Witte
About: Jacquie Liddle and her husband, Tyler, are preparing to welcome their first child. Her sister, Treena, and husband Julian are thinking about adoption, while her other sister Kiera's relationship with Chris is blossoming. Looks like the Liddles are in for a full house this Christmas!
11) Miracle in Motor City
November 28, 8 pm ET/PT
Cast: Tia Mowry, Mark Taylor, Smokey Robinson
About: Amber Dupont takes charge of her church's annual Christmas pageant, promising to deliver performance by legend, Smokey Robinson. When her best friends slyly get her former beau Eddie to help, the two reunite and convince Smokey to appear.
12) Welcome to the Christmas Family Reunion
November 29, 8 pm ET/PT
Cast: Michelle Argyris, Alonzo B Slater, Asia'h Epperson
About: Amy, an event planner, helps Tiffanie (who's a singer) plan her holiday family reunion. During this, Amy must wade through some family dynamics along with her newly developed feelings towards Tiffanie's cousin, Clavin. Will she pull off an amazing Christmas reunion?
13) Saying Yes to Christmas
November 30, 8 pm ET/PT
Cast: Erika Prevost, Romaine Waite
About: June accepts every invite while she's home for the holidays. However, when a past love, Blake, tags along on her schedule for Christmas plans, long-lost feelings are reignited. June must choose to listen to her heart or her mind.
14) Match Made in Mistletoe
December 1, 8 pm ET/PT
Cast: Natalie Lisinka, Damon Runyan
About: Emily Barnes is an interior designer, and when hired by a foreign embassy to decorate for the annual charity ball, the new ambassador, Magnus' approach to the decor causes a rift between the two, and the brief tiff turns into something new.
15) A Christmas Village Romance
December 2, 8 pm ET/PT
Cast: Jake Epstein, Jeni Ross, Olivier Renaud
About: Diana, a romance novelist, plans and sponsors a Christmas gala when she hears that Maple Creek, a charming village, is struggling to stay afloat. She urges her friends and family to pitch in, but is challenged by the village blacksmith, Carter. As the two work together, sparks fly while they save the village in time for Christmas.
16) A Christmas Dance Reunion
December 3, 8 pm ET/PT
Cast: Corbin Bleu, Monique Coleman
About: Lucy is a successful attorney, and along with her mother, returns to Winterleigh Resort to help with celebrating the hotel's final Christmas. Lucy is reunited with the owner's nephew and her childhood Christmas Dance partner, Barrett. She takes charge to follow through with Christmas traditions, to bring together new families and new hope to the now shabby resort.
17) Kirk Franklin's A Gospel Christmas
December 4, 8 om ET/PT
Cast: Demetria McKiney, Chaz Lamar Shepherd, Kirk Franklin
About: Olivia, a young assistant pastor, gets assigned as a lead pastor at a new church, a month before Christmas. She's afraid she can't handle the change. Along with her new congregation, Olivia finds a new home for herself, and a timely romance as well!
18) My Favorite Christmas Melody
December 5, 8 pm ET/PT
Cast: Mya, Rainbow Sun Francks
About: Abby used to be a promising singer and songwriter, but has no inspiration to write jingles for commercials. On her way home for the holidays, she's listed by the local high school teacher, to help with saving the arts program. Whilst working on the same, Abby finds her voice once again and regains her long-lost confidence.
19) Secretly Santa
December 6, 8 pm ET/PT
Cast: Alicia Dea Josipovic, Travis Nelson
About: Miranda and Paul are rivals in the business world, and incidentally meet at a themed Santa party. The two spend a lovely time together without disclosing the other's identities. Their romance blossoms online, and eventually clash while working together on a gifting app.
20) Christmas Movie Magic
December 7, 8 pm ET/PT
Cast: Holly Deveaux, Drew Seeley
About: Alli Blakeman is an entertainment write, and when assigned a story to cover the anniversary of a Christmas classic movie from the town it was filmed in, she agrees but only if she gets a promotion. While there, she meets Brad, the owner of a theater, and they eventually unravel the origins of the movie's song.
21) Christmas with a Crown
December 8, 8 pm ET/PT
Cast: Marcus Rosner, Lisa Durupt
About: Cassie is back home to revive her family's Christmas festival when she meets a stranger, Nicolas, a volunteer for the event. An instantaneous heat is felt between them, but she's yet to uncover who this charming prince really is.
22) A Fiance for Christmas
December 9, 8 pm ET/PT
Cast: Marie Osmond, Amanda Payton, Adam Gregory
About: Sawyer creates a fake wedding registry, hoping that some retail therapy will help her. Unfortunately, the whole town surprises her with a bridal shower, and she's too embarrassed to come clean. Instead, she finds a fake fiance who helps her navigate through the lies and holiday rituals. Although a facade, the two start to develop feelings for one another.
23) Holiday in Santa Fe
December 10, 8 pm ET/PT
Cast: Mario Lopez, Emeraude Toubia, Aimee Garcia
About: Award-winning designs from 'Casa de Milagro', a family-owned business, is inspired by Mexican Christmas traditions. Tony and his sister, Magdalena, help their father run the shop in Santa Fe. When Milagro passes, the family struggles to move on. Belinda Sawyer, an executive, sees an opportunity to take over the company, but this is stagnant since her and Tony develop feelings for each other.
24) The Holiday Fix Up
December 11, 8 pm ET/PT
Cast: Jana Kramer, Ryan McPartlin, Maria Menounos
About: Sam is a designer of a popular home renovation show, and goes home for the holidays to renovate the Bell Harbor Inn. She works alongside Coop, a lead contractor. The hiccup here is that Coop broke Sam's heart years ago, but as the two work closely together, things start to change. Will they forget the past to create a new future?
25) Blending Christmas
December 12, 8 pm ET/PT
Cast: Haylie Duff, Aaron O'Connell
About: Emma's favorite place to spend Christmas is the Hacienda de la Sierrra, while her boyfriend, Liam has been planning a secret proposal, surrounded with their families. In time, the gathering of the families turn to full-blown bickering, which makes both Liam and Emma question their relationship. With Christmas being around the corner, the families decide to do whatever it takes to reunite the lovers.
26) Maps and Mistletoe
December 13, 8 pm ET/PT
Cast: Humberly Gonzalez, Ronnie Rowe
About: Emilia is a cartographer of school maps, plans a nice Christmas back home, until her boss hands over a project at the 11th hour; to design a novel treasure map of the North Pole! She decides to take the help of North Pole explorer, Drew and while the two work together, there's more than just maps that the two have in common.
27) Ghosts of Christmas Past
December 14, 8 pm ET/PT
Cast: Annie Clark, Dan Jeanotte
About: Ellie is our classic 'ghoster' on dating apps, and is told by a fortune teller that she must make amends in her past, to all those she ghosted, before Christmas, else she won't find true love. In a week's time, Ellie tracks down all the men on her ghosted list, before the stroke of midnight!
28) The Enchanted Christmas Cake
December 15, 8 pm ET/PT
Cast: Erica Durance, Robin Dunne
About: Gwen just lost her grandmother, and is struggling to manage her bakery business. To regain the Christmas spirit, she figures out her grandmother's recipe for the town's famous Enchanted Christmas Cake. A high-end chef drops by the town to film a Christmas movie, and Gwen agrees to help the producer, Gavin, to help with the shoot at the bakery. Is Gavin what Gwen has been looking for all this while?
29) Christmas by Chance
December 16, 8 pm ET/PT
Cast: Winny Clarke, Jacob Blaire
About: Chance is the owner of a gift shop called "By Chance Gifts". As the shopping season nears, Chance is hired by Wiliam, an entrepreneur, to help organize a proposal for his girlfriend, Leyla. Chance and William spend more time together with the hopes of devising the perfect plan, but Leyla has second thoughts about marriage. Eventually, the partners realize that they bring out the best in each other.
30) Mistletoe in Montana
December 17, 8 pm ET/PT
Cast: Melissa Joan Hart, Duane Henry, Jamey Sheridan
About: Merry owns a ranch, and has always been unlucky in the matter of love. When Mark and his two kids book the ranch for Christmas week, adventure is on the menu as love is in the air!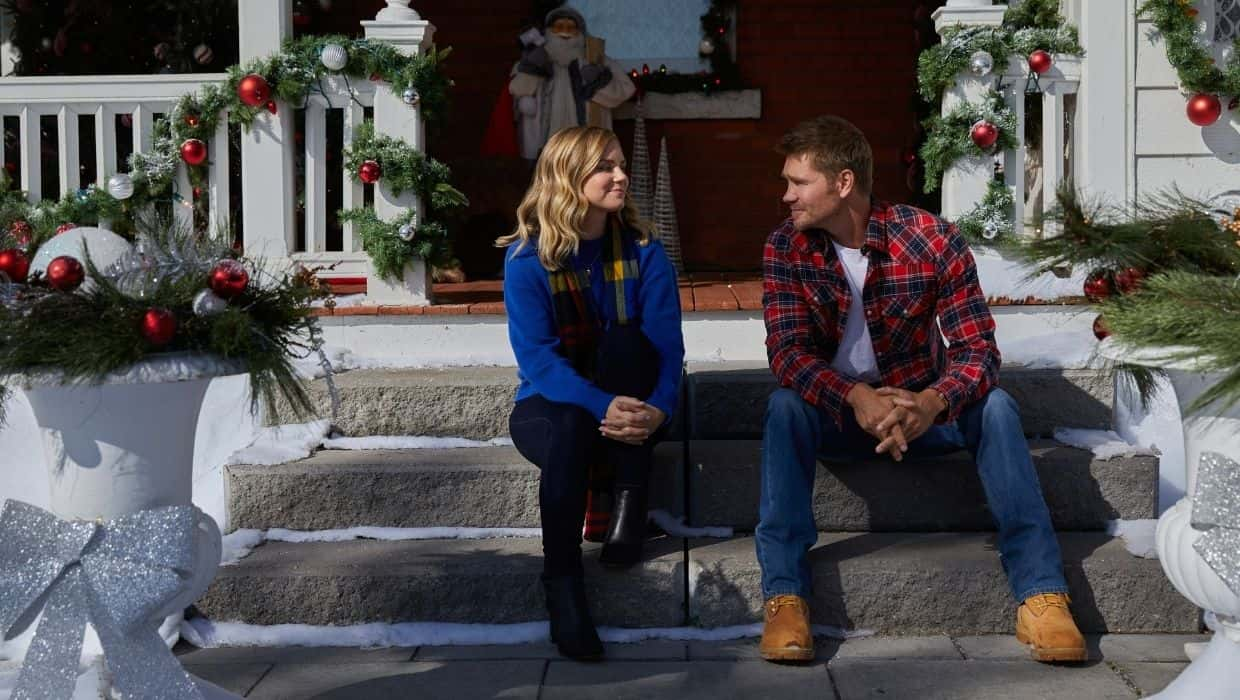 31) Toying with the Holidays
December 18, 8 pm ET/PT
Cast: Chad Michael Murray, Cindy Busby
About: Danielle is a workaholic designer, who heads home for the holidays with her son, Paul. She hopes to introduce him to the holiday traditions, especially the town's North Pole Express train, although that aspect has been sidelined over the years now. Danielle reconnects with her old classmate, Kevin, now a model train enthusiast himself, and the two attempt to pull off a Christmas miracle that gets the North Pole Express running!
32) Under the Christmas Tree
December 19, 8 pm ET/PT
Cast: Elise Bauman, Tattiawna Jones, Ricki Lake
About: Alma, a marketing expert, and Charlie cross oaths when the latter finds the perfect tree for the Maine Governor's Holiday Celebration in Alma's backyard! Romance is in the air as the two women realize that they bring out the best in each other, challenging the other to take that leap of faith, and fight for love.
33) Candy Cane Candidate
December 20, 8 pm ET/PT
Cast: Jacky Lai, Jake Epstein
About: Julia heads home for Christmas to drown her troubles in yummy food, after her recent political campaign for city council ended in a disaster. She realizes that coming home means seeing her high school rival, Parker, an arrogant man who beat her for senior class president. Julia and Parker compete once again when the North Falls mayor resigns. In time, she sees a different side of Parker and a rush of something new starts to blossom.
34) The Christmas Ball
December 21, 8 pm ET/PT
Cast: Deidre Mullins, Nick Hendrix, Caroline Langrishe
About: Clare, a lead ballerina, is let go of before the Christmas season's Nutcracker show, and is devastated. She visits her aunt, Bridget, in England during the holidays, and meets Liam, a professor and historian. The two work together to preserve the family manor, only to realize the start of something new.
35) It Takes a Christmas Village
December 22, 8 pm ET/PT
Cast: Brooke Nevin, Corey Sevier, Alli Chung
About: Mayor Alex must convince Darcy to loan out his family's historic mill, which is unlikely due to the long-running family feud. As Alex works with Darcy, their feelings grow beyond the interest of the town, paving way to the prospect of love.