From gluten-free chicken to lychee vodka: Kylie Jenner's $72.8M private jet lavish food and drink menu Kylie Jenner's $72.8 million dollars luxurious private jet, Kylie Air, features some unique food and drink menus that were revealed on the latest episode of her family's Hulu series on Thursday, October 20. The revelation comes as her sister Kendall Jenner borrowed the jet for a trip with pal Hailey Bieber and Justine Skye. Close-up pictures of the menu revealed that customers can choose things like an Asian chicken salad, a Caprese salad, and gluten-free chicken Alfredo.

A strawberry margarita created with Kendall's tequila brand 818, lychee vodka, rose champagne, and a vodka cranberry alternative was all available on the cocktail menu. According to The Sun, Kylie, 25, paid $72.8 million for the Global Express plane in 2020. The aircraft is decorated with beige seats with the initials "KJ" engraved on them and colored lighting across the ceiling that can be programmed to glow in various colors. The aircraft is an astounding 8 feet wide and 59.6 feet long. According to the Sun, Kylie Air has a large number of rooms as well, including a master suite, an entertainment suite, two bathrooms, a gallery, a crew rest area, a wardrobe, and a tonne of storage space.
RELATED ARTICLES
'Climate criminal': Kylie Jenner CALLED OUT for boasting about private jets
Kylie Jenner blasted for showing off 'his and hers' private jets with Travis Scott: 'Global warming who?'
Earlier, The founder of Kylie Cosmetics, Kylie Jenner, drew criticism online for posting a picture of her two private jets in July this year. Kylie posted a black-and-white Instagram snap of herself and Scott cuddling in front of their two private jets on July 15 with the caption, "you wanna take mine or yours?" Fans immediately criticized Jenner for the obnoxious remark, and others brought out the possible environmental impact of her use of a private jet. Jenner was barely in the air for a few minutes, according to the flight path, Celebrity Jets later reported on Twitter.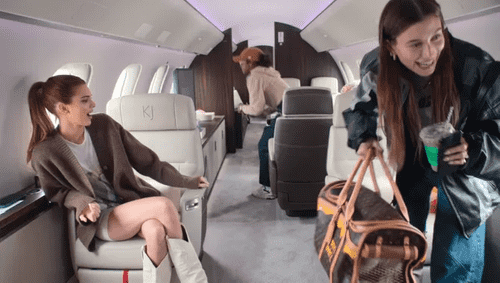 Several climate change activists criticized Kylie earlier this year for taking the ride on the plane to travel from Camarillo, California, to Van Nuys, California. One user wrote in the Instagram comment section, "Can't wait to see Kylie Jenner post environmental awareness pics on her stories as if she isn't single-handedly doing more damage to the environment than most of us with her 3 min flights." "Every time a paper straw begins to dissolve into my drink, I think about how Kylie Jenner uses a private jet for 3 min flights and I get mind-numbingly angry," another added.
Kylie however remained silent during the controversy. Meanwhile, Kylie isn't the only member of the famous family with her own private jet. Kim Kardashian is also the proud owner of Kim Air, an 18-seater plane that cost her $150m.


Share this article:
From gluten-free chicken to lychee vodka: Kylie Jenner's $72.8M private jet lavish food and drink menu