Kim Kardashian 'shielding' children from ex Kanye's antics, scared what he might do next: Sources Kim Kardashian is doing everything she can to protect her children from the drama surrounding her ex Kanye West, and will "do anything to protect her family," a source has claimed.
The rapper, 45, has dominated headlines for weeks -- dropping jaws by showing up to his Paris fashion show event wearing a "White Lives Matter" t-shirt, facing backlash for alleged antisemitic remarks on social media, and damaging his net worth in the process. Now, with his net worth in free fall, Kanye has apparently turned his attention to Kim. The exes are allegedly embroiled in a full-blown legal battle -- with the rapper seeking a billion-dollar payout from Kim, and the beauty mogul demanding full custody of their four kids.
ALSO READ
Kim Kardashian's ex Pete Davidson has 'meltdown' on set of new series, throws coffee, TV in trailer
Internet tells Boy George to 'grow up' after he questions Kim Kardashian's silence on Kanye West
"At this point, all options are on the table for Kim," a source told Radar Online. "She will do everything she needs to protect herself and her family." The insider said Kim won't say anything negative about Kanye in front of the children. "They are being shielded from all this drama as much as possible," they said. "She desperately wants this to end peacefully. But it's on Kanye to get himself together."
The SKIMS founder has reportedly been on an emotional roller coaster since her and the rapper's February 2021 split. Kanye has accused her of keeping him from their four children and not inviting him to Chicago's birthday. He subsequently lashed out against Kim's then-boyfriend Pete Davidson, and later took aim at her sister Khloé Kardashian. "Kanye tries to call Kim and her family members all the time and sends endless texts from different numbers when he can't get through. He's just relentless," the insider stated, adding, "In his mind, they're all out to get him and he won't stand for it."
However, Kim is not one to back down. The source revealed she's taking guidance from her divorce attorney Laura Wasser. Kanye's recent antics have helped Kim's case as far as custody of the children is concerned. However, she ultimately wants the father of her children to get help. The 'Follow God' hitmaker was diagnosed with bipolar disorder in 2016.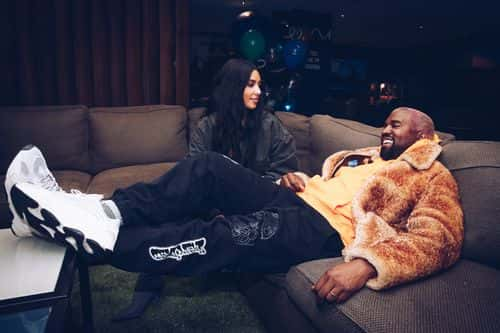 Aside from his legal woes, Kanye recently claimed he lost $2 billion in one day as retailers like TJ Maxx, major brand partners, and Madame Tussauds London severed ties with him. "The money is not who I am," he posted on social media, albeit sources told Radar Online that Kim is worried he's eyeing her multi-billion dollar fortune. "She's very aware that he could be knocking on her day at any point, and the chances of him coming to the negotiating table for anything less than $1 billion are pretty slim. That's just how he rolls," one insider claimed, adding, "Kanye still has a ton up his sleeve that he could use against Kim and she knows that."
Having said that, the reality TV star is also scared of what he might do next. The source told the outlet that Kim has beefed up her security team at home and will take out a restraining order if needed as she's worried her ex will "show up announced anytime, especially as their formal visitation arrangements are in flux right now."