Kanye West 'trapped' Paul McCartney in 'abusive collaboration,' claims Damon Albarn
The Blur frontman also claimed that he initially warned McCartney about working with Kanye West because of his reputation of using people for his music Kanye West (Source : Getty Images)
Kanye West, once again, landed himself in murky waters - courtesy 'Gorillaz' founder Damon Albarn. In a recent interview with French magazine L'Obs, the singer revealed that Kanye sort of trapped 'Beatles' legend Paul McCartney into participating in an absolutely abusive collaboration.
The subject surfaced when a reporter mentioned West's exhaustive gathering of samples for Pusha T's new record 'Daytona.' To which Albarn responded, "I do not sample, I create music."
He further claimed, "Do not get me started on Kanye West. Kanye West trapped Paul McCartney. I have a problem with this abusive collaboration: we're talking about Paul McCartney, but he's so precious! Kanye West thinks only of Kanye West, using a name to make headlines, saying 'McCartney is in my song.' In addition, he puts McCartney in the video of the song, but not in the song itself."
'The Blur' frontman, in his interview with the publication, also claimed that he initially warned McCartney about working with the rapper. "Before he decided to work with Kanye West, I sent a text message to McCartney saying, 'Beware,' but he ignored it, he does what he wants, it's Paul McCartney," Albarn said.
As the interview proceeded, Albarn went on to call West, a vampire; implying that the rapper basically feeds off of the talent and hard work of other artists, meanwhile only keeping his own image in mind. "Kanye West is one of those people who feed on other people," he said.
However, in another interview, McCartney did not seem to have any hard feelings about working with West on the plethora of tracks like "All Day," "Only One," and "FourFiveSeconds," that released in late 2014 and early 2015. In his conversation with DIY, McCartney recalled the days he was working with West on "All Day," and revealed that he did not even realize that the duo had started working on their tracks.

"I was tootling around on guitar, and Kanye spent a lot of time just looking at pictures of Kim on his computer. I'm thinking, are we ever gonna get around to writing?! But it turns out he was writing."
He added, "That's his muse. He was listening to this riff I was doing and obviously, he knew in his mind that he could use that, so he took it, sped it up and then somehow he got Rihanna to sing on it. She's a big favorite of mine anyway so that just came without me lifting a finger."
Back in 2016, McCartney had even discussed Albarn's current views of West and said that he had heard West put other artists to work for his songs. "I'd heard things like, 'he's got a room full of guys working on riffs, and he walks around going. I like that one,'" McCartney explained.
"It reminded me of Andy Warhol, these artists who use students to paint their backgrounds and things. It's a well-used technique." But then, in the very same interview, he said he felt West is "a great artist."
Albarn's toxic view of West comes only a few days after Trent Reznor recently took a shot at West by saying that his new album 'ye' "sucked" and that "the guy's lost his f**king mind." Moreover, he also has accused the rapper of ripping off the immersive live shows he claims NIN pioneered.
Reznor said, "I remember us watching a string of bands on Coachella from the comfort of our couch. And every band has a video playing behind them. And every band is synced up with a convenient, polite lighting package, you know?" He adds, "And I saw Kanye West blatantly rip off–and the Weeknd rip off– our tours production-wise, which I'll say without any hesitation. And they know."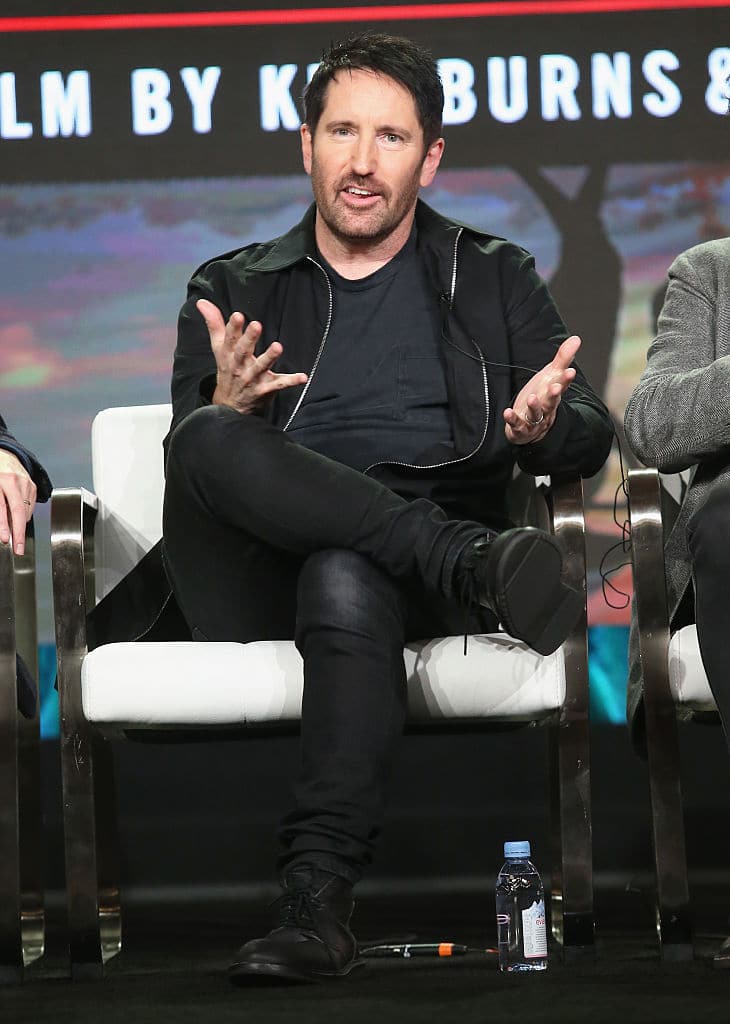 Reznor then went on to discuss how NIN have adapted their live show and their plans for their ongoing tour. He says, "When I think back to the Cure, when I saw them for the first time in the mid-'80s, or Jesus and Mary Chain when we opened for them, and all I remember of that was smoke, maybe a color, a little bit of someone's hair, and real, real loud guitars. That's exciting and I don't see that happening much. So, we went the opposite of the arms race we had been in, of immersive technological-based production... It's music being played somewhat sloppily with an element of danger and uncertainty and unpredictability."
Of course, whether Kanye and The Weeknd were inspired by NIN or whether they "ripped off" the stage design is the big question here, and knowing Reznor, it wouldn't be unfair to say that he was being a bit harsh with his accusations.